ę Open Post
|
Main
|
"My first reaction was to sit down and hide. Then I heard an American say 'go get him'." Ľ
August 22, 2015
Saturday Gardening Thread: Flamboyant Flowers (NTTAWWT) [Y-not and KT]
**Please use DrewM's Open Post below for non-gardening talk. Thanks!**
Y-not: So, boys and girls, this week is basically all KT, because of this:
We (the Y-not family) are moving!
I will put up a funny thread about the whole experience at a later date (probably at Cut. Jib. Newsletter.), because I am certain that there will be some good stories to tell of our multi-day trek across the country with our "zoo" of cats and dogs. Hilarity should ensue. I just hope no (major) disasters strike us.
Until then, we are blessed as always with another great contribution from KT, who has come through #LikeABoss:

Flouting the Heat while Flaunting Flamboyant Flowers
It was 108 degrees here on Monday, and the smoke from the wildfires not too far away is irritating my eyes a little. It is not my favorite season for gardening. But it was 118 degrees on Monday where my cousin was, near Palm Springs. People still grow things in the desert. And there are even plants that bloom now. Courage! I am not going to let the weather get me down.
I am planning some drought-tolerant ornamentals for next year. I am also preparing for a tiny fall garden. We are still in a drought.
A while ago, Lindafell de Spair mentioned that she had, in her own garden, two varieties of Pride of Barbados, a good plant for heat and drought. She also mentioned two native plants, Turks Cap (Texas Mallow) and Esperanza (Yellow Bells). The colors of both would harmonize with Pride of Barbados.
Turks Cap (Malvaviscus arboreus or M. a. var. drummondi) is an adaptable plant. It can take some shade. Hot shade is one of the more challenging garden situations. The young leaves, flowers and ripe fruits are edible. You can tell from the photo below, and from Linda's photo in the comments, that it is related to Hibiscus. It should not be confused with Turks Cap Lilies.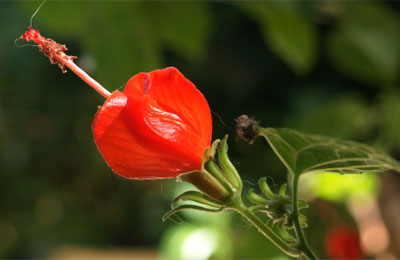 Turks Cap
Esperanza (Tecoma stans)
has been designated as a Texas SuperStar for its performance in challenging Texas gardens. If you like those invasive trumpet vines but are afraid to plant them, and you live in USDA hardiness zone 8 or higher, give this plant a try. Both Esperanza and Turks Cap are listed as
deer resistant
, though deer resistance is sometimes relative. Both, along with Pride of Barbados,
attract hummingbirds
.
Esperanza needs some heat to perform well, though it can grow into a 25-foot tree in coastal Southern California, if given deep soil and frequent feeding. Where it dies back or is cut back in winter, it forms a small shrub. There is a more drought-tolerant form, T. s. angustata, from the hottest regions of Arizona and Texas and into Mexico. It has narrower leaves than the species and can grow 4 to 10 feet tall.
Esperanza (Yellow Bells)
Pride of Barbados (Caesalpinia pulcherrima) is also a Texas SuperStar. I like this description from Daveís Garden. Read the whole thing if you are interested in growing this plant, either in the ground or as a potted specimen:
With its ruffled flowers and hot Caribbean color, Caesalpinia pulcherrima is the mambo dancer of the subtropical garden. Some of the common names for this plant include pride of Barbados, red bird of paradise, dwarf poinciana, peacock flower, and Barbados flower fence. In Creole French it is flamboyan-de-jardin. In Mexico it is called caballero. . . . .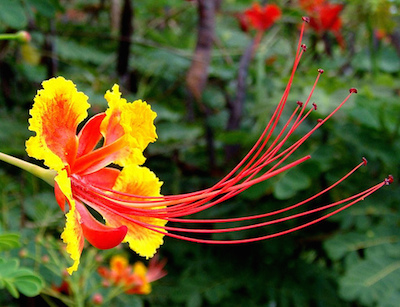 Do you think this flower looks flamboyant?
The name "Dwarf Poinciana" comes from its similarity to Royal Poinciana, a truly tropical tree that some consider the most beautiful in the world. "Red Bird of Paradise" seems quite self-explanatory to me.
Science Corner: Want to teach kids the parts of this flower now that they are back to school? This photo and the ones before and after it could help teach some plant morphology. Not every flower has its own "banner petal". But many flowers in the Pea Family do.
While taking photos, one blogger wondered why this flower attracts so many insects, large and small. She found evidence of nectaries (below the unopened buds) that attracted wasps and bees. There is also nectar inside the flowers and pollen far from the nectar, on the tips of the stamens. But how could an insect of that size drinking nectar pollinate the flower? Could dragonflies chasing the smaller insects pollinate the flowers?
She did some research and found that large butterflies and hummingbirds are the primary pollinators. I want more butterflies and hummingbirds in the garden, so that is a point in favor of this plant. There is also a recommendation for a children's science book about flowers at the link.
One thing I like about desert landscaping is that designers tend to think of plants as focal points more than they do in a lusher environment. I think that the use of Pride of Barbados in the photo below is striking, considering its simplicity. Our author also points out that there are at least four popular species of Caesalpinia, both trees and shrubs, grown in the Phoenix area for various landscape uses. You can get yourself into trouble by using common names. All of these species do best with well-drained soil.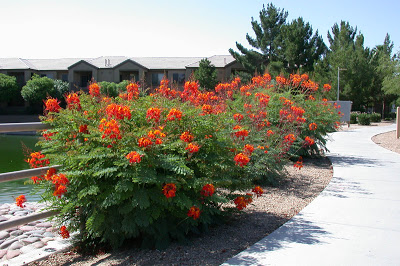 "Pride of Barbados" is pretty much reserved as a common name for C. pulcherrima. This flower is the floral emblem of Barbados. But it does confuse matters that there are several color variations.
In addition to the typical red and yellow or orange and yellow cultivars, there is a cream-colored version and a yellow and cream one called "Lemon Lace". There are salmon cultivars in Hawaii. A very common cultivar, Phoenix, is pure yellow. There is a pink and cream one called Pink Peacock. Note the yellow banner petal. There is another pink cultivar named "Compton". You can see a large specimen at the Denver Botanic Gardens.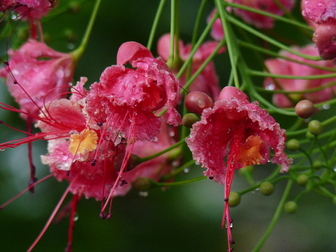 Straight Outta Compton?
Since I learned that Barbados Pride is probably root-hardy in my area and has some tolerance for salinity, I might try it next year. But it is thorny, so closer to where people walk, I could plant
Desert Bird of Paradise (Caesalpinia gilliesii)
, which is thornless. It is more hardy to cold than Pride of Barbados. It is tap-rooted and very drought-tolerant, though it blooms better with deep, infrequent watering (like others in the genus). It may be hard to remove, so plant it where you want it.
I am not aware of any color variations beyond yellow with prominent red stamens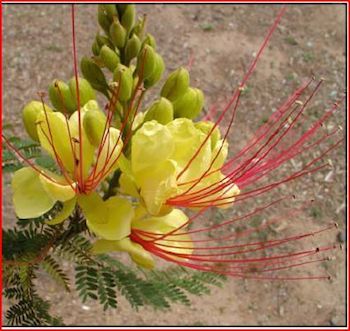 Once, on a family vacation, we draped a few items of laundry we had rinsed out over Desert Bird of Paradise shrubs near a motel in Mexican Hat, Utah. This town is at the edge of the Navajo Reservation. These plants were growing in extremely dry conditions. It seemed like that laundry dried in 15 minutes because the air was so dry. Desert Bird of Paradise seems like a logical choice for consideration during a drought.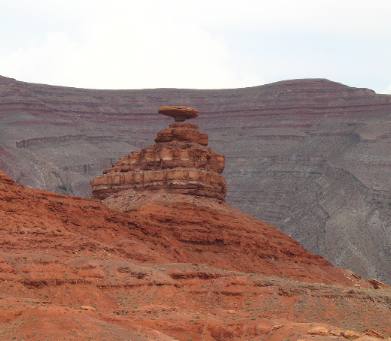 Hoodoo, Mexican Hat. I denounce myself.
As Linda had noted in the comments concerning Pride of Barbados, Desert Bird of Paradise is easy to grow from seed. In fact, it can self-seed. As with others in its genus, the seeds are mildly toxic. Plant something more inviting to munch in your garden if you worry about this.
Is it time to put in your fall veggie garden?
Even if frost comes as early for you as it does in Great Falls Montana, you could plant some selected vegetables in August for a fall crop. On the other hand, if you wanted to plant broccoli from seed in that sort of climate, you should have started in June. This video has some tips for protecting seeds from hot summer temperatures and for protecting your fall crop with floating row covers:
In our second video, from California, the importance of knowing the best germination temperatures for various crops is emphasized. I recently read that turnips will germinate at temperatures from 40 to 105 degrees, but their optimal germination temperature is 85 degrees. Many crops have a much narrower temperature window for germination. Incidentally, fancy garden set-up here:
The video above did not mention the possibility of starting seeds indoors for fall. I sometimes do this for fall crops because our soil in summer gets too hot to kneel on -- even in jeans. Imagine yourself as a poor seedling in soil that hot. If you can.
Counting back from your first expected frost date to determine if you have time to mature a crop, then adding two weeks, is pretty standard for fall gardens. But you may be able to find a local planting guide for vegetables. They come in different formats. Here is a Master Gardener Planting Guide for my area. I also like the guides for the Sacramento area from Farmer Fred. The one here includes flowers as well as veggies, but I like the interactive one at the link.
There are also low-tech sliding charts, reminiscent of a slide rule, that work from your first expected frost date (for fall). There are many interactive tools. I think the ones that calculate your planting dates from your zip code are especially convenient.
My local Master Gardener Planting Guide is a pretty reliable. It seems strange to be planting Brussels Sprouts when the temperatures are so high, but if we want a crop, we are nearing the end of the planting season here. I have never been successful with Brussels sprouts here, but I know people who have been.
Sometimes it is possible to get lucky here with a few summer squashes or cucumbers planted in August. You may have to learn things like this from an old-timer. My Master Gardener planting guide does not include a fall season for these veggies. I generally start these indoors and plant them out as soon as they emerge. It is important to choose cultivars adapted to fall conditions.

The Master Gardener's Planting Guide also does not show a fall bean-planting season, but there is one. It is something of a risk, but if the weather cooperates, beans may be tastier than they are if the weather heats up too fast after spring planting.
It can be a challenge getting beans to germinate in hot soil. I have better luck with white-seeded beans than with dark beans, because the latter do not absorb water as fast. For the same reason, dark-seeded beans are recommended for spring when the soil is up to 5 degrees cooler than recommended for white beans. White-seeded beans may rot at cool soil temperatures which dark-seeded beans can tolerate. I planted a few seeds indoors to avoid these issues. I will need to wait until the plants get a couple of sets of true leaves before transplanting.
As a follow-up to last week's continuing "Bean Thread", if you were inspired to leave some beans in your garden to pick as shellies, or if you want to buy some shellies at the Farmerís Market, choose pods with stems that are still green, even if the pod is somewhat faded and leathery. The seeds will be easier to shell out then.

I believe that flageolet types are typically shelled out when the pods are fat, but still green. That is how I prefer fresh-shelled limas as well, even though they are harder to shell then.
I hope there are some good things going on in your garden this week. If you have had a discouraging week, maybe you could plan for something new and interesting.
Y-not: Thanks KT!
To close things up, here's Ray Charles with an appropriate song:

What's happening in YOUR gardens this week?

posted by Open Blogger at
12:01 PM
|
Access Comments