« The Sunni-Shia Schism Ain't What It Used To Be [CBD]
|
Main
|
Emergency ONT - Niedermeyer's Dead Horse »
July 23, 2016
Saturday Afternoon Chess/Open Thread 07-23-2016 [OregonMuse]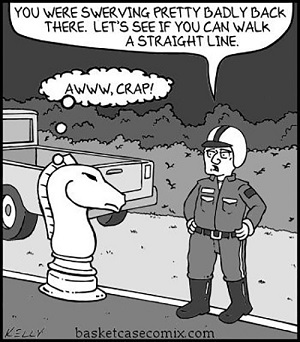 (thank you to an anonymous moron for the cartoon)

Good afternoon morons and moronettes, and welcome to the Saturday Afternoon Chess/Open Thread, the only AoSHQ thread with content specifically for all of us chess nerds who pay homage in the temple of Caïssa, goddess of stalemates and perpetual checks. And, for those of you who aren't nerdly enough for chess, you can use this thread to talk about checkers, or politics, or whatever you wish, only please try to keep it civil. Nobody wants to get into a pie fight on a Saturday afternoon.
"Chess is 99% tactics"

--Richard Teichmann

White Mates In 1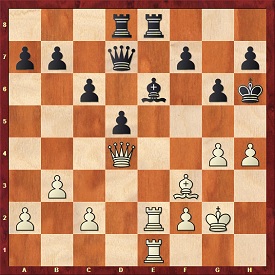 FEN: [3rr3/pp1q1p1p/2p1b1pk/3p4/3Q2PP/1P3B2/P1P1RPK1/4R3 w - - 0 1]


Nothing too fancy.
White Mates In 2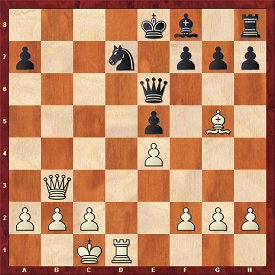 FEN: [4kb1r/p2n1ppp/4q3/4p1B1/4P3/1Q6/PPP2PPP/2KR4 w k - 0 16]

This is the ending of a very famous game which you more experienced morons will no doubt recognize.

Religion and Chess
At one time or another, chess was forbidden by Muslims, Roman Catholics, Anglicans, Jews, the Puritans, and most recently by the Taliban. Chess (shatranj) was a legal issue after Mohammad died in 642 and in 655 his son-in-law disapproved of the game for his sect of Muslims because he believed the carved figures of the chess pieces were graven images. In 780, the caliph al-Mahdi wrote to Mecca religious leaders to give up chess played with dice. In 1005, chess was banned in Egypt and all the chess sets and pieces were ordered to be burned.
The relationship between the two has certainly been spotty; on again, off again.
On:
In the 16th century, St. Teresa of Avila was proclaimed patroness of chessplayers by church authorities in Spain.
Off:
In 1981, chess was forbidden in Iran by Ayatollah Khomeini but he had a change of heart in 1988 and decided to allow it. Chess was forbidden by the Taliban in Afghanistan for 15 years.

White To Play And Win
This is a fun one. White mates in either 2 or 3, depending on your path through the decision tree.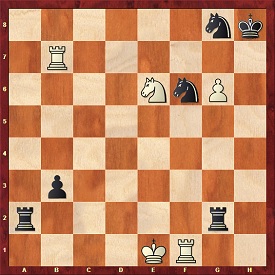 FEN: [6nk/1R6/4NnP1/8/8/1p6/r5r1/4KR2 w - - 0 1]


Extra style points if you fill out all the nodes on the decision tree. Or, perhaps I should say, all of the nodes I have found.

Fischer's Last Days In Iceland
I thought this 2008 article about his death -- and the subsequent legal scuffling over his estate -- was worth reading. I never knew he was actually, formally, married, with a certificate and all, at the time of his death. The article refers to Miyoko Watai as "a chess grandmaster", but that's not quite correct, she's actually a Woman International Master, not a GM. This sort of thing bothers me. If you're a journalist doing a story on chess, you should familiarize yourself with the subject matter enough to learn that the word "grandmaster" is not a synonym for "really good chessplayer".
In 2011, the Icelandic courts ruled that Watai was Fischer's widow and legal heir. This was against competing claims by some of Fischer's stateside relatives as well as a Filipino woman who claimed Fischer was the father of her daughter. To validate this claim, they actually exhumed Fischer's body to do the DNA tests, which came back negative.
And all of this because Fischer couldn't be bothered to leave a will. Actually, I think I would have been surprised if he had.

Endgame of the Week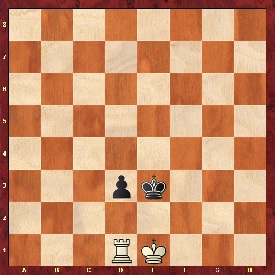 FEN: [8/8/8/8/8/3pk3/8/3RK3 w - - 0 1]


The best Black can hope for here is a draw. He wants to trade his advanced pawn for White's rook. White, of course, wants to capture the pawn without having to trade his rook for it. Can he do it? Yes, he can. It's White to play and win.

Bonus Endgame
Because the original EotW sucked.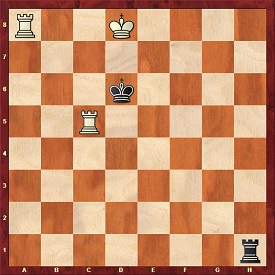 FEN: [R2K4/8/3k4/2R5/8/8/8/7r w - - 0 1]


It's White to play and win
___________
Solutions Update:
White mates in 1
1.g5#
It's always fun to deliver a checkmate with a lowly pawn, especially in the middlegame.

White mates in 2
Queen sac!
16.Qb8+ Nxb8
17.Rd8# 1-0
This is the conclusion of the consultation game played by Paul Morphy against the tag team of Charles, Duke of Brunswick and Count Isouard, at the Paris Opera House during an intermission, 1858.
Not too long afterwards, Morphy went nuts. Getting constantly stiffed by a cowardly Englishman will do that to you.
White To Play and Win
So the key move here is
1.Rh1+!
There are two possible Black responses, Rh2 and Nh7.
If 1...Nh7 then 2.Rhxh7# (or 2.Rbxh7#)
If 1...Rh2 then 2.Rh7+ Nxh7 3.g7# (or 2...Rxh7 3.g7#)

Endgame of the Week
1.Kf1
White basically has to wait for Black to do something.
1...d2
Black has nothing better.
2.Ra1 Kd3
Black can also try 2...Kf3 but then 3.Ra3+ Kg4 4.Rd3 wins
3.Kf2 (not 3.Ra3+? Kc2 and it's a draw)
3...Kc2
4.Ke2 Kc3
Black's only move.
5.Rd1 and White succeeds in grabbing the pawn and the win.
___________
Note: that cryptic line of letters and numbers you see underneath each board diagram is a representation of the position in what is known as "Forsyth-Edwards Notation", or F.E.N. It's actually readable by humans. Most computer applications nowadays can read FEN, so those of you who may want to study the position, you can copy the line of FEN and paste into your chess app and it should automatically recreate the position on its display board.
___________
So that about wraps it up for this week. Chess thread tips, suggestions, bribes, rumors, threats, and insults may be sent to my yahoo address: OregonMuse little-a-in-a-circle yahoo dott com.

posted by Open Blogger at
05:58 PM
|
Access Comments