« Our Headlong Charge Back To Pre-Industrial Society (CBD)
|
Main
|
A Mid-Afternoon Respite From Reality (CBD) »
February 06, 2016
Saturday Gardening Thread: Gardening with a Side of Pasta(farian) [Y-not and KT]
Y-not: Welcome, gardening morons and moronettes!
Today's thread is brought to you by The Million Dollar Potato:
We're lucky today to have a guest post from moron, Pastafarian, so I've restricted my contributions to a few tweets that might be of interest to the horde.

If you aren't up to growing a million dollar potato, how about trying your hand at cauliflower?
If the cauliflower shortage has you down, you might consider these alternatives. Oh, wait, apparently crisis abated. Never mind!
KT's post about butterflies inspired me to share this:
Read more about the buff-tip moth here.
Finally, this is cool:
A couple of months ago I asked the gardening morons for their experiences with the Aerogarden system, with an eye to possibly purchasing one. Imagine my delight when one of you contacted me this week with a description of your experiences using the Aerogarden!
Special Guest Contribution by Pastafarian
The only gardening I attempt is with Aerogardens, in which I grow herbs for use in cocktails. I grow mint, basil, sometimes cilantro, and sometimes some oddball herbs that you can't find in stores around here. At the moment I have two 7-pod Aerogardens going -- one with a variety of herbs, and one dedicated to mint.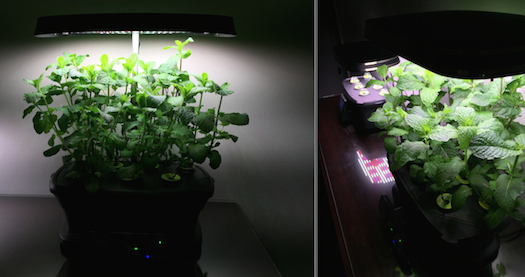 I've always had a problem with mint. I don't have a problem growing it -- it grows like a damned weed, so even I can't screw that up. But the mint that I've grown from seed never has a very minty smell or taste. And I've tried many varieties.
So after a little reading, I found that you could clone it, grow it from cuttings. I imagined this to be some sort of advanced technique to be attempted only by those well-versed in the dark arts of gardening, but then I read: Nope, mint is so robust and bad-ass, that if you just tear off any part of the plant and drop it into a glass of water, that damned thing will sprout roots and become its own plant.
I'm surprised that mint hasn't just spread over the entire earth.
So I bought some good spearmint from the local Walmart. It's not a great time of year to buy mint, and it was limp and not very fresh. I picked out the best sprigs, cut the bottom just below a pair of leaves, stripped that pair, and stuck the sprig into an AeroGarden Grow-anything pod, and 5 of the 7 pods did just fine. I had to buy another packet to get sprigs to replant the two that wilted, and now I have an AeroGarden full of mint.
Now, I'm not sure if I've solved the problem of non-minty-mint, because I never really determined the cause. Maybe the mint seeds I had were just from crappy, weak mint. Maybe mint is never very minty until its second season -- I've read that when you grow it outside, you let it go through its full life cycle, flowering and going to seed, then you mow it down before winter, and it will come back up; and that second season, you can harvest it, best done just before the flowers form, and you can keep harvesting as long as you prevent it from flowering.
Or: Maybe there's something about the AeroGarden process that makes the mint not very minty. If so, then maybe my cloned mint will lose its potency. I was researching this idea when I stumbled across this article, and this is the thing that you might find interesting.
The idea behind this article is: Herbs grown indoors are sometimes not as potent, because they're not under attack by insects. Herbs produce their herby oils and chemicals as a defensive reaction, and if there are no insects, the plants won't waste the energy producing as much of this insect repellant. So this guy suggests putting Chitosan on herbs, to make them more potent. It's a dietary supplement made from shrimp shells, and I guess it happens to be the chemical that plants use as a marker to indicate that they're being chewed on by insects.
I found a couple of scientific papers about this, but I couldn't find the details of their methods anywhere online. I couldn't find any commercially available fertilizers or plant treatment products that made use of this chitosan, so I'd have to make my own. Clearly, the chitosan would have to be water-soluble in order for the plants to absorb it; but it's not. It's only soluble in organic acids, like acetic acid.
Now, that's interesting, because I've read about spritzing herbs with a very dilute solution of acetic acid in water -- that plants more readily absorb such a spritz through their leaves if the pH is just a little acidic instead of neutral. And the acetic acid can help the plant fight off fungus and mold (which, I guess, chitosan can also help with.) So this is just win-win-win all the way around. A pH of 6, I've read, is optimal.
So I went to the local health food store and asked for Chitosan, and they said: "You're about 15 years too late." Apparently it's fallen out of favor as a "fat-burning" dietary supplement. But I found a big bottle of capsule-type horse-pills on Amazon for $10, and ordered that, along with a little digital pH meter for $15. (Yes, I know, this would have bought a lot of mint at Walmart. It's a hobby, more than a money saver.)
Now, the problem was: It takes a pretty strong concentration of acetic acid to dissolve the very fine chitosan powder that I pulled out of a couple of capsules. I used white vinegar and experimented with the concentration, and I was able to dissolve it, with considerable stirring and heating. But vinegar itself has a pH of around 2.5, and pH is a logarithmic scale -- so a pH of 3 is ten times as acidic as one of 4, which is 10 times as acidic as one of 5; so that target pH of 6 would mean something like a dash of vinegar in a gallon of water. That wouldn't dissolve much, if any, chitosan.
But, happily, the chitosan itself raised the pH -- by going into solution, it buffered some of the acetic acid. I was able to get a pretty decent saturated solution with a pH of 5, which, I figure, is close enough to 6, for the indestructible mint. A little acid rain is not going to hurt this stuff -- it's bad-ass.
And so I'm giving it a try. I gently daubed some of the solution onto a few leaves, and had my wife see if she could determine which plant was the most fragrant, and in a blind smell test, she picked the treated plant. So a couple of days ago I sprayed the whole lot of them, tops and bottoms of the leaves. So we'll find out how it works.
Pastafarian's mint put to good use in a mint julep
Y-not: How cool! Thanks, Pastafarian!
Do any of you have tricks you use to increase the potency of your mint or other herbs? Tell us about them in the comments!
Let's see what KT has in store for us this week...
Feel the chill
Hello, Horde. Life has been wilder for me than the weather this week. We have had some rain and frosty mornings in the Central Valley, but nothing dramatic. How about you?
It is a pretty time of year at the edge of town. All the weeds in vacant lots are fresh and green. They can look downright beautiful as the fog burns off. A couple of big horses have been grazing in an unfenced lot down the road from us. An almost-idyllic scene. It would not be idyllic in May, when those weeds would be dry and brown.
Although it has been chilly, I am certainly not ready to Feel the Bern. I would like to pretend for a while longer that the sizzling heat will not be coming.
CHILL REQUIREMENTS FOR FRUIT TREES
I do not think our stone fruit trees are ready for warm weather, either. The earliest bloomers have sometimes bloomed in late January, but not this year. Perhaps their chill requirements have not been met. We got some off-season bloom locally this year, too. Drought.
Different cultivars have different chill requirements. Sometimes the bloom order of our trees will be different from year to year, depending on the total amount of chill the trees received and when during the winter the chilly temperatures occurred.
Calculating chill units is kind of complex. Temperatures below 34 degrees do not count as "chill" for stone fruits. Temperatures between 37 and 48 degrees seem to be the most valuable as chill units. Trees with a low chill requirement may bloom too soon in some climates, leading to frequent loss of crops to frost as well as damage to tender green branches in colder weather.
In milder climates, bad things happen to trees with a high chill requirement when that requirement is not met for a few years. Choose your trees accordingly.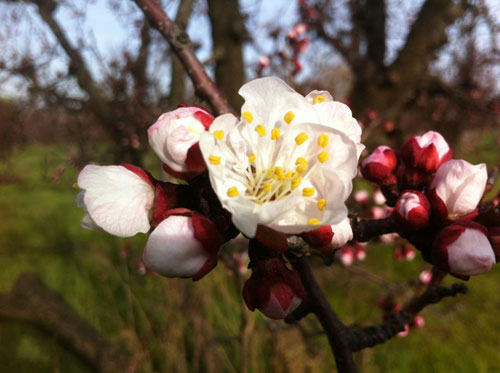 Not quite yet, this year anyway
Super Bowl Week is the local reminder that it is about time to spray fungicide on stone fruits, including almonds, for the third time. For California home growers, this is generally a copper spray. The last spray of the dormant season is particularly important for the prevention of Brown Rot Blossom Blight. Sometimes the spray schedule is tweaked to protect blossoms that are just about to open. Brown rot blossom blight is worst in wet weather. It spreads from tree to tree, so all stone fruit trees, including ornamentals, should be sprayed for maximum effectiveness. If you do not want to spray so often or if this disease is a big problem in your area, choose disease-resistant cultivars.
WIND CHILL
I happened to catch a bit of "Science Friday" on NPR whilst driving last week. They were discussing how "wind chill" is now generally thought of as a measurement of how cold it feels outdoors. But it originated as a mathematical calculation for how likely you are to get frostbite under various combinations of wind and temperature. My takeaway from the radio discussion was that wind chill is still more useful for predicting frostbite vulnerability than for measuring how cold it feels outside.
The official mathematical formula for wind chill was changed in the USA, Canada and UK in 2001, leaving the original Antarctic Model behind. "The method for calculating wind chill has been controversial because experts disagree on whether it should be based on whole body cooling either while naked or while wearing appropriate clothing, or if it should be based instead on local cooling of the most exposed skin, such as the face."
I imagine that the "naked body" camp is more into measuring feelings than frostbite susceptibility. As support for this completely untested hypothesis, I found an old "global orgasm for peace" which you might want to view if you are not at work. Comment: "Is it indelicate to ask what the sheepdogs are for?" Monday is the Lunar New Year. Wonder if anybody has a similar event planned?
Y-not: Thanks, KT! Next week we'll hear from KT about peppers. (I was a little short of time this week.)
To close things up, here are more beautiful butterflies:

What's happening in YOUR gardens this week?

Link to the archives here.

posted by Open Blogger at
12:00 PM
|
Access Comments