« College Football Thread: Week 12 [CBD]
|
Main
|
The NRA Is Often Worthwhile, And Always Hardworking [CBD] »
December 05, 2015
Saturday Gardening Thread: Musical Trees and Fighting Okras [Y-not and KT]
Y-not: Greetings gardeners! Welcome to your Saturday gardening thread. Today's thread is brought to you by Weird Mascots, including the Stanford Tree:

A couple of weeks ago I featured the Buckeye tree, which (sadly) may or may not have jinxed Ohio State. Let's see if I can repeat that this weekend when Stanford goes up against the Trojans.
As it turns out, college athletics kept us busy at Casa Y-not again this week (and today), so we'll be relying on the irreplaceable KT for entertainment.
Now, here's KT:
Hello, Horde. How many of you have been thinking about gardening lately? Be honest.
The arrival of the Pinetree Seed Catalog has at least a few of us daydreaming about a 2016 garden. It will be time for me to plant tomato seeds in just a few weeks. Hard to believe. Remember that Pinetree is a good source for gardening gifts and that it carries things like books, teas, spices and craft supplies.
We had a few book suggestions in the comments last week. Does anybody else have recommendations for gardening books or supplies for Christmas?
I also got a thin little catalog in the mail called "Seeds n Such". Got one last year, too. The format looks familiar. It was started by a member of the family that owned the R.H Shumway catalog for a long time, years ago. He also owned Totally Tomatoes before both were sold out to Jung.
This little catalog would be a good choice for someone who just wants a few veggie seeds. There are very good, intelligently-organized selections of tomatoes and peppers in particular. You can get free seeds of a tomato and pepper suitable for making salsa if you order by March 15. There is an index on the order form.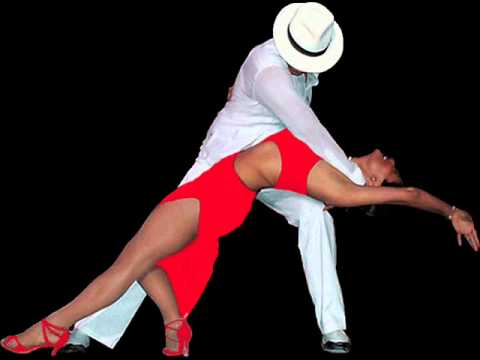 Next summer, Salsa!
They sell seeds of Miracle Sweet tomato, which I have not seen offered in years. My remaining seeds are very old. This tomato keeps going in our heat when most of our tomatoes have stopped. If any of our hot pepper addicts are tuned in today, we can discuss the pepper selections in the comments. They carry my favorite cucumber, Summer Dance. Some of the other veggie choices, like for turnips and lettuce, are mostly basic, tried-and-true cultivars.
Their featured veggie this year is the current AAS vegetable Winner, the Bossa Nova Zucchini. "During taste tests, the AAS Judges deemed the smooth flesh texture and sweet, mild taste much improved over other summer squash." It is a hybrid version of the beautiful open-pollinated Caserta, which was an AAS winner in 1949. You can still buy seeds of Caserta if you want to avoid buying seeds from a company owned by Monsanto because Monsanto is the devil.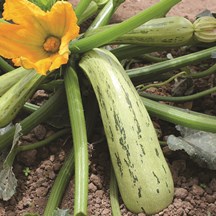 Next summer, Bossa Nova!
FALL FOLIAGE IN FRESNO?
A lot of people laugh when they hear the word, "Fresno". But there are some nice things about the city and its surroundings. There are some great trees growing there. Before Thanksgiving, I went to Fresno with a couple of friends visiting the area. We are having an unusually good year for fall foliage in the Valley. During our little trip to the city, we were particularly impressed by a row of street trees in a residential area. They were tall columnar junipers, I think, planted between round-headed deciduous trees in fiery colors. Wish I had been able to stop for a closer look, and for photos.
I have been enjoying the "what is this tree?" series Y-not has been doing. I would like to know what those street trees in Fresno are, too. So appealing. Trees can add a surprising amount to your property value as long as you avoid ones with a tendency to do things like fall on your house or the house next door.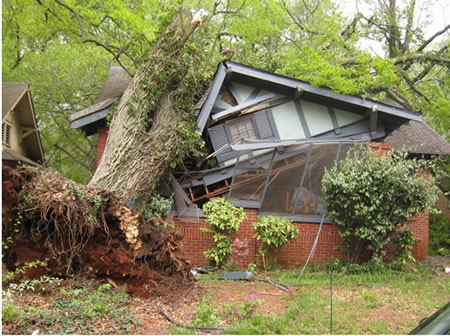 After my photo-free trip, I found a photo of a Canada goose passing through Fresno, floating in front of fall foliage. There is a bird refuge in one corner of Woodward Park. We are in the Pacific Flyway. Slide show with fall foliage in Fresno at the link. Now, a couple of weeks later, we are in the second round of fall foliage color, with more yellows. We still have some geese hanging around. Some people (and golf courses) have to be careful to keep them from eating the lawn. Not that there are many lawns left around here. Water remains in short supply.
FRUIT TREE REPORT
Our area is unusual for its fall views of huge orchards. The peaches and nectarines, in particular, have been gorgeous. My apricots are just starting to turn yellow now. I took a photo of the foliage on my Arctic Star Nectarine before the cold weather hit Thanksgiving week. Its leaves are now all on the ground. Arctic Star has a fairly low chill requirement. Pick stone fruit trees carefully, because various cultivars do best in different regions.
The photo below is from Reedley, one of the few prime locations in the world for growing nectarines. Peaches are a little easier to grow. You can find many cultivars that will do well in more places. The fallen leaves in the photo remind me that as soon as they are gone, it is time for the first copper spray of the dormant season, for all stone fruits.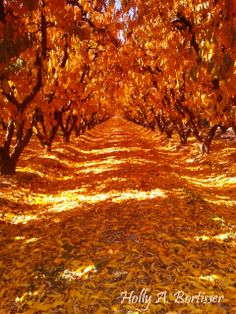 Peach or Nectarine Orchard, Reedley CA
Morons and Moronettes with stone fruit trees may recall that the first spray is particularly important for the prevention of peach leaf curl and shot hole fungus infections the following year. New leaves and flowers are already forming in tiny buds. You need to make sure trees have some water trees even when they are dormant.
I had never really thought of the valley floor or foothills as a great place to look for fall foliage, but Fresno County has put out a Citrus and Fall Foliage self-guided tour for November through January. It goes through Reedley, where they grow citrus in addition to stone fruits. The navel oranges are sweetening up, but they say that there are 28 different kinds of citrus growing there. I have not tried many of them. I may need to take a little tour.
FALL FOLIAGE ROAD TRIPS
Ready for a little virtual trip to consider trees that might work well in your yard? My drive to Fresno probably would not classify as a "road trip" to most people. If you are brave enough to visit deep blue California, you might consider a real road trip to view fall foliage, weather permitting.
We still have fall foliage here in December, and the season extends even later in Southern California, though the list of trees which produce colorful fall foliage there is not real long. You might see some winter-blossoming trees to make up for fewer trees with colorful foliage, though. Human Events has some tips on planning a trip, either this year or next year.
California Insider has more tips on fall foliage trips. Click on the luscious photos to enlarge. Yosemite is the destination closest to us. It is much nicer in the spring or fall than in the summer.
I also found a California Fall Foliage website chock full of eye candy. "Dude, autumn happens here, too". The proprietor of the website took the time as Thanksgiving approached to give thanks "to the nearly 60 color spotters and photographers who provided reports." This is a website worth browsing.
He did an interview with Mercury News about what is different about fall foliage in California:

"What is different here is that fall color descends by elevation, whereas in New England, it descends by latitude," Poimiroo explains. "That means if you don't happen to be at the exact location in New England during the week when it is peaking, you missed it entirely.
"Whereas in California, if you missed it peaking at Sabrina Lake, then just motor over to June Lake nearby at a lower elevation for an equally great display.
While in the High Sierras next year, you might want to drop by Convict Lake. It is aspen country. I miss aspens. We had a fire in the Sierras near us this year. Another place that had a big wildfire this year was Napa Valley. I am grateful that the fires are over.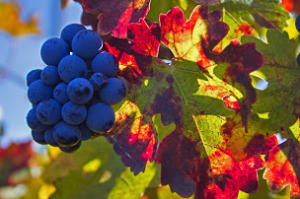 Here is an idea: Look for fall foliage at an arboretum. "At arboretums, trees are well-marked. The ones in nature don't have a plaque at the base of their trunks with their common and Latin names engraved on it. At an arboretum, they do."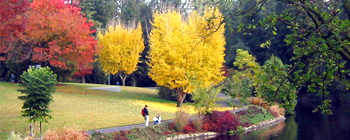 UC Davis, East Asia Collection
O.K., the following photo is not from California, it is from Minnesota. But I loved it. Maybe we need to take a trip next year.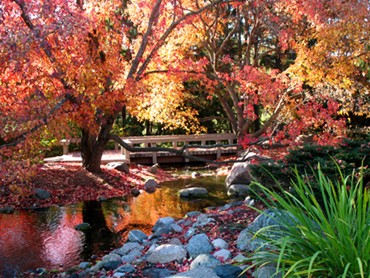 Minnesota landscape arboretum
Y-not: Thanks, KT!
Before wrapping things up, I thought I'd crowd-source opinions about indoor gardening systems for herbs and vegetables. With Christmas nearly here, I've seen a lot of ads on television for the AeroGarden, a compact, module-based system put out by Miracle Grow. It appears this system has been going on for quite a few years now with various models of increasing easy of use rolling out from time to time, but I had never heard of it. Have any of you experimented with this or other indoor gardening kits? I'd really love to be able to have fresh herbs year-round.
In keeping with the gardening-related college mascot theme, here's one I'd never heard of before, "The Fighting Okra" from Delta State University:
Cute!

What's happening in YOUR gardens this week?

LINK TO THE ARCHIVES of the Saturday Gardening Thread.


posted by Open Blogger at
01:55 PM
|
Access Comments