« Cawlege Football Thread: Week 11 [CBD]
|
Main
|
Presidential Family Forum - [Niedermeyer's Dead Horse] »
November 21, 2015
Saturday Gardening Thread: Go Nuts! [Y-not and KT]
Greetings, gardeners!
Today's thread will be a little abbreviated as your hostess is tied up most of today with college athletics, specifically men's and women's hoops.
Of course, there is still a lot of college football to be had, which inspired me to tell you a little bit about this tree: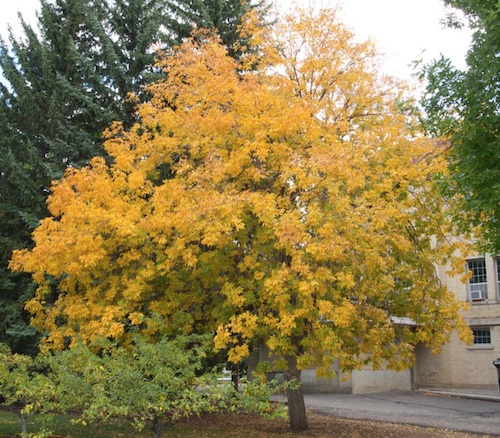 Yes, that's the Buckeye, which was a candidate for National Tree in a contest run by the Arbor Day Foundation.

Buckeyes are distinctive trees, known for their early spring flowers and for the seeds that have inspired the name of this unique family of trees. The nut-like seeds are shiny and dark brown, with a light-colored spot that gives them the appearance of a deer's eye. These seeds are popularly believed to bring good luck, and school children especially still carry them in their pockets as a charm. And while highly poisonous, buckeye seeds contain much protein and were used as a food source by Native Americans who boiled and leached them to remove their toxins.

Buckeyes are often small trees, with a spread nearly equal to their height. Ohio and yellow buckeyes are some of the larger species in this family, with heights of 50 feet or more. What makes buckeyes especially unique is their early spring flowers, which bloom as early as many woodland wildflowers.

Here's another picture of a Buckeye from the campus of Ohio State: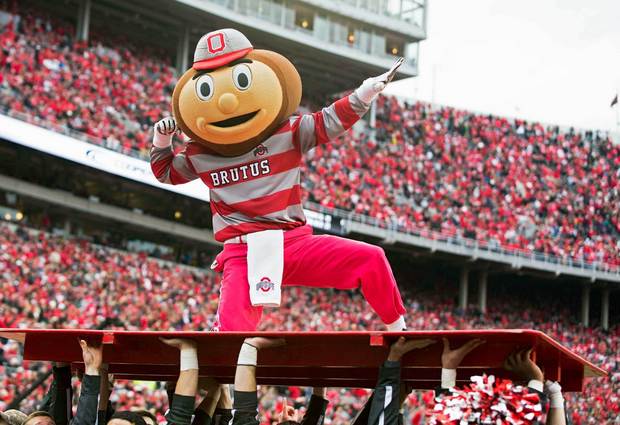 (When I was working at Purdue (during the Drew Brees era), I hated the Buckeyes. But nowadays I always root for the B1G (Ten) teams, especially when they have a shot at the National Championship. I may be behind enemy lines in SEC territory, but my college football loyalty is in the B1G.)
Don't worry, Ohio State haters, the Buckeye didn't win. Here's the winning tree: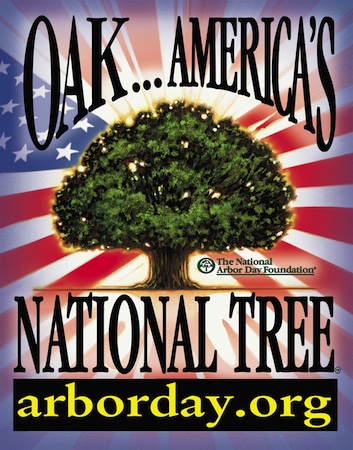 Oh, and speaking of trees, I didn't have a chance to confirm the tree from last week, but I think it's a member of the genus Amelanchier, possibly the Downy Serviceberry. I'll see if I can get confirmation from the town where I photographed it and let you know next week.
Now, heeeeere's KT:
We had a light frost this week. It killed my little cucumber plant, so we ate the two little pickling cucumbers, raw and unpeeled. Pretty good. "County Fair" is a bitter-free cultivar with resistance to some cucumber diseases. The skin was a little tough, but it is not a slicer, so you can't expect tender skin. It was growing out of season, so it was a nice surprise to get two cucumbers from it.
We also picked some "summer turnips". They were spicier than normal, probably due to irregular watering, but still very sweet. The hairless leaves were nice cooked without their midribs. They don't take as long to cook as traditional turnip greens.
I pulled, cooked and ate some lambs quarters this week. They were growing as weeds among the turnips. Knowing that they were high in oxalates, I followed the cooking recommendation for celosia from last week's thread and boiled, rather than steamed the leaves. They cooked very quickly and were very tender, with a mild flavor and a nice green color when cooked. I could still taste a little oxalate, though. I think boiling (and discarding the cooking water) is a good idea for lambs quarters and its relatives.
Incidentally, lambs quarters, like celosia, is a host plant for the caterpillars of the Common Sooty Wing Butterfly. I really do not know what species of Chenopodium I ate, but it looked like other edible lambs quarters and other people in the neighborhood have survived eating it. I don't think I will be making anything like Lambs Quarter Filo Pie, from Modern Beet, soon. Though if the drought persists, who knows?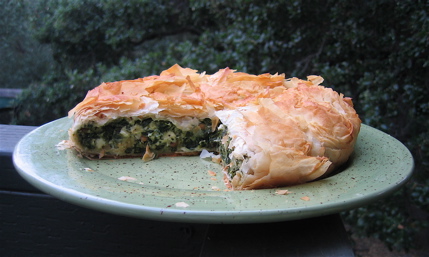 This brings me to the topic of pigweeds that we might enjoy eating during the Zombie Apocalypse, and some of their relatives. The drought has limited our planting this year, so I am already eating weeds, at least once in a while.
Pigweeds, Quinoa and Epazote
I grew up calling wild portulaca "pigweed". Mr. Bar-the-Door's family calls mallow "pigweed". Some amaranths are called "pigweed". Pigs eat them. People eat them. But the Eat the Weeds Guy identifies pigweed as Chenopodium album, also called Lambs Quarters or Fat Hen. It is related to beets, chard and spinach. He tells a story about his neighbor, who had a degree in agriculture, gathering large amounts of pigweed for dinner. There are several similar Chenopidium species with edible leaves.
We have talked about Magenta Spreen (Tree Spinach) in a previous thread. Good King Henry (Lincolnshire Spinach) has been moved from Chenopodium to another genus, Blitum. It is related to Strawberry Blite (strawberry spinach), also discussed in the thread above. The flavor of Good King Henry is best in spring, when young shoots can also be eaten as a substitute for asparagus.
QUINOA
Quinoa (Chenopodium quinoa), sometimes touted as a "superfood", also has edible leaves that can serve as a spinach substitute, but the main attraction with this plant is the seeds. Until this week, I had never cooked quinoa before, but since I learned that some of us can grow it in the garden, it became a gardening topic. I decided to take out my 7 year old package of quinoa from Trader Joe's and see if I could come up with a Thanksgiving dish for family members with gluten intolerance.
CBD's Food Thread gave me this idea. He started preparing members of The Horde for Thanksgiving back in October (be sure to check out the Food Thread tomorrow.) One subject that has come up is how to handle foods for Thanksgiving guests with dietary restrictions. I certainly have not become an expert in quinoa, but I have learned a lot.

Shelf life: You can store quinoa for a long time. My 7 year old quinoa did not have off-flavors, as would brown rice that old. I could still cook it, unlike beans that old.
History: Quinoa originated in the Andes, where it was a very important food crop for thousands of years. Seeds of Lambs Quarters were used by Native Americans in the eastern USA much like quinoa was used in the Andes, but quinoa is more productive. " The Incas, who held the crop to be sacred, referred to it as chisaya mama or "mother of all grains", and it was the Inca emperor who would traditionally sow the first seeds of the season using "golden implements" (from the Wiki). Its cultivation was suppressed for a time by the conquistadors because of its use in religious ceremonies.
Political correctness: You can never be sure that your righteous plans to help indigenous peoples will remain righteous. Supporting the economies of poor regions in the Andes by buying quinoa used to make people feel good. Now they must worry that exports have raised the price of quinoa so much that locals in the growing areas cannot afford it.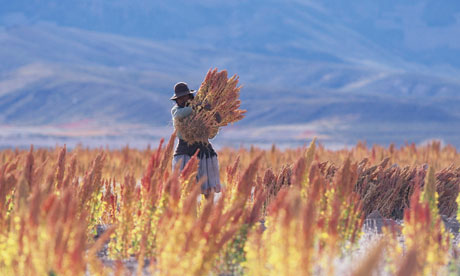 US cultivation: Quinoa is grown commercially at high altitudes in Colorado, with a few other western states also getting in on the action. It takes drought and alkaline soil. There are cultivars suited to very high altitudes and others suited to sea level. Its susceptibility to leaf miners limit its success in the East. Lambs Quarters are also susceptible, but much less so. Per Sunset, quinoa will not produce if the weather is really hot during bloom or seed setting.
Tricks for Preparation: If you grow your own quinoa, you must wash it before cooking to remove saponins, bitter compounds that foam like soap. Most commercial quinoa is pre-washed or milled to remove saponins, but you might want to wash yours, just in case. Directions for washing and toasting here. I tried toasting some and did not like the results much. I think it is easy to over-toast quinoa. But if you want to try a low-moisture pilaf with toasted quinoa that still has "bite and snap", here you go.
I like the stuff cooked with the "incorrect" 2:1 water:quinoa ratio just fine, untoasted. I did not want excess chewiness for the recipe below, which I adapted from a recipe using bulgur wheat. I wanted it to be different from traditional dressing, but not too different. I might even try germinating the quinoa first before cooking. It is reported to start germinating remarkably quickly -- in just two to four hours (wash first). They say you can eat the sprouted seeds raw, but some people report tummy upsets with the raw sprouts.
I think I will use more cranberries to the recipe below next time. Anybody have some other tips for me?
Quinoa Thanksgiving Dressing (Serves 4 to 5 as a side dish)
Part 1
Cook over medium heat:
1 1/2 cups chopped onions
1/2 cup chopped celery with some leaves, in
2 Tablespoons oil and/or unsalted butter
until onions are translucent.
Add 1 cup washed or pre-washed quinoa and 1 3/4 to 2 cups chicken or vegetable broth, cover tightly, bring to a boil, reduce heat and simmer for 20 minutes. Let sit off heat for 5 minutes. Taste and carefully adjust salt if necessary. It probably will not need any additional salt if you used salted broth.
Part 2
Microwave 1/3 cup packed sweetened dried cranberries in 2 Tablespoons orange or apple juice or water, until water simmers. Stir, cover and allow to stand until liquid is absorbed.
Shortly before serving, fluff warm quinoa with a fork and add softened cranberries, 2 Tablespoons chopped Italian parsley and 4 finely minced young scallions with some of the tender green parts, or some minced chives.
If there is a no-sugar purist coming to dinner, you can leave out the cranberries and garnish the finished dressing with pomegranate arils.
Original bulgur wheat recipe
Anybody growing wheat this winter?
Substitute a cup of medium to coarse bulgur wheat for the washed quinoa. Add some black pepper with the onions and celery. The original recipe called for 1/4 teaspoon of poultry seasoning, but I leave it out because I want this dressing to taste different from the more traditional dressing on the table.
If you will be eating with a crowd where the kitchen will be busy, a quadruple batch of the bulgur wheat version (Part 1) holds nicely for a few hours in a 6 or 7 quart slow cooker or big covered electric skillet set to "warm". I don't know how well the quinoa version holds. Add cranberries, parsley and green onion shortly before serving.
Leftovers are great reheated.
EPAZOTE
Thinking of having something made with dried beans for Thanksgiving? The Eat the Weeds Guy, a pretty flexible person when it comes to food flavors, does not like an herb that is traditional with beans, Epazote (Dysphania ambrosioides). It resembles Lambs Quarters and was previously classified as a Chenopodium. To avoid eating a Chenopodium species that is not really edible, he recommends that we not eat it if it smells like varnish, "but in some countries they manage to get around Epazote's odor and use it as a green as well as flavoring and medicine."
A piece in the Chicago Tribune called epazote, "Mexican Magic". It is reputed to reduce the gassiness of beans and is often used in black bean dishes. Has anyone in The Horde developed a taste for it? I have met seemingly rational people who really like it.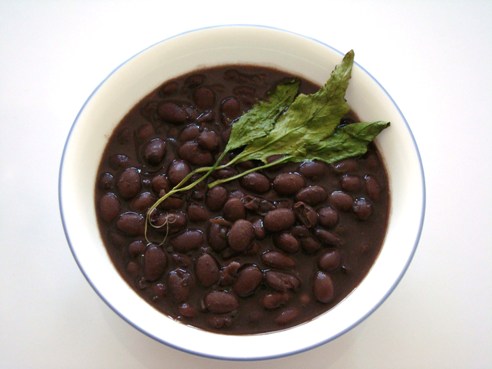 Black Beans with Epazote
According to Sunset, my climate zone is at the hardiness limit for this plant to survive the winter as a perennial, but it can be grown as an annual in most parts of the country. It is also known as Jesuit Tea, Mexican Tea and Wormseed (used to expel intestinal hookworms).
Intestinal hookworms. Yuk. Maybe it is time to change the subject to flowers. Sorry I did not get around to telling you what your statice was. Next week.
Y-not: Thanks, KT!
To close things up, how about a song?
KT's mention of Modern Beet got me thinking about one of my favorite groups, the English Beat. I love this scene:
Bonus song in honor of the Buckeyes:

What's happening in YOUR gardens this week?

Link to the Saturday Gardening Thread archives here.


posted by Open Blogger at
02:20 PM
|
Access Comments