« Fundamental Concepts - No True Mussulman [Weirddave]
|
Main
|
NFL Playoffs »
January 10, 2015
Saturday Gardening Thread: Trees in Winter [Y-not, Weirddave, KT]
Welcome gardening morons and moronettes! Today's theme is Trees in Winter.
To help get you in the mood, follow this link to some gorgeous photographs of trees encased in ice and snow, like this one: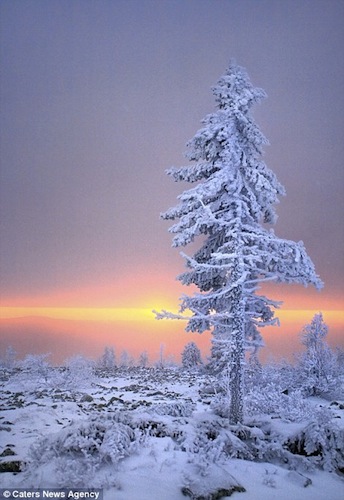 Throughout most of this country, the deciduous trees that we love lose their leaves in winter, which can make them rather boring features in our yards and gardens. That's why I tend to gravitate toward trees that have interesting bark, like this Japanese Maple (Bihou):
Or this American Beech:
Or this Paper Birch:
What are some of your favorite trees for adding winter interest in the garden?

Of course, my favorite tree in winter is the Christmas tree! Santa left a few gardening-related presents under my tree this year: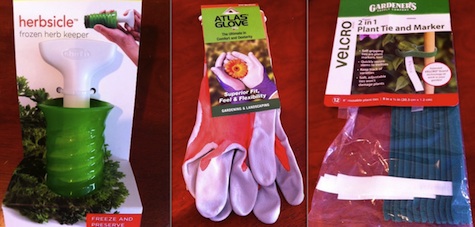 Santa brought me (l to r) an "Herbsicle," Atlas gloves, and velcro 2 in 1 plant markers.
I'll let you know how I like them as I get a chance to use them. I'm really intrigued by the Atlas gloves, which are quite thin but are supposed to be thorn-resistant. If they work, I might get over my dislike for roses!
Did Santa bring you any gardening goodies this year?

Now, here's KT with some helpful tips about purchasing and caring for trees and shrubs during these long winter months:
Bare-root trees and shrubs
Here in the Southern San Joaquin, we're coming up on the best time to plant bare root trees and shrubs. If you would like to plant deciduous fruit trees, try to get them from a source that identifies the rootstock onto which each cultivar is grafted. This affects the size and vigor of your tree. Also try to pick a rootstock suited to your soil type. A tree is a long-term investment.
Bay Laurel Nursery (one of the retailers for Dave Wilson Nursery) has good descriptions of many rootstocks. Other nurseries which identify rootstocks include Raintree in the West and Cummins in the East.
Fruit trees tend to be particular about the climates they like. If you want growing tips and advice on cultivars for your area, you may want to check out the Fruit and Orchards Forum at Gardenweb.
Winter Fruit Tree Care
We have several stone fruit trees and a couple of apple trees. We get winter fog here, which promotes fungal disease, and later (bacterial) fireblight in pome fruit trees. Somebody's baby has to be brave enough to go out in the cold to thoroughly spray the trees. That is one good reason to keep your fruit trees shorter than this: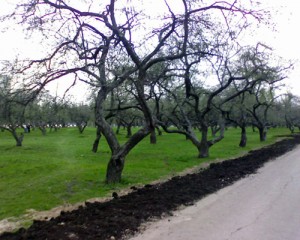 Apple orchard in winter
Here, the generally recommended schedule for spraying deciduous stone fruits with a copper fungicide (mine can be mixed with horticultural oil to smother insects and their eggs) is Thanksgiving week, Christmas week and Superbowl week. Your county extension agency should be able to provide you with dates for your region, if humidity is a problem where you live. I missed the early spraying this year because there were still leaves on the trees. The early spraying, just after leaves fall, is the most important one if peach leaf curl and shot hole are problems where you live.
Actually, copper is not the best fungicide for this use, but it is the best one generally available to home gardeners in California. Simple copper compounds pass muster with most organic gardening organizations even though they are, you know, inorganic. Horticultural oils from both petroleum and vegetable sources are available, but only the latter are considered to be "organic", even though both are chemically organic. I wish they had chosen another word to describe "organic gardening". Sulfur is sometimes used, but it can kill apricot trees.
Fireblight can be prevented on pear and apple trees with an appropriately timed, very dilute copper spray. Streptomycin (the antibiotic) is often used commercially, but the Greens are agitating against its use.
Apples and pears also benefit from an oil spray while dormant. I might spray the pomegranates this year, too. We got Leaf-Footed Plant Bugs last summer.
Sun scald on tree trunks is also a possibility even in winter. Paint trunks with cheap, white interior latex paint diluted 50:50 with water to prevent sun scald. Bay Laurel voids their warranty on new trees if the trunks are not painted.
After painting those tree trunks, you can get back in front of the fire and dream of spring.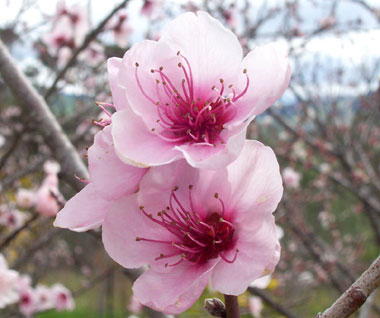 Peach Blossom: Delaware State Flower

Thanks, KT! Now some of you California morons and 'ettes have your Super Bowl Weekend plans all set!
To wrap up the Trees in Winter section of the Saturday Gardening Thread, here's Trini Lopez singing "Lemon Tree":
I'm sure most of the morons recognize Trini from his appearance in the classic movie, "The Dirty Dozen." (He played Jimenez, aka "Mayonnaise.") Here's a short clip from a program called "Hollywood Backstage" in which Trini is being interviewed:
And now...

Weirddave says
How about some winter gardening tips? Boy, that would have been quite an apropos thing to write about a few months ago, wouldn't it? Why, a smart, with it, conscientious garden blogger would have talked about that one week months ago when he was stuck for subject matter. Those garden bloggers are above, all that's down here is us chickens.
Maybe if you read about winter gardening now, you'll remember next year.
Winter Gardening - yes, vegetables
Real-World Winter Gardening Tips
From Your Growing Zone
Fall & Winter Vegetable Planting Guide
Winter Growing Abilities: Winter Gardening
Actually, I'm considering starting my tomato plants in February this year, I want big plants when I'm ready to put them in this spring. February isn't that far off anymore.
Today's thread brought to you by old and busted: Talking to your plants. New and hot:
Source: Cyanide and Happiness

posted by Open Blogger at
02:30 PM
|
Access Comments