« College Football Thread
|
Main
|
Fundamental Concepts: Subsidy [WeirdDave] »
November 01, 2014
Saturday Gardening Thread: Demon Seed Edition [Y-not, WeirdDave, & KT]
**BUMPED BECAUSE I'M AN IDIOT WHO KEEPS FORGETTING WHEN DAVE IN TEXAS PUTS UP THE ELBOW THREAD.**
In honor of last night's Halloween holiday, today's Gardening Thread is brought to you by The Demon Seed:
Bwahahahahaha!
Seeds come in all shapes and sizes. The world's largest seed, the Coco de Mer, weighs in at a whopping 66 lbs. Meanwhile, amongst the world's smallest seeds are those of a particular orchid that weigh one 35 millionths of an ounce. Mustard seeds are boulders by comparison!
This webpage, called The Seed Site, maintains a large catalog of seed images and all sorts of other seed-related information from thousands of plant species. That's some dedication right there!
In honor of chemjeff, here's some seed art: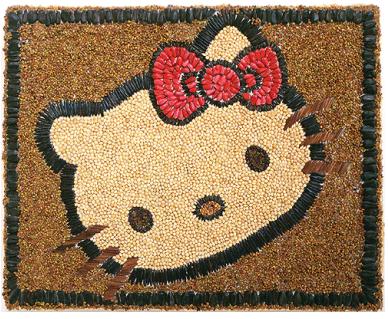 And here's yet another type of seed art of a more impressive kind: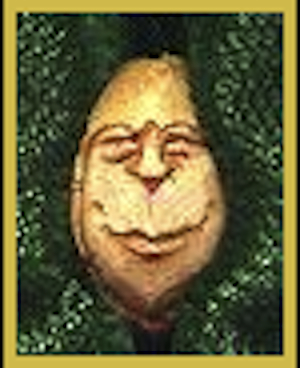 Now that Halloween is over, perhaps you're trying to figure out what to do with those pumpkin seeds and other pumpkin mutilation left-overs.
While this blogger takes pumpkin seed snacks a bit more seriously, recommending a particular variety of pumpkin for harvesting those tasty seeds.
And now, heeeere's WeirdDave:

Ooooh-kay... apparently WeirdDave is not quite over Halloween yet. I'm sure a week of heavy sedation will have him as right as rain.
In the meantime, here's KT to tell us about how to get GOOD SEEDS, CHEAP:
If you're like me, the gardens in your winter dreams are better than the gardens you actually grow. For me, many of those dreams are inspired by seed catalogs, often with large, enticing photos of veggies and flowers.
But it's not the dead of winter quite yet. If you're thinking about holiday gifts for your relatives, you want to start with the cheap seeds, right? The really dreamy catalogs can come later.

Below are three catalogs I like for different reasons, some of them more sentimental than rational. They all feature cheap seeds that will grow.
This catalog is my favorite for gifts to gardeners just learning to plant from seed. It is also wonderful for those ready to grow a really great variety instead of the first seed packet they see at the grocery store. I buy a lot of seeds from Pinetree for myself, too. Too many seeds. I'm KT and I'm an addict. But as vices go, buying seeds is cheaper than going to Vegas for the weekend, especially if I concentrate on the cheap catalogs first. It sort of makes me a prepper, too - mostly accidentally.
Profile: Pinetree started as a home-based business in Maine in 1979, with the idea of providing seed packets to home gardeners with a reasonable number of seeds for lower prices. They have grown because they do a lot of things right. Their catalog provides useful information like the disease-resistance profiles of hybrid tomatoes, which onions are short day types and cultural tips.
In addition to vegetable seeds, they sell seeds of herbs, tobacco, flowers, grains and cover crops, micro-greens and pathogen-tested seeds for sprouts. They offer a large assortment of gardening supplies and mushroom plugs or kits. They sell spring bulbs, tubers and plants - both edible and ornamental. Shipping of live plants may be on the late side for the southern tier of states. Check before ordering.
Notable items: Summer Dance Cucumbers, Giant Italian Parsley (Prezzemolo Gigante d'Italia) and floating row cover by the foot. They sell 24 kinds of basil plus a basil mix. Green Tiger is a cute little zucchini suitable for large containers. For winter, there are books, spices and teas, soap making and body care supplies and gifts.
Profile: Crosman's is even cheaper than Pinetree, all packets 99 cents each. Their catalog is actually just a seed list, but there is online information at their "seed rack". Seed packets (retro, with outdated prices) provide planting information.
This company seems stuck in time at around 1979, apparently the year they exited the big-time wholesale seed packet business. They still do custom-ordered seed packets. The current management seems sort of . . . . . relaxed about moving into the internet age. Order by mail. Call if you have questions.
You probably know someone who would appreciate this kind of simplicity. You could send Uncle Bill a gift order. He should receive a seed listing and, with any luck, an order form by mail next year.
The company had a little website difficulty this year, and their order form is not available online (!). Heh. Your Uncle Bill can be pretty confident that they're not into data mining. Minimum order is 3 dollars. Don't forget to include shipping.
My favorites: Delphinium Bellamosum, Marigold Dainty Marietta, Larkspur, Phlox Grandiflora Tall Mixed (annual) and California Poppy Mission Bells.
Vegetables: Romanette green bean is my top reason for ordering from this company. It is halfway between a Blue Lake and Romano type and has some heat tolerance. Most of their veggies are old standards, tried and true. Not all are suitable in difficult climates.
Artistic Gardens / Le Jardin du Gourmet
Profile: Slightly pretentious name. This company has an unusual marketing plan that says "family-owned" to me. It is associated with a flower shop. It emphasizes herbs and French veggies. It currently offers very small seed packets for 40 cents and larger ones for $1.05.
They also sell Shallots, Rocambole, Garlic, Egyptian Walking Onions and such at a higher price. And Shitake mushroom logs. They mail out fresh Sweet Cicely seeds and stratified Ginseng seed in the fall, for improved germination.
Their website is a work in progress. I think the owner's daughter works on the website when she is on break from college or something. The paper catalog isn't much more than a seed list. But it is cheap. You may have to look up some information on the seeds you find interesting.
The tiny seed packets are great for container gardening and for small harvests of veggies from seeds that lose their viability quickly, like parsnips and onions. Hint: if an onion lists 165 days to harvest, it's a short day type.
You could pass out 40 cent "Sugar & Pie" pumpkin or "Little Marvel" pea seed packets at Thanksgiving dinner as a reminder that our ancestors were often very, very thankful for food to get through winter plus seed to plant in spring. You could tuck a tiny packet of parsnip or lettuce seeds into your Christmas cards to selected recipients.
Notes: You can get 9 kinds of basil for $3.60 plus postage, or get them mixed for 40 cents. You can get stinging nettle, to eat (cooked) or to host some Red Admiral butterfly caterpillars. But be careful. Stinging nettle is invasive, and they don't call it "stinging" accidentally. There are some other invasive herbs offered, too. Peppermint does not come true from seed. Whatever they sell as peppermint is something else.
Veggies: Skip the Sucrin de Tours melons unless you're breeding melons with cold-tolerant seeds. The old-fashioned Violet Cauliflower turns green when cooked and has a mild broccoli flavor, unlike the new Graffiti types. It's easier to grown than white cauliflower.
Beans: Most people will want to get the large $1.05 packets. They sell French-style filet beans (Maxibel is nice, with some heat tolerance) and Coco Rose de Prague – a good dual-purpose fall bean here - as a green bean until the weather turns cold, when it can be used as a shelly.
Don't have a country mansion with a huge jardin potager? Well, work with what you have.
Do you have a favorite source for cheap seeds?
Y-not: Thanks KT!
To wrap things up, here's a documentary about plant "behavior"
Darn. Now we're going to have to take those "Keep off the grass!" signs a lot more seriously!

What's happening in your gardens this week?

posted by Open Blogger at
02:00 PM
|
Access Comments