« Saturday Gardening Thread: Demon Seed Edition [Y-not, WeirdDave, & KT]
|
Main
|
Open Thread: Hide n' Seek [Y-not] »
November 01, 2014
Fundamental Concepts: Subsidy [WeirdDave]
Here's a concept so fundamental I'm embarrassed that I have to bring it up at all, yet many people look at you like you have three heads when you mention it. Are you ready?


Anything you subsidize, you get more of.


That's it. I should end the thread right here and walk away. If you subsidize something, more and more people will try to take acquire the subsidy. OK, you might say, that makes sense, but so what? Water is wet. Why is this an important concept?


It's an important concept because once you understand it, it becomes crystal clear that government "aid" programs MUST always fail at their stated purpose. Last week, we discussed how the greatest government power is the power to spend. It's really the only tool in their toolbox. Yes, they can throw you in jail, but after they do that, then what? They have to spend money to feed and house you, and you can't throw everybody in jail. The only way a government can "aid" anyone is to spend money, and as soon as government does that, people or organizations move to capture the money being spent. Here's an example: Starting in the mid-60s, government moved to "aid" single women with children. A noble goal, you might claim, and you might even be right, but what has happened to the illegitimacy rate since then? In 1964, 8% of children born to whites in the US were illegitimate, it was 26% among blacks. In 2012 those rates had risen to 30% and 72% respectively. Now, government aid is hardly the only factor contributing to the explosion of illegitimacy in this country, social mores have changed drastically as well, but a case can be made that a large factor in the social change was driven by the presence of government aid.


Consider that a woman having a child out of wedlock before the welfare state would incur a huge financial burden, not just on herself but on her family as well. Social mores did not spring forth from a vacuum, they are one way that a society guides it's members towards behavior that is perceived to be beneficial to the individual and to society as a whole. By frowning on out of wedlock births, society limited their occurrence, protecting the individual from the financial penalty of such births, while at the same time limiting the negative financial impact on society as a whole.


After the welfare state, however, the financial consequences to the individual of an out of wedlock birth were, to a large extent, eliminated or at least minimized, is it any wonder that social mores changed as well? The old mores were no longer appropriate or necessary, so naturally they fell away. To come round back to the point, government set out to "aid" single mothers by spending money, and the result was a whole lot more single mothers. It got more of what it subsidized.


Here's a simpler example: student aid. Starting in 1973, the US government decided that it had an interest in helping students pay for college, so they subsidized tuition through loans and grants. Well, you might say, if subsidizing students gets us more students, isn't that a good thing? Yes and no. Yes, more students in the abstract, resulting in a highly educated populous, would be a societal good, but often times no in the specific because colleges started offering more and more garbage degrees in useless disciplines, negating the theoretic good. What is really being subsidized, however, isn't the student, it's the tuition. So what do you suppose happened?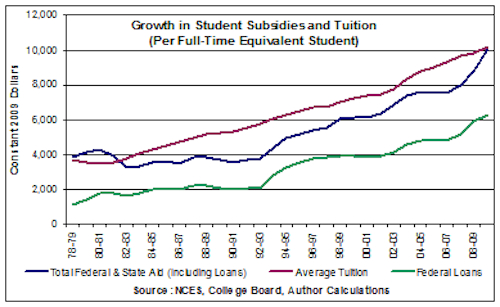 We got more of it.
Colleges and universities moved to "capture" the money that government was providing, and tuition rates climbed. Did we at least somehow make college more "affordable" in all of this?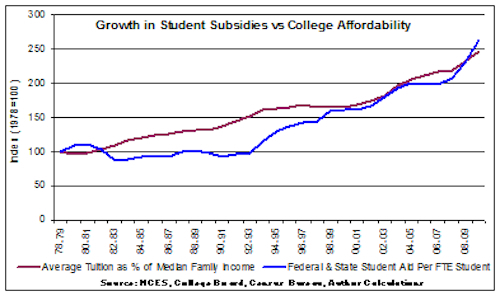 We did not.
Once you understand this concept, it becomes blindingly obvious that the left's fixation on government as the ultimate solution to all of life's ills is a fools delusion. Since the only power the government has to address a societal ill is to throw money at it, very little is going to improve as a result.

posted by Open Blogger at
02:30 PM
|
Access Comments