« Animal Planet: Snoop Dogg Style - Niedermeyer's Dead Horse
|
Main
|
Physics: It's A Marvelous Thing (CBD) »
January 30, 2016
Saturday Gardening Thread: Not DRAFT Edition [Y-not and KT]
Greetings gardeners!
I hope you all survived the storm without major incident. Here at the vast half acre Y-not Estate we lost one Eastern cedar to the ice and snow. Most of our cedars did fine, however, and resisted damage from the elements as they were designed.
The golf course behind us saw quite a bit of damage, mostly to the white pines. I'm not sure how many trees were downed, but there were a lot of large branches that fell. Apparently quite a few magnolias were also damaged in our area. (Here's an article about how they fared after last year's heavy snows.)
We'll be looking to replace the Eastern cedar we lost and add to our collection of evergreens, so I've started reading up on the best varieties to choose, here and here. I even found a blogger in Kentucky who has researched the best tall trees to plant in our area.
I may be too late for this year, but I plan on learning all I can about how to ensure my trees survive the NEXT big storm, here and here.
In the meantime, my lovely cedar has been converted into bedding for the world's largest hamster!
(Actually, don't do this. It's bad for your hamsters!)
Now, here's something warm and pleasant from KT:

While many members of The Horde have been having Adventures with Snow, I have been thinking about butterflies. Spring will come someday and gardening will again be possible. Our rosemary is already blooming, and the bees are out.
The Monarch Butterflies will be leaving their little Coastal California enclaves a couple of hours from us soon. February 6 is California Western Monarch Day. One of their enclaves, the little resort city of Pacific Grove, has hit the wall with regard to public pension costs. Butterflies still hang out there in winter, though. "Monarch mating season is in February around Valentine's day. The monarchs leave the California Central Coast around late February to the beginning of March."
But today, I thought I would focus on some butterflies whose caterpillars eat some of the same things people do.
Beckoning Black Swallowtail Butterflies (and some relatives)
After she moved to Kentucky, Y-not asked The Horde for information on plants that would attract butterflies to her new garden. It has been a while since we discussed butterfly gardening. Black Swallowtails, AKA Eastern Black Swallowtails, are among the easiest of the Larger-than-Painted-Lady butterflies to attract to eastern gardens. Anise Swallowtails are similarly adapted to gardens in certain parts of the west. Other swallowtails which share some host plants with these two species are mentioned below, too.
Several members of The Horde have planted Butterfly Gardens. You can check on which species of butterflies you might be able to attract to your garden by typing in your zip code here. In my case, the list seemed over-optimistic. But it is a start.
Most gardeners could grow at least one of the host plants for the caterpillars of the Black and Anise Swallowtail butterflies. Many of them are useful in the kitchen, too. As I recall, Y-not is putting off major gardening projects until a fence is finished, but maybe she could grow a host plant in a pot to attract mama butterflies. Nectar plants are more effective at attracting butterflies when planted in large swaths.

Egg-laying Black and Anise Swallowtail butterflies are attracted by carrots, parsnips, celery, caraway, dill, fennel and parsley. Related host plants found in the wild are listed here. I really like the photos at that link. This butterfly shows sexual dimorphism, with female butterflies typically displaying more blue and less yellow on open wings than males. The darker color of the female offers some protection from predators in areas where the black-and-blue Pipevine Swallowtail also flies. It is poisonous to some predators.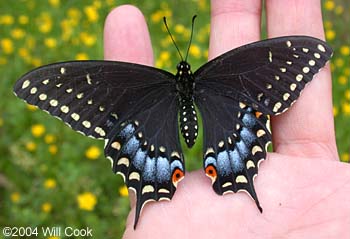 Female Black Swallowtail
The Black Swallowtail is found in most of the Eastern U.S. and into Canada. It is the State Insect of Oklahoma. Relaxing videos of its lifecycle and of adults feeding on phlox at the link.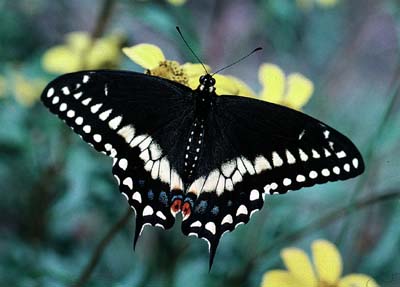 Male Black Swallowtail
Black and Anise swallowtail caterpillars often pupate on or near the host plants. The chrysalis is suspended from a silken loop. If you find one in the fall and want it to hosta in your yard next spring, you could carefully place it in a protected outdoor location - not too warm, no artificial light or strong winter sun, so the butterfly will not emerge too early in spring. Something to remember during fall garden clean-up.

Caterpillar-Watching
I used to raise Anise Swallowtail butterflies when I lived near bluffs in Southern California where they had established a population. Watching caterpillars for a few minutes cleared my mind when life seemed too complex. They are so focused on eating. And consequently, on pooping. Not much complexity there. Watching them pupate and emerge as butterflies was also fascinating.
Like many other caterpillars in the Swallowtail family, Black and Anise Swallowtail caterpillars have stinky, soft "horns" (the osmeterium) that they can extend when alarmed. But Anise Swallowtail butterflies are nicely fragrant, like perfume, when they first emerge. At least if the caterpillars were fed on fennel. You can see a caterpillar extending its stinky osmeterium below. Do not be afraid (unless you intend to eat the caterpillar):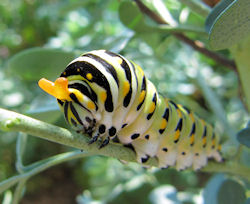 Raising a Black Swallowtail Caterpillar
One Moronette raises Black Swallowtails in an actual, attractive Butterfly House. I am impressed. I raised caterpillars in a rodent carrier from a pet store, with some netting under the lid when caterpillars were tiny. Generally Anise Swallowtail cats (butterfly nut lingo there) do not stray from the host plant too much when tiny, but Gulf Fritillary caterpillars may.
Raising caterpillars indoors protects them from predators and parasitoids outdoors. Most of the time. But once I noticed that a little caterpillar was eating its brother and sisters. Some species of caterpillars are cannibalistic, but this is not typical behavior for Anise Swallowtail larvae. It then became immobile without forming a chrysalis. A tiny fly-like insect, probably a wasp, emerged from it a few days later.
In Southern California, Anise Swallowtails produce several generations a year. The name "Anise Swallowtail" came from its adaptation to fennel plants introduced by Spanish missionaries. People have a tendency to name anything that tastes like anise "anise". We have already discussed growing real anise as a garden plant. It is related to fennel, but I have not seen reference to its use as a host plant for these butterflies. Surprising.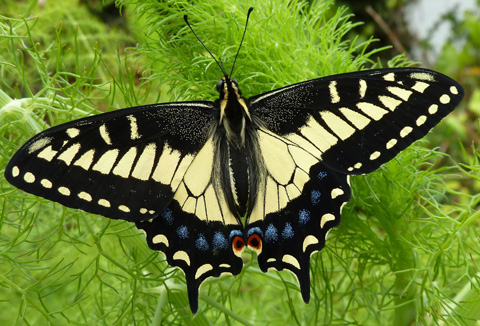 Life Cycle of the Anise Swallowtail
I have never seen an Anise Swallowtail here on the Central Valley floor. They are most common near coastal bluffs, mountain canyons and foothills where they can go hilltopping to find mates. Males visit mud puddles, like many other male butterflies.
The Black Swallowtail does not need to go hilltopping in order to find a mate, so it is more common in flatland gardens than the Anise Swallowtail. But males do defend display territories in "prominent topographic locations", and engage in a "lek mating system". Adults live longer than many other butterflies, and they may mate several times.
In California, Anise Swallowtail caterpillars are most often found on naturalized fennel plants or sometimes on orange trees. Nice life cycle photos here. They also feed on introduced poison hemlock in the first part of the season. I do not recommend planting poison hemlock as a host plant.
In other parts of their range, there is only one generation year. Caterpillars feed on native plants in the carrot and parsley family.
Cow Parsnip and other wild host plants
One common host is the dramatic Cow Parsnip, Herculeum maximum, named after Hercules. Native Americans have used peeled stalks of this plant for food, but like the wilder forms of celery, its juices can produce phototoxicity. For garden use, I think it looks best as a single, bold plant or small group of plants, rather than like this: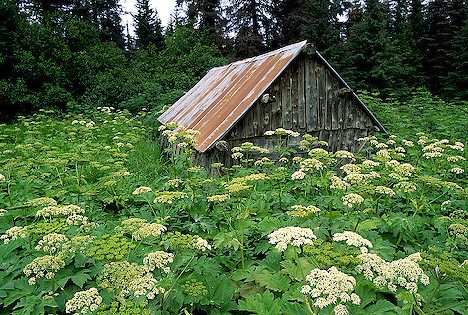 Cow Parsnip in an Alaskan Yard

The Short-tailed Swallowtail is very similar to the male Black Swallowtail. It lives in maritime regions of Eastern Canada, feeding on wild plants in the carrot and parsley family, notably Angelica and Scotch Lovage, in addition to Cow Parsnip. This butterfly is garden-friendly, like the Black Swallowtail. A Western counterpart found less frequently in gardens is the Indra Swallowtail. There are several subspecies with strikingly different appearances, all beautiful. Common names include Short-Tailed Black, Cliff and Grand Canyon Swallowtail. Males patrol parallel to ridgetops, while Anise Swallowtails patrol at the summits.
Growing Fennel
For Black Swallowtails or Anise Swallowtails, I think bronze fennel is the best host plant for caterpillar-watching because it is see-through and its color makes the larger caterpillars stand out like striped ornaments. Their stripes can be surprisingly effective camouflage on green plants. Bronze fennel is a color variant of Common Fennel.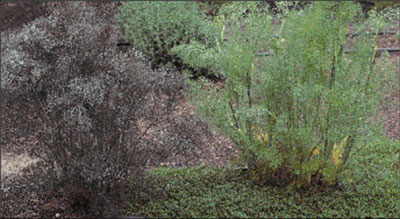 Bronze and Green Common Fennel
Rosalind Creasy, who wrote the book on Edible Landscaping, did a nice piece on Cooking with Fennel. She also included some history:
According to some authorities, the ancient Greeks called fennel marathron, from marainein, "to grow thin", reflecting its use in suppressing appetite. Others suggest fennel was named marathon, after a village about 25 miles from Athens where fennel grew wild. In 490 b.c., Athenians defeated the Persians at this site. Before the battle, Pheidippides, carrying a stalk of fennel, ran 120 miles in two days to recruit soldiers from Sparta; another long-distance runner took news of the victory to Athens and fell dead on arrival. Modern marathon races derive from this bit of history.
This is one tough plant in mild-winter climates. Common fennel is a major pest in some wild areas of California. Its ability to inhibit the growth of many other plants is a big part of the problem. There is now a fairly expensive campaign to eradicate it from Santa Cruz Island. Along with feral hogs. There are recipes that combine fennel with hog meat . . .
Common fennel can be grown as a perennial except where the winters are very cold and in the desert. It is useful for leaves as a summer annual in most places and as a winter annual in the desert. It is controllable in the garden, but if you live near wild land, especially on the West Coast, you should remove seed heads from your plants. Since the roots inhibit growth of some plants, do not position plants near delicate subjects in your garden. Where happy, common fennel can reach 8 feet in height. Whack it back after it flowers to avoid an ugly dormant season. Or whack it back earlier to control its height or delay flowering. Watch for (and move) caterpillars or butterfly pupae on the stems.
In Sonoma County, when Master Gardeners say "fennel" they mean Florence Fennel, the one used as a vegetable. It typically grows 1.5 to 2 feet in height. It is not invasive like common fennel. There are growing directions and foodie recipes at the link.
Florence Fennel, with its thickened stem bases, provides a more substantial crop for the kitchen than bronze fennel or common fennel if grown properly. The feathery tops of all types of fennel are used pretty much like fresh dill. The flowers are more pungent and are used mostly as a garnish. The seeds can be used either green for a burst of flavor or in the more familiar dried form.
Florence fennel is grown as an annual. It is prone to bolting in many gardens. "To perpetuate itself is the strongest urge in any plant. Taste and succulence are our priorities."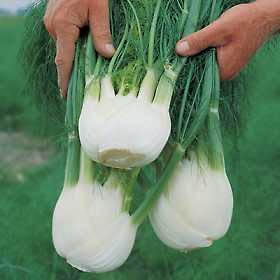 Florence Fennel
Timing seems to be important to growing fennel bulbs successfully. Florence Fennel can be grown in the winter in the desert. Day length may make a difference in other regions. The temperamental nature of Florence Fennel is a good reason to plant a named variety. For example, Zefa Fino is an open-pollinated cultivar noted for its bolt-resistance. There are also F1 hybrid cultivars.
If you are growing Florence Fennel and it looks like it is going to bolt, you might try cutting it off just above the roots (baby fennel bulbs?) and allowing it to re-grow. Even if it bolts, butterflies and caterpillars will love the flowers. And you can still use the leaves, flowers and seeds.
Whether you choose common fennel, bronze fennel or Florence fennel for your garden, it may save other plants in the carrot and parsley family from destruction, since it is more strongly attractive to mama butterflies. Just look at all those little caterpillars. Fun.
Y-not: Thanks, KT!
To close things up, I started looking for pretty pictures of ice-covered trees, which led me to this blog. The author posted some lovely photos of Niagara Falls (TYPO FIXED!) encased in snow and ice. It's hard to believe it, but it has been two years since our friend, Joffen passed away.
Let's raise a glass to him and all of our departed friends!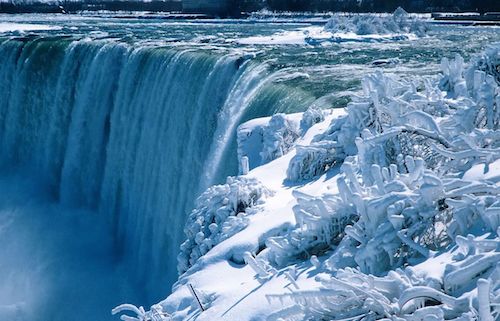 **UPDATE**
Commenter "Tim in Illinois" mentioned the interesting geological history of Niagara Falls. Here's a short video clip about that:

posted by Open Blogger at
03:05 PM
|
Access Comments