ę What's Your Favorite Woody Allen Film? Because Dylan Farrow, Whom Allen Molested When She Was Just Seven Years Old, Really Wants to Know
|
Main
|
Barack Obama vs. Bill O'Reilly Ľ
February 02, 2014
Sunday Travel Thread: Spiritual Places [Y-not]
This thread sponsored by Old Spice.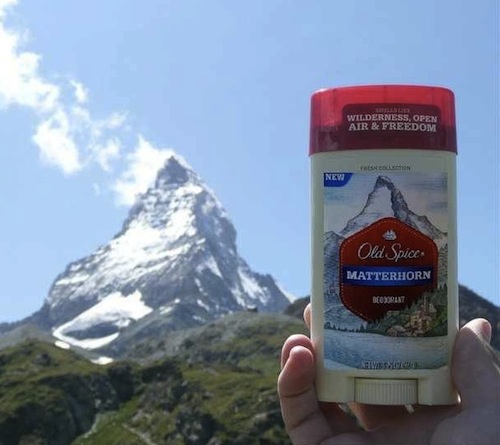 **OK, by special request, here is a link to the Hot Old Spice Guy.**
There were a lot of great suggestions in last Sundayís thread and I promise Iíll get to them, but in light of the events this past week I thought itíd be nice to use the travel thread to talk about the places weíve visited Ė or would like to visit someday Ė that renew our spirits and inspire us to carry on. Through all the struggles we endure in our every day lives, where do we go to find solace? Where do we feel closer to God (or feel a part of some Bigger Meaning, irrespective of if one believes in a higher power)? I think this is a primal urge that humans have Ė to find meaning and purpose for our lives beyond those that we share as animals (eating, drinking, reproducing, surviving). Itís a central part of who we are and one that I think itís important to nourish. Travel can be a great way to do that.
Back in the day, I had a chance to do a fair amount of traveling (although not nearly as much as many of our globe-trotting morons and Ďettes). These are some of my favorite ďsacredĒ places (below the jump):

The American West
Iím living here now but even before that I have long been drawn to this part of the country, particularly the desert regions which are so different from the region where I was raised. I think itís the scale of the open spaces, the immediacy of the Earthís geology, the harshness of the land (and toughness of the flora and fauna) and, frankly, the LIGHT out here that impress me to such an extent and make a Creator seem quite real and very present.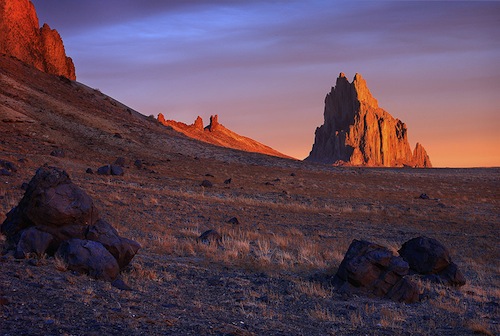 Image source
here.
I thought these articles describing some of the places sacred to native peoples were quite interesting. Iíve been to some of them and hope to visit more in the years to come:
Sacred Places in the Great Basin describes many of the important sites in Nevada, Idaho, Wyoming, Utah, and Colorado.
And this article on New Mexicoís Sacred Places highlights a few from New Mexico, which I think is one of the most beautiful places on earth. The light there really is special. No wonder artists are drawn to it.
Finally, I could spend hours looking at the 3D interactive panoramas of Utah on this site: Utah3D
...or I could get off my duff, hop in my car, and go see them!
St. Paulís Cathedral, London
Quite a few years ago now I had the chance to spend a few days in London and was fortunate to have a local act as my guide. One of the places that impressed me greatly was St. Paulís Cathedral in London. We happened in at the end of a long, hot day of walking all over town. Inside was cool and peaceful... and then the choir began to sing! We must have stumbled onto practice. Simply amazing acoustics. I was so impressed I popped a twenty pound note into the collection box. The virtual tour is wonderful.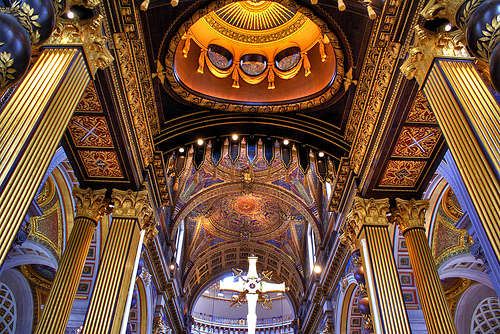 Image source
here.
Basilica of the Shrine of the Immaculate Conception and Mount St. Sepulchre, Washington, D.C.
Another church that made a great impression on me was the Basilica of the Shrine of the Immaculate Conception, which I visited with my family as a young girl. My specific memories are vague, but the visceral impression it made on me as a Holy Place has stayed with me to this day.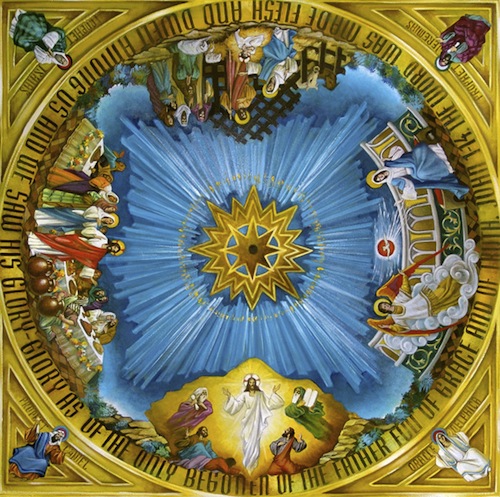 Image source
here.
As I recall, my parents also took me to the nearby Franciscan Monastery of the Holy Land (aka Mount St. Sepulchre), which includes fascinating catacombs that made quite an impression on me as a youngster. There's a virtual tour available here.
Of course there are many other beautiful churches around the world, some of which are listed in this article. Which have you visited?
One that is on my bucket list (and possibly yours, too) is the Sistine Chapel and its amazing ceiling. The 3D virtual tour of the chapel is breathtaking.
Also on my bucket list are two important American sites, Gettysburg and Arlington National Cemetery. I don't know how it happened to be that I've never been to either despite growing up in the area and having parents who were really wonderful about taking my sister and me to monuments, museums, and historical sites. In any event, I'd like to go to both of them someday. I expect they are powerful landmarks.
In addition, I'd also like to visit the USS Arizona Memorial someday and pay my respects to the men who lost their lives there.
Finally, I think Iíd like to visit Stonehenge. Iím curious if it would feel like a sacred place or merely an historical curiosity.
What places are on your bucket list? Where do you go to find peace and inspiration?

To finish up, hereís lovely video of Niagara Falls in honor of our friend, Joffen:

posted by Open Blogger at
05:04 PM
|
Access Comments