« Open Thread
|
Main
|
Morning Thread (1-22-2016) »
January 21, 2016
Overnight Open Thread (1-21-2016) – Made For The Men But Still Attractive To The Ladies Edition
The design flaw of the secular social-democratic state is that it requires a religious-society birthrate to sustain it. Post-Christian hyperrationalism is, in the objective sense, a lot less rational than Catholicism or Mormonism. Indeed, in its reliance on immigration to ensure its future, the European Union has adopted a 21st-century variation on the strategy of the Shakers, who were forbidden from reproducing and thus could increase their numbers only by conversion.

-- Mark Steyn, America Alone (2006)
To sit home, read one's favorite paper, and scoff at the misdeeds of the men who do things is easy, but it is markedly ineffective. It is what evil men count upon the good men's doing.

-- Teddy Roosevelt in The Higher Life of American Cities (1895)
Additionally, Eastwood has made films with a heavy focus on non-white communities. His Oscar-nominated Letters from Iwo Jima is one of the few American war films to take seriously the Japanese side in World War Two, while Gran Torino, a film focused on the Hmong community in Detroit, was one of the biggest box office surprises in recent memory, grossing $148 million domestically and amassing the 12th-highest take that year.

So, look: You can talk about the importance of diversity, as liberals like George Clooney like to do. Or you can, you know, make something worthwhile that also happens to be diverse in nature without pandering, as the conservative Clint Eastwood has done.

-- Sonny Bunch in #OscarsSoWhite, but NOT Because of Clint Eastwood
I started off at the bottom. I was born a poor black child. And all day long around the house, they'd sing the blues. Then I heard my first Mantovani record, and I knew that this is where it's at for me. The kind of music I enjoy. These are my people. So I decided to become white. I had my c**k shortened. Then I got a job as a television weather man.

-- Steve Martin, Let's Get Small (1977)
The Amazing Bernie Sanders Swag Available on the Internet
Some of this is worth buying just for the LOLs.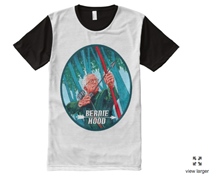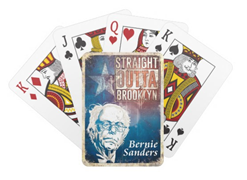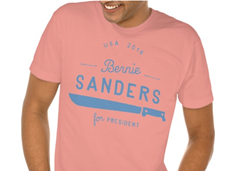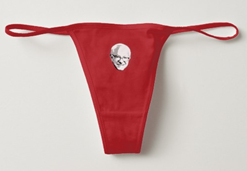 Muslim Cleric: The Cologne Sex Attacks Were the Victims' Fault Because of Their Sexy Rapey Perfume
Blaming Cologne on the cologne - they just smelled too damn good to not attack.
Meanwhile ISIS Has Their Own Guidelines for Perfume for Men
It's okay to smell good but mostly smell like the locals.
"If you want to use perfume during your travel, don't use the oily, non-alcoholic perfume that Muslims use. Use generic alcoholic perfume as everyone does, and if you are a man, use perfume for men."
CDR Salamander: How MLK Got Me Thinking of Pim Fortuyn Again
NY Spirit and Charitable Donations: Donald Trump vs. Leona Helmsley
Advantage: Leona Helmsley, who was an awful nasty cheap person and died in 2007 yet still managed to out-give Trump by a substantial margin.
Why Obama's Rhetoric Now Fails
Gun Control and Confiscation: The Choice of Murderous Totalitarians Across All Stripes And Ages
"ISIS was telling everyone, 'We're all brothers,' " Abu Malik said. "They let people smoke and drink. At the checkpoints, they distributed presents to the kids. They ate with people, drank tea with people. They were very nice-they didn't bother anyone. Then, a week or so after they arrived, they started confiscating weapons. They told us it didn't matter if we'd been with the Awakening or the Army or the police-if we gave up our weapons, we'd be forgiven. Ten days later, they started taking people. Everything changed. They took my cousin. My brothers dug holes in the fields and hid. I was at my house when they came for me. It was afternoon. I saw two Hyundai Santa Fes pull up outside, and I ran out the back and jumped over the wall. That was the last time I saw my family."
Woman Who Claim They Have Hybrid Alien Children
And apparently the aliens are amazing lovers. So I guess it's 'probing' if you're not into it but a 'super primal sexual experience' if you are. (Thanks to The * Hat)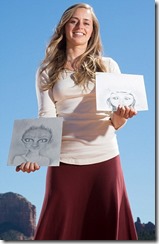 True Fact: You Can Use YouTube's Professional Studios in LA and NYC For Free If You Have 10,000 Subscribers
When Clint Eastwood Became Clint Eastwood
In the early 60s Eastwood was known as just a TV character actor usually playing clean-cut good guys. Then he lucked into the lead role for the Italian-made movie, A Fistful of Dollars, in 1964. And with the addition of a poncho and cheroot, implied menace and moral ambiguity along with his laconic delivery and squint he essentially created the classic persona that he would play and play off of for the next 50 years.
And the you have this classic scene. As one YouTube commenter put it you have more testosterone and better non-verbal acting in just 6 minutes than you'd find in 10 modern movies.
Semi-Related: "It's time to consider a curfew for men."
The editor of 'Canada's leading feminist website' says that women are under constant threat of male gaze and phallic attack as shown in the Cologne attacks and has a modest proposal on how to deal with this problem:
There are solutions: a feminist revolution. an end to masculinity. all of that would help.

It's time to consider a curfew for men.
While a curfew would not resolve the problem of patriarchy and male violence against women, it does, in a way, address entitlement and privilege. The more I consider the idea of a curfew for men, the more it makes sense...

...Think of it as a mass grounding for men. After a designated period of time, we'll allow them back on the streets after dark to see how it goes. If the sexual assaults and harassment continue, well, it's back to the curfew.
25 Things You Should Know About Dating
There's a lot of wisdom in this list.
Dating is a numbers game. The guys who are best with women are the ones willing to put themselves on the line as often as possible.
Body language and non-verbal communication will make or break your first impression. Stand tall, relax your shoulders, walk with self-assurance, give strong eye contact, and smile.
Forget trying to come up with the perfect opening line. A simple "Hey, what's up?" or "Hi, you looked cool and I wanted to introduce myself" is enough. It's not what you say, it's how you say it.
An attractive lifestyle will do more for your dating life than almost anything else will. If you're surrounded by positive people and interesting experiences, she'll be excited to be a part of that
Listen to women and be in the conversation, not stuck in your own head. Relate back to her, share your own interests or stories, and learn to open up. Dating is about connecting on an emotional level.
Talk to everyone, it's the fastest way to build your social skills. Start approaching girls you encounter in your daily activities - don't limit yourself to the bar or club scene.
Rumor: Hustler's Larry Flynt Wants To Buy the Playboy Mansions...But Only If He Can Boot Out Hef
20 Iconic Movie Scenes That Nearly Killed Their Stars
Including Rocky IV:
After several movie-style fights where none of the punches thrown were real, Stallone decided it just looked terribly fake on camera and the two action heroes agreed they would engage in legitimate sparring in order to catch the authenticity of the fight and emotions on film.

Lots of real punches were thrown during that match and you have to admit they do look pretty damn awesome and badass, so the idea worked. However, for the last punch when Lundgren was supposed to knock Stallone down, Rocky told Lundgren to hit him as hard as possible. Lundgren delivered a punch that caused Stallone's heart to swell and sent him straight to intensive care for 8 days in Santa Monica.

Luckily, Stallone finally recovered and this fighting scene went down in history where it was supposed to be.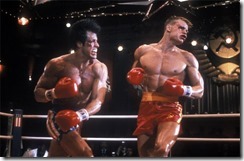 Yahoo group. That is all.
Come on be a smartie and join the yahoo group party! For the children. Why do you hate children?
And my lo-fi Twitter spew.
Tonight's post brought to you by classic male literature: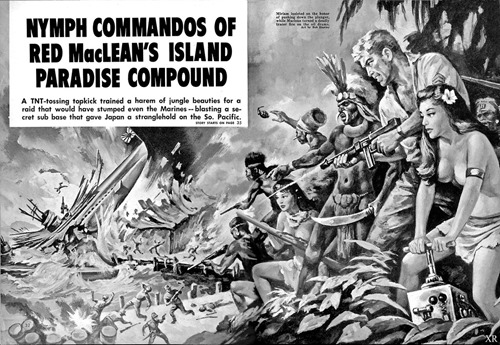 Notice: Posted by permission of AceCorp LLC. Please e-mail overnight open thread tips plus $1 for S&H to maetenloch at gmail. Otherwise send your scraps to the disposalator. Note that the mannequins are for display only - no groping!! Do not taunt happy-fun ball. Dead Buzzion was only his first victim.

posted by Maetenloch at
11:22 PM
|
Access Comments