« Early Night Open Thread
|
Main
|
Morning Thread (12-10-2015) »
December 09, 2015
Overnight Open Thread (12-9-2015)
It Turns Out They Were Exactly Who We All Suspected They Were
Dark suspicions confirmed. So much for the just workplace violence due to a religious argument explana-bi. As well as the modified limited hangout that he simply got radicalized by a evil extremist foreign woman. Both now inoperative.
And note that this is their best we're-totally-not-America-hating-angry-Jihadis look for immigration control. I'd say that they clearly need to work on it but on the other hand it apparently worked well enough for them to get in so maybe I'm not the best judge in this area.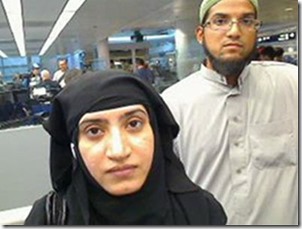 Leader of Paris Attacks Recruited His Terror Team From Refugees in Hungary
Just as we all suspected would happen.
A suspected ringleader of the deadly Paris attacks travelled to Hungary where he 'recruited a team' from unregistered migrants passing through the country, government officials say.

Salah Abdeslam, who remains on the run from European authorities, is believed to have visited Budapest's Keleti station, then left the country with the team he pulled together.

The development comes as evidence grows that ISIS jihadis are passing through Greece and the Balkans hidden among refugees fleeing the Syrian conflict.
The Real Reason Why Obama Gave That Speech: His Daily Polling Results Were Abysmal
As I suspected:
A plurality of likely voters, 43%, rated Obama's response to the San Bernardino attack as "poor." Only 34% called it excellent or good, with the rest describing his response as fair. So nearly two-thirds considered Obama's response to be fair or poor.

On the broader question of whether the San Bernardino massacre was mainly a terrorism problem (as conservatives believe) or a gun problem (as liberals insist), voters side with conservatives. Sixty-nine percent say San Bernardino was "primarily a terrorism issue," while only 20% call it "primarily a gun control issue."
How The NY Times Lies With the Truth
Nothing is inaccurate in this chart but it has been cleverly constructed to mislead and hide some key information from you.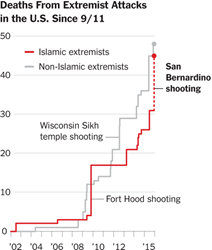 Man all those extremists sure are an equally surly bunch. Oh wait - here Rusty at the Jawa Report adds a pertinent detail or two that clarifies just where the problem lies.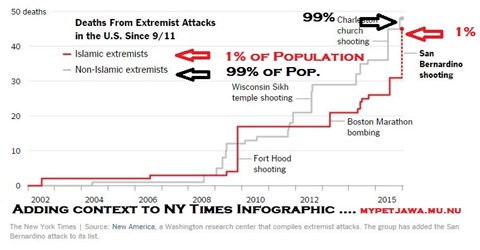 Related: How The Anti-Gun Sausage Gets Made at the NY Times
And it's pretty much just as tendentious and plotted as you suspected.
The day after the school massacre in Newtown, Conn., in December 2012, [publisher] Arthur [Sulzberger] was in my office. Would it be possible, he asked, for us to go bananas on guns for a while? (He actually used an earthier expression than bananas.) I said yes, and mobilized our editorial writers. In the next month, we published about 15 editorials on the subject of guns, gun violence and gun regulation.
Note that Sulzberger himself has a NYC gun carry permit which is pretty much restricted solely to the powerful and wealthy in the city. Because the aristos can handle guns - you can't.
Bookworm on Why Motives Matter and David French's Pyramid of Hate
This is why I find so infuriating the endless Leftist comparison between Syrian refugees and groups of people subject to historical discrimination. There was no evidence whatsoever that Holocaust era Jews, en masse, had a burning desire to destroy America. There was no evidence whatsoever that Irish Catholics were intent upon planting bombs across America. There was evidence that Iranians were a problem, so Jimmy Carter banned them to protests from . . . nobody.

While there are many innocent Syrians, the reality is that (a) Muslims really do hate us, and in dangerous numbers, and (b) Syrian Muslims really hate us, in a weaponized way.
And then you have the pyramid:
To understand the Muslim edifice of hate, imagine it as a pyramid - with broadly-shared bigotry at the bottom, followed by stair steps of escalating radicalism - culminating in jihadist armies that in some instances represent a greater share of their respective populations than does the active-duty military in the United States.
How an SAS Team Tracked and Killed the ISIS Executioner, Jihadi John
Nano-helicopters.
And the secret weapon used to identify Jihadi John was a 1lb helicopter drone launched by the soldiers.

The daring mission began in darkness on November 11 when two US Chinook helicopters skimmed low across the Syrian desert to land at an isolated spot.

Avoiding all roads, the team of soldiers drove in desert buggies 35 miles south towards Raqqa. At about 3am, they 'dug in' five miles outside the city, where they remained undetected.

The following evening, while the rest of the team were on lookout, one man assembled four 3ft nano-helicopters with infrared and night-vision cameras in the nose. They were pre-programmed to fly to Jihadi John's hideout - a six-storey building in Raqqa.

The first drone set off towards its target, then entered 'hover and stare' mode, recording the movements of IS suspects at a building near the Sharksa mosque.

It beamed footage by satellite back to SAS HQ in Hereford and the US Central Command in Doha, Qatar.
As curious as I am to know the story I wish they wouldn't go into such detail here. Unless it's really all misdirection anyway.
Tom Friedman Has Another Foreign Person Anecdote That Just Happens To Make His Point Perfectly
For those of you who picked Taxi Driver in this week's Friedman anecdote pool sorry you're out.
Merkel's Government Approves Special Labeling Requirement For Israeli Products
No other country has such requirements for 'disputed territories'. There can only be one reason for doing this: to make it easier for BDS boycotts.
Kowtowing in the South China Sea
Welcome to low-T nation status.
In response to China's actions, Secretary of Defense Ashton Carter declared in May that "the United States will fly, sail, and operate wherever international law allows, as U.S. forces do all over the world." It took five months for the administration to back up that declaration, but it finally appeared to have done so when the Lassen sailed close to Subi Reef in what we all assumed was a Freedom of Navigation operation.

But Dean Cheng of the Heritage Foundation has pointed out that the Lassen voyage, far from effectively contesting China's sovereignty claims, may actually have validated them, because when the Lassen passed by Subi Reef it turned off its radar and grounded its helicopters. If so, that would make the sailing not a Freedom of Navigation patrol but an "innocent passage."

The point is not arcane. When naval vessels sail in international waters, they are free to conduct normal operations. When they want to sail through another country's territorial waters, they must make an "innocent passage" by severely curtailing their normal range of activities. That appears to be just what the Lassen did, and if so, the effect of the voyage was to recognize de facto that Subi Reef is Chinese territory, in contradiction to international law and America's declared policy, and to the detriment of America's vital national interests in the region.
Classic Iowahawk: Feed Your Family on $10 Billion a Day
Seems like these days I hear a lot of whiney whiners whining about "out of control government spending" and "insane deficits" and such, trying to make hay out of a bunch of pointy-head boring finance hooey. Sure, $3.7 trillion  of spending sounds like a big number. "Oh, boo-hoo, how are we going to get $3.7 trillion dollars? We're broke, boo-hoo-hoo," whine the whiners.  What these skinflint crybabies fail to realize is that $3.7 trillion is for an entire year - which translates into only a measly $10 billion per day!

Mister, I call that a bargain. Especially since it pays for all of us - you and me, the whole American family. Like all families, we Americas have to pay for things - health, food, safety, uncle Dave America with his drinking problem. And when little Billy America wants that new quad runner they promised, do Mom and Dad America deny him? No, they get a second job at Circle K, because they know little Billy might have one of his episodes and burn down the house.

So let's all sit down together as an American family with a calendar and make a yearly budget. First, let's lock in the $3.7 trillion of critical family spending priorities; now let's get to work on collecting the pay-as-we-go $10 billion daily cash flow we need.
Behind Those Awful Album Cover Lists
An interesting look at the people behind the covers and a reminder that they were/are in fact real people with complete lives beyond just a cheesy album cover.
Freddie Gage's claim to fame among most internet users is the album cover for the audio version of his book All My Friends Are Dead, which is understandably a little morose and a bit on-the-nose for most people. But Gage, nonetheless, had a career as a preacher that lasted decades, one predicated on the early lessons he learned as a former gang member in the Houston area.

"He was blunt," fellow Rev. John Bisagno told The Houston Chronicle after Gage's death last year. "He didn't put things in theological terms but in street language that they all could really understand. He didn't pull any punches. Second only to Billy Graham, Freddie Gage was undoubtedly the most successful evangelist of the '50s, '60s and '70s."
27 Unspoken Suit Rules Every Man Should Know
Actually they must be spoken at some point or else no one would ever know them.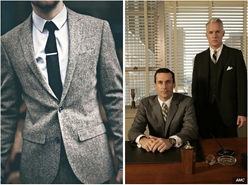 Greetings From the Best Ski Resort in Africa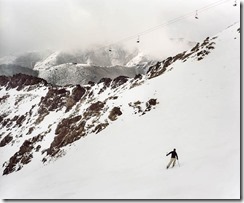 The Group knows your sins but doesn't care.
Tonight's post brought to you by not even once!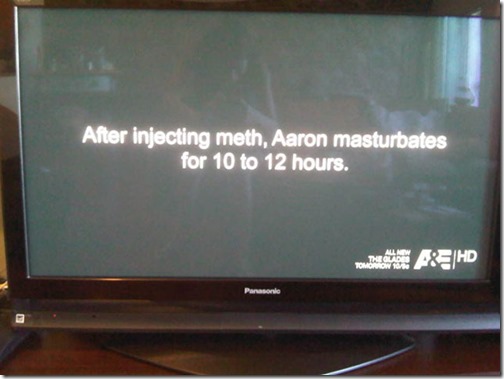 Notice: Posted by implicit permission of AceCorp LLC. And remember folks: ABC - Always Be Commenting.

posted by Maetenloch at
11:20 PM
|
Access Comments