« Open Thread: Summer Is Here [Y-not]
|
Main
|
It Sure Looks Like Greece Will Exit the Euro »
June 27, 2015
Saturday Gardening Thread: Tropicana Edition [Y-not, KT, and Weirddave]
Y-not:
Good afternoon (evening?) gardeners! Today's late edition of the Saturday Gardening Thread is brought to you by Fess Parker:
Another light week of posting from yours truly, I'm afraid, owing to some unexpected travel. Fortunately as you will see, KT came through #LikeABoss and I think even Weirddave has something for us this week.
Long-time moron Gordon tipped me off to this excellent website that might be of interest to many of our tropical morons, Florida Survival Gardening. It looks like a great site, chock full of helpful and interesting content.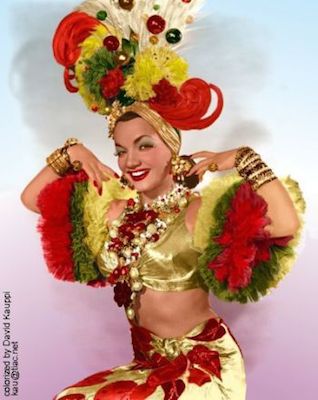 A tropical moronette. I can neither confirm nor deny that this is Niedermeyer's Dead Horse.
Gordon goes on to say the following about the proprietor of Florida Survival Gardening:
A friend of mine, David the Good, has published a book called Compost Everything. You can find it on Amazon as an ebook or paperback. David, while he may not be aware of it, is kind of a supporter of the moron lifestyle. His book is funny, entertaining and very educational.
As you'll see on David's website, he also has another booklet, Create Your Own Florida Food Forest that I bet would interest many of the horde. (Make sure to use Ace's Amazon store thingy if you order one of these books. Flea dips are quite pricey these days and the alternative, dipping in kerosene followed by exposure to a flamethrower, is not very pleasant!)
I hope we can get David to comment here and perhaps set up a future guest post or two on some topics of interest to the horde. Please let him know of your interests in the comments. (And be gentle because he may be a noob!)
And now, let's see what KT has for us this week:
Summer!
This year, Summer Solstice was on Fathers Day, July 21 -- the official start of summer. Midsummer Day was on June 24. Does this make sense to you?
Ever wonder why June is the month of weddings, how Groundhog Day got started, or why we hold elections in the fall? The timing of present-day rituals and holidays may be based on the calendars of the ancient Celts and other cultures. These divided the year into four major sections, called quarter days, and then divided each of these in half, creating four cross-quarter days . . .
Most of the action in A Misummer Night's Dream is set on the night of the Summer Solstice. Were the forests Shakespeare knew frightening or beautiful?
When one of our friends was lost for several days in the high country, the forest seemed quite frightening to me -- more because of mountain lions than because of mischievous fairy folk.
Some other strange creatures
may visit the forest during Summer Solstice, though. Be careful about planting too many trees in your yard. You never know . . .
The Old Farmers Almanac also has quite a bit of information concerning the summer solstice, including a link to a sunrise/sunset calculator for your area, so you can plan your garden activities.
Sometimes the relationship between the Summer Solstice and Midsummer Day can be sort of ambiguous. Fun fact: In Sweden, summer solstice is celebrated by eating the first strawberries of the season. "In Sweden the Midsummer is such an important festivity that there have been serious discussions to make Midsummer's Eve into the National Day of Sweden, instead of June 6."
Around here, the first (and last) strawberries of the season are long gone before Summer Solstice. It is way too hot for strawberries now.
Currants growing on the North Face
We may not have strawberries, but we currently have fruit on plants that depend on getting a little sun around the time of the Summer Solstice. We have been enjoying Clove Currants. Back in January, I briefly mentioned this plant as an edible landscaping choice for a north wall at our latitude (with a photo of the fruit) in a segment on planning your yard based on where sunlight hits as the sun moves in the sky during the year.
Did anybody remember to check where sunlight hits in the yard, especially with regard to windows, at summer solstice? If not, you can still get a good idea where the sun hits in summer by checking this weekend -- morning, noon and early evening.
Y-not did a great segment on gooseberries and currants back in February. It reminded me of the strongly-flavored black currants that grew in our garden as I was growing up. They imparted an exotic, wild flavor to raspberry or raspberry/peach preserves. A neighbor from Finland who had Type 1 diabetes always came by to pick some because of the purported benefits of the fruit for her condition. Another neighbor grew large gooseberries. They were generally very tart, but sometimes when she invited us over I was able to find a few really ripe ones that were fairly sweet. They were wonderful. I cannot grow either European black currants or gooseberries here.
For our climate, the only good edible currant/gooseberry choices I know of are Ribes aureum and the closely related Ribes odoratum, AKA Ribes aureum var. villosum. They are remarkably drought tolerant for currants. We are certainly in a drought.
Alternate common names are "Buffalo Currant" and "Golden Currant". Fruit color ranges from golden to black. The name "Clove Currant" refers to fragrant yellow blossoms. Some cultivars are more fragrant than others. The most fragrant wild plants are from the Midwest rather than the West.
The most common cultivar for culinary use is Crandall, released in 1888. It has large, sweet black fruit. I suspect that it is sweetest where the weather gets hot, with some water restriction as it ripens. Ours are quite sweet this year, especially considering that they are currants. They taste best a few days after they turn black.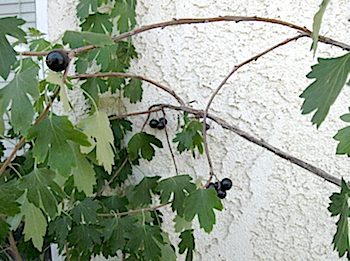 This cultivar is shorter than many wild plants, usually seen at three to four feet in height, though it can get taller. Our plants would be taller if they were not so droopy. Since they are against the north wall of our house, they only get part sun in summer, with no direct sun at other times of the year. We have to prop the stems up with strings and T-bars, set at about 3 feet in height. The plants are gangly enough that they are not particularly attractive. But they produce good fruit in the side yard where we seldom go. They are easy to care for. Here is an embarrassing photo of bare-stemmed, floppy branches against the wall. They would probably look better if grown in an eastern exposure.
This currant is also cold tolerant. There is a nice, representative photo of a plant growing in Wisconsin. The Missouri Botanical Garden has an informative profile on this cultivar, though it will grow in parts of Zone 9, too. At least in the West. Some cultivars were developed in Canada, and amateurs continue breeding and selection. I think a cross-species hybrid of a sweet Ribes Aureum with a distinctively flavorful European black currant could be interesting.
Will the real Brandywine tomato please sit on my sandwich?
As Weirddave has attested in his own unique way, summer is the season for all kinds of tomato sandwiches. Many heirloom tomatoes just seem made to feature on a sandwich. You might be interested in perusing 17 ways to build a better tomato sandwich. I generally go for "simple", but tastes and aspirations vary.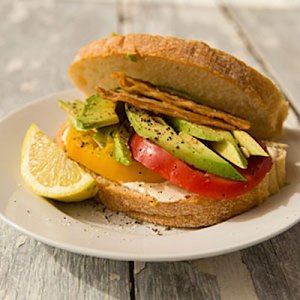 The Zinger
"Brandywine" is the most famous name in heirloom tomatoes. Sometimes it is hard to tell the real deal from the impersonators.
The most celebrated Brandywine of all is a dark pink beefsteak, saved for future generations by tomato enthusiast Ben Quisenberry. The strain he saved is known as the Sudduth Strain. This potato-leaf cultivar is the standard against which other beefsteak tomatoes are judged. It is notoriously finicky about growing conditions. It is not productive for many people.
There are several other strains of pink Brandywine tomatoes available now. One that is reputed to be more productive than the original is Cowlicks. Some seed houses carry their own strains.
Things get more confusing when it comes to Red Brandywine. The first published record of a Brandywine Tomato described a regular-leaf red slicer. A "Red Brandywine" fitting that description is now often designated as the Landis Valley Strain, though it did not originate there. A museum in Landis Valley, Pennsylvania maintains this strain, along with other heirloom tomatoes, beans and other crops.
Tomato Growers Supply also sells potato-leaf and regular-leaf beefsteak versions of "Red Brandywine" in addition to "Landis Valley", but true tomato nuts generally reject the beefsteaks as misnamed tomatoes. Unless you know which strain your nursery sells, you may not get what you expect when you pick up a Red Brandywine plant.
Yellow Brandywine is a beefsteak. There is a popular selection called the "Platfoot Strain".
My Tomato of the Week is Brandywine OTV. The initials stand for "Off the Vine", a defunct tomato newsletter. It is a red beefsteak -- the stabilized offspring of Yellow Brandywine and an unknown red tomato. It has a reputation for being more heat tolerant than other Brandywine tomatoes. But I have planted it a couple of times before without much success. The third try worked.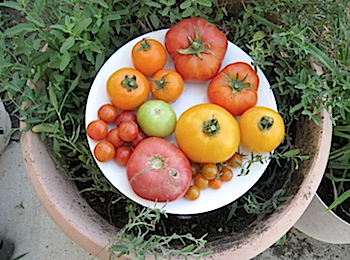 Two fruits are seen at the top in the photo below, along with (clockwise) Lemon Boy, Sungold, Stump of the World (dark pink, gnawed by a grasshopper, apparently), Large Red Cherry and Sweet Tangerine (including the green one from a broken branch). Stump of the World is better than Brandywine OTV in our garden this year.
I like the mild Lemon Boy VFN Hybrid when it starts to turn a little bit golden, with some water restriction. It has a different character than the heirloom beefsteaks. It is great for visually striking (and tasty) salsas and for salads. It is favored for fried green tomatoes. It is one of the more heat tolerant tomatoes around.
Sungold Hybrid shows the greenish coloration typical of its ripe fruits in our hottest weather. The little cherries still taste good. But their unique, fruity flavor comes out best in a little cooler weather, and their color is more appealing then, too.
Large Red Cherry has a nice, sweet tomato-y flavor in the heat -- considerably better than in cooler weather. Interesting how various tomatoes taste best in different weather conditions.
I suspect that tomatoes sold under this name are quite variable. I have no idea where my strain came from. Ben Quisenberry canned them whole. I cannot even imagine peeling all those little tomatoes. But if you want his heirloom strain of Large Red Cherry, Brandywine or Stump of the World, buy seed from a source that keeps track of where its tomato strains come from.
Hope some good things are happening in your garden, or that you get to eat a good tomato sandwich. Or both.
Y-not: Thanks, KT! Weirddave is back from his two weeks vacay from the Gardening Thread, so let's see what he has for us today:

I was in Mexico while I was away, and the resort I stayed at had impeccable landscaping. A crew of gardeners was always hard at work to keep it that way.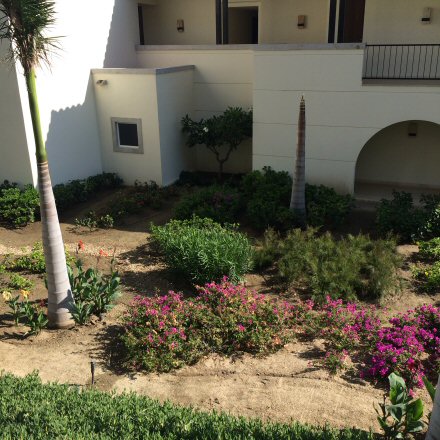 If you look closely, you can see the sprinkler heads for the irrigation system. LOTS of water is needed to keep things looking like this, Baja California Sur is basically a desert. The slopes were planted in a lush, green ground cover that seemed to be everywhere.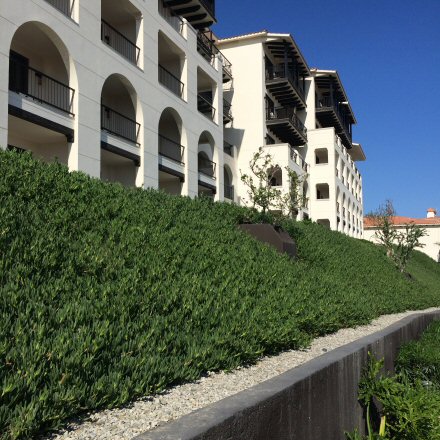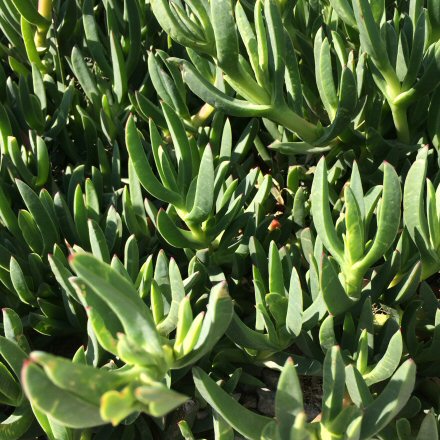 There was one plant that I especially liked, but I never could find out exactly what it was. None of the gardeners spoke enough English to help ("Como se llama that thing?" wasn't cutting it) and none of the staff that spoke English knew what it was, and I was never able to bring the two together next to the plant. I did take pictures though, can any of the Horde help me out?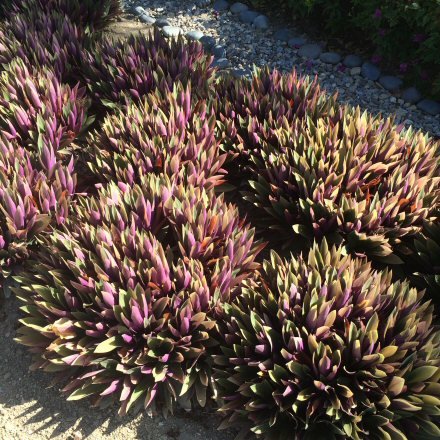 Purple and green spiked leaves, side by side in a plant about the size of your average Hosta. Does anyone know what it is and if it'll grow in the Mid-Atlantic? While the landscaped areas were cool, the raw desert has a beauty all it's own.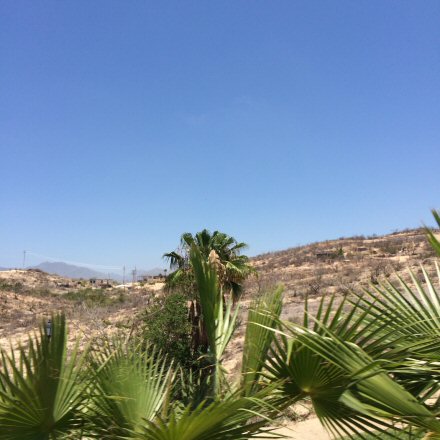 It's especially striking by moonlight, but I have no pictures of that. So that's where I've been. Back to you Y-not.
Y-not: To wrap things up, how about some Bluegrass Calypso?

What's happening in YOUR gardens this week?

Link to the Archive of the Saturday Gardening Thread, through May 30th.

posted by Open Blogger at
06:02 PM
|
Access Comments