« No!....They Are Perfectly Rational. Call Them Crazy At Our Peril [CBD]
|
Main
|
Brian Williams: You Know, I Think I'm Going To Take A Few Days Off »
February 07, 2015
Saturday Gardening Thread: Tomayto/Tomahto, Desert/Dessert [Y-not, KT, Weirddave]
Good day, gardeners! Welcome to your Saturday Gardening Thread. Today's installment is brought to you by Fred and Ginger:
You may have ascertained by now that KT is the real brains behind the Saturday Gardening Thread being an actual, you know, gardening expert! So what tends to happen is that she'll come up with some sort of topic and write her section, then I'll put that into draft and add my section based on her topic, then leave it to Weirddave to make his contribution.
Imagine my surprise -- and happiness -- when she told me that this week she'd be writing about desserts! Finally, a topic I know something about! Given that this is the Gardening Thread and not CBD's Sunday afternoon Food Thread (stay tuned to this station for that at around 4 pm tomorrow), I assumed when KT said dessert she meant fruits or possibly sugar cane or cocoa beans.
As it turns out this week our local supermarket had gooseberries for sale, something I've never tried before, so I thought I'd write a little bit about them since they seem to be primarily used to make desserts and other sweets. (Recall that last Fall KT regaled us with all things huckleberry and we also had a thread about apple cider. CBD had better watch out or we'll stomp all over his Food Thread! lol)
So these are gooseberries:
**Correction (thanks to commenter right wing whippersnapper): THIS IS NOT A TRUE GOOSEBERRY. THIS IS A GROUND CHERRY!**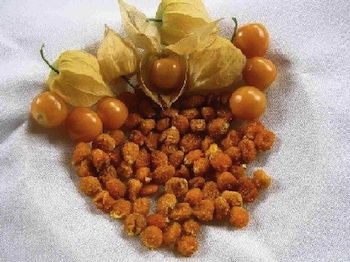 HERE'S A REAL GOOSEBERRY (Ribes hirtellum):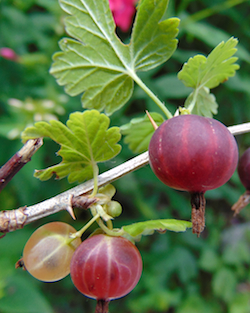 Gooseberries are closely related to currants. They grow well in some parts of this country (although some varieties are prone to mildew), but are particularly beloved in English gardens.
Here's a little bit about their habits:
The gooseberry bush has thorny, arching branches giving the plant a height and breadth of three to five feet. Flower buds are born laterally on one-year-old wood and on short spurs of older wood. Each bud opens to yield from one to four flowers, depending on cultivar. The flowers are self-fertile, and pollinated by wind and insects, but usually not honeybees.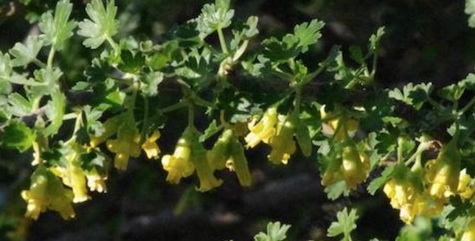 Flowers of the Yellow Gooseberry, Ribes quercetorum
According to the BBC, there are different varieties best-suited for specific recipes in the kitchen:
Cooking berries

Try sourcing 'Invicta' gooseberries - the very thorny shrubs are loaded with tart, green berries tucked away in the middle of the plant. Other cooking varieties you're likely to find are 'Greenfinch', which boast smooth green fruit, and 'Careless', which can be picked for cooking early in the season, as soon as they're big enough. (We'd leave anything smaller than a grape as they'll involve too much topping and tailing). The younger and greener the berry, the more sugar you'll need to counter its sharpness.

Dessert berries

These can be enjoyed raw or cooked, but won't be completely ripe until July. 'Hinnonmaki Red' are plump and sweet with a ruby-red glow. 'Hinnonmaki Yellow' are the same, but golden. 'Pax' and 'Whinham's Industry' are blushing in a field near you. Go for berries that look swollen and juicy, and give to a gentle squeeze.
**Note: A number of these varieties appear to be available only in Europe.**
In addition to bearing fruit, these shrubs are sometimes used as informal hedges owing to their thorns (present in most but not all varieties) or trained into cordons.

This link provides a good quick primer onto the various forms of fruit trees (and bushes), including cordons.
As I was reading up on gooseberries, I found that some varieties can be quite invasive, which means you should think carefully about where (or if) you should plant them. Pruning is recommended to promote fruit production, as well as to help reduce problems with mildew (by facilitating air circulation within the plant). As it turns out, gooseberries are actually banned in a number of places:
The culprit is the disease, white pine blister rust, which was introduced into the U.S. on white pine seedlings imported in the late 1800's. This disease is fatal to white pines and other 5- needled pines. Currants and goose-berries are an intermediary host for this disease - in order for the disease to complete its life cycle and infect white pines, it must spend some time on a currant or gooseberry. It was soon discovered that the best way to control this devastating disease on white pine was to break its life cycle by eliminating all currants and gooseberries. Thus began a federal quarantine and eradication program, where a ban was placed on the importation, propagation and culture of all Ribes. Further, a rather extensive program was put into place to destroy both wild and cultivated Ribes. This was accomplished by legions of Boy Scouts, the Civilian Conservation Corps, and the WPA. As a result of these efforts, nearly all Ribes were eliminated and the U.S. lifted its ban in the 1960's.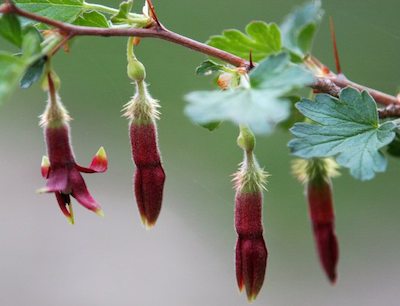 Sierra Gooseberry
So that's what I have, now let's see what KT has to tell us about desserts.

Take it away, KT:
Last week we discussed some plants that may still be graced by ice and snow in northern gardens. Maybe we should pay some attention to our southwestern deserts, near-deserts and semi-tropical regions. My rosemary is blooming, along with some annual weeds. Wildflowers can't be far behind. It is already time to set out tomato plants in places like Phoenix and Tampa.
Y-not: DESERT? DESERT?! Uh-oh...
Back to KT:
Desert Wildflowers
Last October I flew from Bakersfield to Phoenix, then from Phoenix to Salt Lake City. The high desert around Mojave was pretty barren. There was quite a bit of green in the wild lands around Phoenix from the earlier monsoon rains. It occurred to me that we might have good wildflower displays in some of our deserts this year. Since that time, California has gotten some rain, too.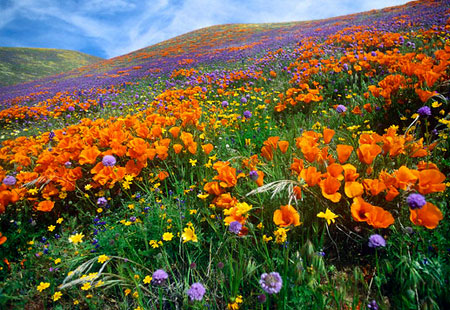 Next time you are in a plane approaching Phoenix, pay some attention to how humans have changed the landscape. Some developments reminded me of the ancient Nazca lines in Peru, with designs only evident from the air. You know, the Nazca lines that were recently defaced by Greenpeace. The designs seen from the air in Phoenix look more pleasant. And they have water.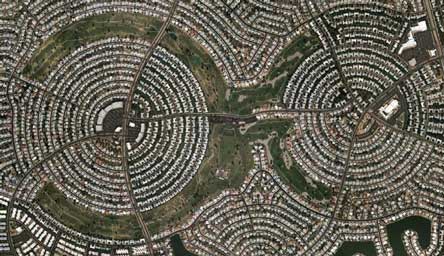 Outside the city, in summer, Carefree Highway is pretty stark and desolate. But after rain, you might want to snap a few photos from your car.

Here's an excellent resource for learning about desert plants - wildflowers, cactus and succulents, trees, shrubs and grasses. There is a detailed page for each of many species of desert plants.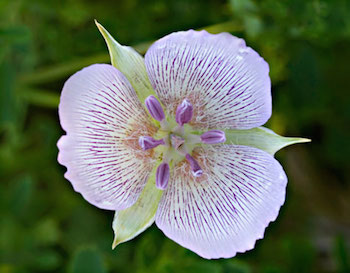 Alkali Mariposa Lily
There are also links to information about desert gardening, botanical gardens and arboretums. The Arizona-Sonora Desert Museum in Tucson describes how annual wildflower blooms are predicted.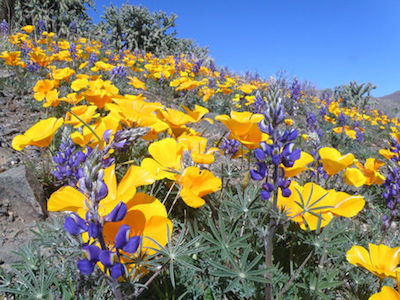 Traveling from the low desert to the high desert, you might look for the Hedgehog or Claret Cup Cactus. It can be pollinated by hummingbirds or butterflies.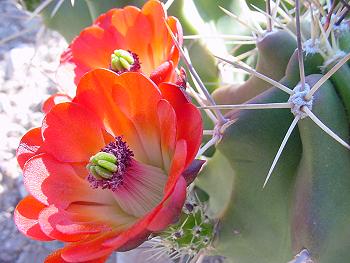 Not too far from us is the Antelope Valley California Poppy Reserve. If you go, try to pick a day that is not too windy.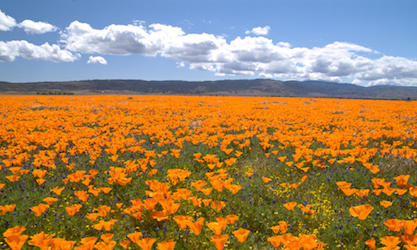 While you are in the general vicinity, you might as well head into our Central Valley to explore the Blossom Trail, featuring stone fruit, apple, pear and/or citrus blossoms (depending on date). There are some wildflower meadows nearby, too. The mountains have a whole different set of wildflowers, but they generally bloom a little later.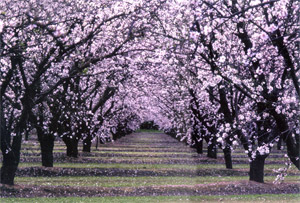 An attempt to re-create a wildflower meadow in the garden may be more trouble than you would think. California Poppies are one of the easier wildflowers to add to a garden as long as you skip the meadow idea. And if the plants are dug into the soil at the end of the season, they help inhibit root knot nematodes.
Time to plant tomatoes ALREADY?
I bought some particularly awful Roma tomatoes at the supermarket last week. The ones we grow ourselves are so much better. I have a few seedlings started.
In the low deserts and semi-tropical regions of the USA, it is already time to set out spring tomatoes, from December-planted seeds. These regions both have two tomato-growing seasons. We'll discuss their fall tomato seasons later.
In Southern Florida, the spring tomato season is the time to try a few heirlooms or other specialty tomatoes. PLANT NOW. Timing is everything, particularly for larger tomatoes.
Because of disease pressure, some Florida-adapted cultivars could be included. Small-fruited tomatoes will probably last longer into the summer heat.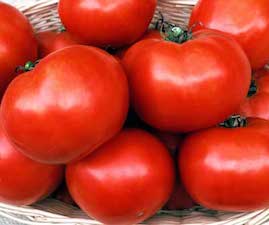 Florida 91 Hybrid Tomato VFF
Because of very serious problems with Root Knot Nematodes, Florida gardeners often plant tomatoes in containers which have no contact with the soil, like the ones we discussed here a couple of weeks ago.
Some people also bury a big pot to just below the rim (in sandy, nematode-prone soil) and add a thick layer of drainage/insulation material. They nest a smaller (but still big) pot inside to hold a plant, with more insulating material between the pots. This provides protection from both nematodes and heat.
In parts of Texas, transplanting seedlings up to gallon pots before setting out in the garden is recommended, to give plants a head start in the heat. If you are in a hot-summer climate but your nights are still cold, transplant your tomato seedlings into progressively larger containers to induce husky root systems. Don't let them get root-bound. Unless you are planting grafted tomatoes, you can remove leaves from the lower stems and bury them when you transplant.
Get your plants accustomed to the sun by leaving them out during the day and bringing them in at night. Unless your plants have just sprouted, start with two or three hours in the sun if they have been growing under lights, in weak light or in the shade at the big box store. You can increase the amount of sun they get fairly rapidly after that.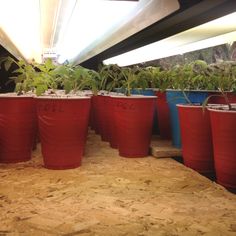 Not ready for full sun
To harden off plants, leave them out both day and night as the weather warms. Plants can go in the ground or in their final container as soon as the soil temperature is 60 degrees. Cover if a late frost threatens.
In the hotter subtropical regions and in the desert, self-watering containers can really be a boon to plant survival. Especially if covered with a reflective or light-colored mulch. Light-colored pots help. Afternoon shade or 30 percent shadecloth may also be useful.
Burpee Quarter Century and Husky Cherry Red tomatoes are recommended for containers in the high desert. In the low desert, Celebrity seems to be the go-to slicer-sized tomato.
A serious gardener in Tucson recommends the parthenocarpic cultivar "Siletz" as the best open-pollinated slicing tomato for the desert. It was developed at Oregon State University. Because it can set fruit without pollination, it can produce tomatoes at cooler or warmer temperatures than many other tomatoes, or in a greenhouse, without even jiggling the plants. Some tomatoes may be seedless.
He plants tomatoes in a trench -- the opposite of a raised bed. This method is used commercially for many veggies grown in the Imperial Valley of California. Our Tucson gardener also provides other tips for desert gardening.
I grew a parthenocarpic cherry tomato from OSU last year. Gold Nugget grows on a big determinate or semi-determinate plant. I wasn't too impressed with the flavor at first. After I let the plant dry out in the heat of summer, it was pretty tasty. Still not as good as Sungold hybrid. But if you have a difficult climate...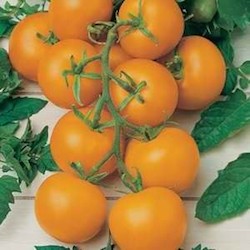 Gold Nugget – a parthenocarpic tomato

full winter's here
the trees are bare
garden's done
for lack of care
when all at once
arose a shout
toh-may-tah
ignorant lout
it's not dessert
came back a cry
stupid fool
it's desert dry
back and forth
forth and back
blows exchanged
a mighty smack
above it all
i bide my time
waste all of yours
with silly rhyme
-ee weirddave

To close things up, how about some culture? Here's an excerpt from Anton Chekov's 1898 short story, Gooseberries:
"My brother Nicholai, sitting in his office, would dream of eating his own schi, with its savoury smell floating across the farmyard; and of eating out in the open air, and of sleeping in the sun, and of sitting for hours together on a seat by the gate and gazing at the fields and the forest. Books on agriculture and the hints in almanacs were his joy, his favourite spiritual food; and he liked reading newspapers, but only the advertisements of land to be sold, so many acres of arable and grass land, with a farmhouse, river, garden, mill, and mill-pond. And he would dream of garden-walls, flowers, fruits, nests, carp in the pond, don't you know, and all the rest of it. These fantasies of his used to vary according to the advertisements he found, but somehow there was always a gooseberry-bush in every one. Not a house, not a romantic spot could he imagine without its gooseberry-bush.

What's happening in your gardens this week?

posted by Open Blogger at
01:45 PM
|
Access Comments