« Saturday College Football Thread
|
Main
|
How Our Awful Leftist Media Deliberately Lied About Two Racial Stories In a Row »
November 29, 2014
Saturday Gardening Thread: Gardening Has Been Berry Berry Good To Me [Y-not, WeirdDave, and KT]
Greetings Gardening Morons and Moronettes!
Today's topic is "berries," especially huckleberries:
Take it away, KT!
AM I YOUR HUCKLEBERRY?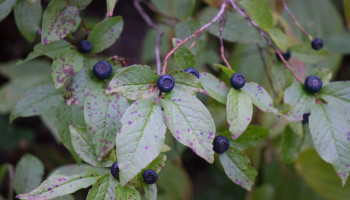 Or maybe your blueberry? Sometimes it is hard to tell, even though the Montana State Legislature has issued a legal definition of "huckleberry". One huckleberry of the genus Vaccinium is the State Fruit of Idaho, and some species are said to do best on volcanic soils, which are common in Idaho. Eastern huckleberries also include plants from the related genus Gaylussicia, which includes the "dangleberry".
Many berries in the genus Vaccinium are noted for their nutritional properties. These include blueberries, huckleberries, bilberries and cranberries. Many of them are useful in the garden as "ornamental edibles". Some even take part to full shade. The ones used in gardens require organically enriched, acid soils. Below, I have included a little information on blueberries, huckleberries and some stand-ins which don't necessarily need really acid soil.
BLUEBERRIES - I have a friend who always makes blueberry pie for Thanksgiving (More American than Apple Pie). Thick, warm blueberry sauce is more my usual level of effort - so good over ice cream, pancakes or waffles. Eating blueberries raw is even easier. If you want to grow your own blueberries, choose types suited to your climate. As a general rule, plan on including more than one cultivar for cross-pollination:

Northern Highbush - the classic type sold in markets (such as 'Berkeley' or Chandler)
Southern Highbush - with a wider climate range ('Reveille' and 'Southmoon' for sprightly flavor or 'Sweetcrisp' if you want your berries sweet and crisp. 'Cape Fear' is an older one, North Carolina, 1987).
Hardy Half-High - some are hardy even in parts of Alaska. (Northsky, Chippewa, Polaris)
Rabbiteye - native to the Southeast (Climax, Tifblue)
There are also some types bred to be especially ornamental.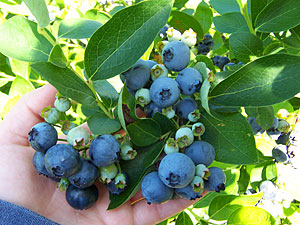 Morons in mild-winter climates can plant blueberries in the fall. I can barely believe that commercial production is underway in our hot-summer Central Valley. Growing blueberries is a huckleberry over my persimmon right now. But if you would like to take a shot, Burpee has instructions for growing them in raised beds, and Dave Wilson (a wholesaler in California) has instructions for growing them in containers.
Juneberry (Serviceberry, Saskatoon) is sometimes used as a blueberry substitute. It grows into an attractive small tree. You could make pie. Some of the Juneberry's relatives are even more ornamental, but not as useful for food.

HUCKLEBERRIES and BILBERRIES - Some huckleberries don't adapt well to gardens, but a few do. Evergreen Huckleberry is an attractive plant native from Santa Barbara to British Colombia. Branches are used in floral arrangements. The fruit has a wild, tart flavor. You could make pie. It takes sun or shade and tolerates salt spray. It can be grown in containers or as a hedge. It needs moderate to regular water. Choose a selection grown in a climate similar to yours for good climate adaptation, as some selections may require a higher winter chill than others.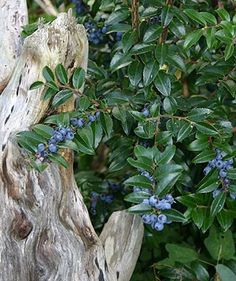 Red Huckleberry (V. parvifolium) grows in shade or part shade and is native to coastal mountains from Northern California to Alaska. Fruit is sour and is generally used cooked. It makes a nice winter silhouette. There is also a red-fruited huckleberry native to Arizona and New Mexico. Don't know if it adapts to gardens, but the fruits are eaten, cooked. Drought tolerant. Probably lives in the mountains near Tombstone.
Antioxidant-rich bilberries are popular in Europe, and their extracts are common in nutritional supplements. Don't get your hopes up about growing some yourself. They typically grow in very acidic, nutrient-poor soils common in northerly regions. They are blue or purple all the way through, like huckleberries, and will turn your hands, teeth and tongue very blue.
But not this kind of blue.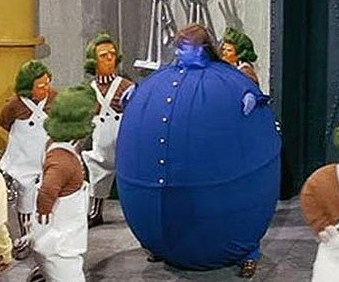 My SIL has grown "Garden Huckleberries" for pie, but they never appealed to me much. They are toxic when green and not real tasty when ripe, in my opinion. They need sweetening and could be jazzed up with some spices. They are related to tomatoes. Probably have lots of antioxidants. There are some similar fruits that may or may not taste better. All of them are easy to grow, like the poisonous black nightshade which they resemble. Plant them in containers or rows so you don't confuse them if you live where the poisonous kind volunteers in gardens.
My Huckleberry Friend

Y-not: Thanks KT!
Inspired by KT's "all things huckleberries," I decided to do a little digging into foraging for berries. When I was a kid I spent many an afternoon roaming the open spaces and woods near our house with my sister. We'd usually stumble into some berry bushes and almost always were quick to eat what we'd found. (My other favorite thing was to slurp on honeysuckle blossoms.) We never gathered enough berries to make bringing them home much of an option, but some folks do.
This article from Grist is chock-a-block full of great information and useful links about foraging for berries, both "aggregate berries" (like raspberries, blackberries, and wineberries) and "crown berries" (like blueberries, huckleberries, and juneberries).
Follow the link to learn about how to forage for these edible berries, but beware:

It is important to note that there are several varieties of poisonous berries: Pokeweed, privet, honeysuckle vine berries, nightshade, and Japanese honeysuckle are all blue or purple in color; red-colored poisonous berries include bush honeysuckle and yew. Neither are aggregate fruits, nor do their berries have crowns. Always be sure to identify your plants, and do not just pop any old berry into your mouth as an experiment.
If you decide to get into foraging, this poisonous plants list from TAMU might come in handy.
Turns out you can incorporate foraging for berries into your vacation plans:

Discover the fascinating world of Irish bogs, and learn all about these unique wetland habitats. Find out how plants survive in the challenging conditions of the bog; forage for wild berries; identify & learn about Ireland's wildflowers; watch dragonflies, butterflies and other insects as they emerge for the Summer months.
This foraging adventure in Ireland looks pretty awesome. A lot of the foraging tourism opportunities I found were in Europe.
Closer to home, you could take a class from this guy (in the northeastern United States);
Or this guy (in Florida);
Or this guy (in California).
Or maybe you could just follow this guy:
And now, here's our co-host, WeirdDave:
Berries, huh? I should farm this post out to Gingy, she knows berries like nobody's business. We've probably got a dozen different kinds canned in the basement right now. Blueberries, cranberries, strawberries, either in berry form or as jam.
Yes, jam. Come over to our house and if Gingy likes or appreciates you, she'll send you home with a little jar of homemade jam. Canning jam is what she does during the summer when she's back home in Alberta. Mostly she cans Saskatoon berries because we can't get them here on the east coast.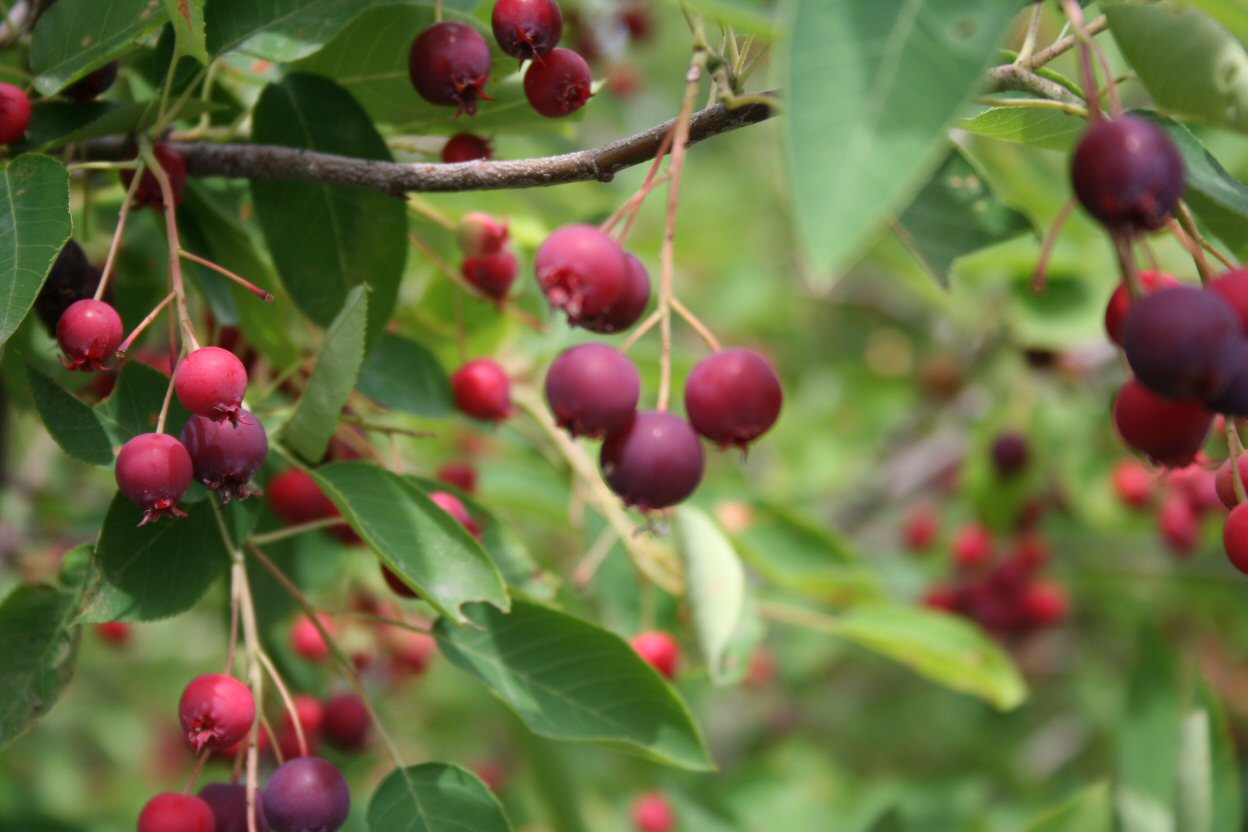 Saskatoon Berries
When she's not canning berries, she's canning jam, using this recipe:


4-1/2 cups crushed Saskatoon berries (about 9 cups of berries)

4 tbsp lemon juice

1 pkg crystallized Fruit Pectin

6 cups granulated sugar



Place 7 clean 8 oz mason jars upside down in a pan of simmering hot water to steam sterilize. Snap lids and bands may be put in this same water or in a separate pan. STERILIZE EVERYTHING BEFORE USE. This includes the ladle, funnels, and spoon you stir the jam with.
Wash and crush Saskatoon berries.
In a large deep stainless steel pot, stir together berries, lemon juice, 1/2 tsp (2 ml) butter or margarine to reduce foaming, and pectin.
Measure sugar, set aside.
Over high heat, bring mixture to a full rolling boil. Add all of the sugar. Stirring constantly, return mixture to full rolling boil that cannot be stirred down. Boil hard 1 minute, stirring constantly. Remove from heat; skim off foam, if necessary.
Ladle hot jam into a hot jar to within 1/4 inch (0.5 cm) of top of jar (headspace). Using nonmetallic utensil, remove air bubbles and adjust headspace, if required, by adding more jam. Wipe jar rim removing any food residue. Center hot sealing disc on clean jar rim. Screw band down until resistance is met, then increase to fingertip tight.
And there you have it. Saskatoon jam. But wait! Shouldn't you boil the jam? It's not necessary, just ask the good folks at The Sugar Association


Sugar prevents spoilage of jams, jellies, and preserves after the jar is opened. Properly prepared and packaged preserves and jellies are free from bacteria and yeast cells until the lid is opened and exposed to air. Once the jar is opened, sugar incapacitates any microorganisms by its ability to attract water. This is accomplished through osmosis (the process whereby water will flow from a weaker solution to a more concentrated solution when they are separated by a semi-permeable membrane). In the case of jellies and preserves, the water is withdrawn from these microorganisms toward the concentrated sugar syrup. The microorganisms become dehydrated and incapacitated, and are unable to multiply and bring about food spoilage. In jellies, jams and preserves, a concentrated sugar solution of at least 65% is necessary to perform this function. Since the sugar content naturally present in fruits and their juices is less than 65%, it is essential to add sugar to raise it to this concentration in jellies and preserves.
Y-not: Sweet! Thanks, WeirdDave!
This video seems appropriate:

What's happening in YOUR gardens this week?

**UPDATE: Via Twitter. I propose the next Moron Meetup be held at Doreen's place:

posted by Open Blogger at
02:00 PM
|
Access Comments