« Saturday Morning Open Thread for Politics [Y-not]
|
Main
|
Saturday Car Thread 02/08/14 - [Niedermeyer's Dead Horse & Countrysquire] »
February 08, 2014
Saturday Yard and Garden Thread: Hot Tomatoes and Red Roses Edition [Y-not and WeirdDave]
This thread brought to you by H.L. Mencken and the cabbage rose:
"An idealist is one who, on noticing that a rose smells better than a cabbage, concludes that it makes a better soup."
― H.L. Mencken, A Book of Burlesques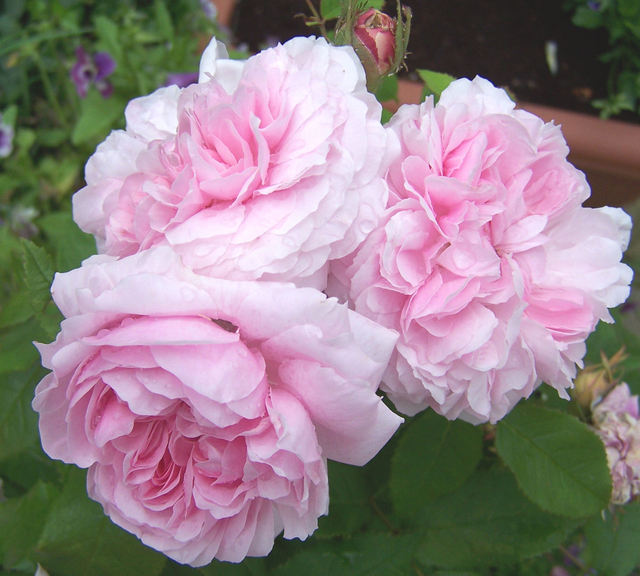 Take it away, WeirdDave:

OK, it's time to get down to the heart of the matter. Most of us are in this thread because we enjoy growing things. My focus is vegetables, but I understand Y-not is going to talk about roses. Real quick, here's a rose story. 20 years ago I ran a lawn cutting service one summer. I had a push Toro and a riding Snapper that I had bought broken for $25 (replaced the head gasket to make it go). I didn't have a lot of lawns, but one of them was a big place whose owner grew roses. I mean he had these huge beds scattered across his property. Anyhow, one day he asked me to run the mower over a bed that he'd cut back. He wanted to put grass in. I asked him if I could have the bushes instead of mowing them and he said sure. I spent the next few days digging up maybe a hundred rose bushes and putting them in those cheap plastic pots that plants from Lowes come in. I planted 6 or 7 of the best ones at my house and then spent my spare time over the next couple weeks sitting beside Rt 40 in Harford County with the bed of my old pickup* filled with rose bushes and a spray painted sign "Rose Bushes, $10" propped up beside me. I made about a thousand bucks.
Anyhow, back to vegetables. We all love peppers. I grew some Habanero Trinidad peppers one year that would take the chrome off of a trailer hitch. Corn is great, if space intensive. Peas will take over your garden if you let them, green beans the side of your house and pumpkins your entire garden(and lawn!). Celery is fickle, lettuce delicate, spinach limited and don't even bring up broccoli in my presence. Onions and potatoes are a leap of faith because they grow out of sight, as do peanuts although I've never met a hobby gardener who attempted them. No, the real reason we all garden is to grow tomatoes. Tomatoes are the reason we're all here today. True story: In 1485 Christopher Columbus was sitting in a bar somewhere in Portugal. Things were bleak. The TV over the mirror was blank because TV hadn't been invented yet. The Black Death was less than a century in the rear view mirror and hey, that dude over there is coughing up blood. Beer was a way to process water so it didn't kill you, and the Spanish Inquisition was all the rage. Some brilliant soul, his name now lost to history, peered over his mug at Columbus and slurred "Hey! You! Explorer guy! Know what this place needs? Tomatoes, that's what." Columbus thought he had a point and went to King John II asking for a commission to discover the new world in order to bring back tomatoes (and not incidentally be named "Great Admiral of the Ocean"). John II said no, but Columbus persisted and in April of 1492 Ferdinand and Isabella commissioned him to go to the New World and bring back tomatoes (along with the coveted "Admiral of Ocean Sea" title). The rest is history, look it up.
Tomatoes, along with beer, dogs and my wife, are all the proof I need that there is a God and that he loves us and wants us to be happy. So much flavor! So many varieties! Red, green, yellow, purple, black, tomatoes are a rainbow of taste and size. What's better than a summer BLT with sliced beefsteaks fresh off the stalk? How many cherries don't even make it into salads because we eagerly snarf them down after picking them but before they go into the bucket? How many fights have started between former friends over the best variety of Plum to use in sauce? Tomatoes are the focal point of my garden, and I always plant too many. 4-5 healthy producing plants are enough for any one family, I always seem to plant a dozen or more. Apples? HA! You can have your apples. I like apples, but in a passive way. Tomatoes? I eat those suckers right off the plant by the dozens.
So, what tomatoes to plant? Well, they fall into three main categories. Big suckers. Beefsteaks and Better Boys and Early Girls. The are the tomatoes that go on sandwiches. Plum types like Roma tomatoes, the original sauce tomato. Finally, there are cherry tomatoes, summer snacks and salad staples. Let's look at them in order.
Big Suckers
Beefsteaks are the king here IMHO. I plant beefsteaks so that anything I'm putting between two slices of bread has a big, thick slice of tomato on it. Hell, if you're dusting flour on a dead puppy, I'll slap a slice of beefsteak on top of the whole thing and call it a sandwich. Other, slightly smaller tomatoes fill the apple role in my summer diet. Last summer my 9yer old son told me I looked funny when eating tomatoes, I stick my head out and pull my lips back to bite and then close them over the skin to suck out the juice. I told him I was practicing to be a vampire, truth is I just don't want to get seeds on my shirt. He was more impressed with my explanation.
Plum Tomatoes
I've never, ever had any luck growing these things. They always get blossom end rot. I wind up buying plums from the local farmer's market and then blanching them to make sauce. Don't tell anyone they're not mine.
Cherry Tomatoes
Here's where I'm in my prime. Although I usually put in a few plants of random varieties, there are two varieties that I always, ALWAYS, grow. Sweet Million and Campari. I buy my sweet million plants from Valley View Farms. Two plants would be enough for any sane gardener, I plant 5. Sweet million plants yield long trains of fruit like this: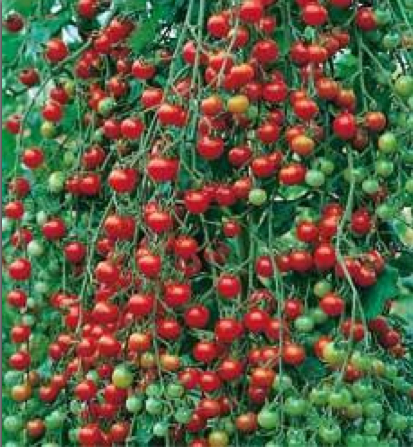 Why would any sane gardener plant 5 plants when one bears like the picture? Well, for one I'm not sane, I eat these things like popcorn and two, I've never gotten that good a yield. These tomatoes are like eating sugar right from the cane. Like Homer Simpson eating donuts in hell(http://www.youtube.com/watch?v=FRw_yYOXzn0), too many isn't enough, so I plant 5. Nom, nom, nom. Now, Campari tomatoes.
Campari tomatoes are a bit bigger than cherries. They're about the size of golf balls. During the winter months, they are the only thing I can find in the grocery store that even tastes vaguely like tomatoes, and I gladly spend my filthy lucre for the fix until summer. Thing is, they're a name brand like Xerox or Coke. You can't buy Campari seeds or Campari starters in the store. I had an interesting conversation with a guy one time. He told me that the Campari company irradiates their tomatoes until the seeds are sterile or that the breed is a hybrid so the seeds don't germinate or some damn thing. He went on and on about genetically modified crops and the coming food apocalypse and all kinds of proggy bullshit so I tuned him out after a while, but the fact remains: You can't buy Campari tomato seeds or starters. His thesis may or may not be true, and to be honest I've never even thought about saving seeds from a tomato that I'm eating to plant, but thankfully my mother's sister isn't of a like mind. A few years back she had a bunch of Campari tomatoes in the back of the refrigerator that she forgot about. When she found them, one tomato was growing a shoot. Maybe it was nature taking it's course. Maybe the GM food guy was right and that tomato just somehow missed being sterilized. In any event, Aunt Carol planted that shoot, seeded some of it's fruit, planted those seeds, and passed out the plants to the family. I do the same with the fruit of the plants passed down to me, and now every year I grow Campari tomatoes. I've got probably 150 seeds sitting in a dish ready to be planted. Any day now I'm going to plant them in peat pots. I'll nurture the sprouts for a month or so, but soon I'll be eating Campari tomatoes right off the vine. It doesn't get any better than that.
*That pickup was a 1978 Ford F-150 with a stake bed. Three on the tree, rough to drive, that truck could do anything. I drove it into a pole one time in a fog, paid a body shop to straighten the frame rails, replaced the radiator and it was good to go. I moved an entire 8X8 shed on the back of that truck. The shed was fork lifted onto the bed, ratchet strapped down, and I drove it home. Stupidest thing I ever did was sell that truck, but at the time it seemed like a good idea. I'd give (not anything, but a lot) to have that truck back. Hell, it had a gun rack behind the seat, what more do you want?

And now from your co-hostess, Y-not:
We have several experts on roses amongst the Moron Horde – I'm not one of them, but in light of the upcoming Valentine's Day holiday, I thought it might be appropriate to devote part of the Yard & Garden thread to roses.
Valentine's Day is third behind Christmas and Mother's Day in flower gifting. A whopping 63% of the flowers given on this day are red roses.
Now, as it turns out, many women prefer other rose colors. I myself prefer very pale shades of pink, yellow, or apricot. I tried to find some data on which colors women prefer, but really couldn't find anything very convincing. (My advice to the morons is find out what color she prefers rather than just automatically buying red roses.)
Now, if you are one of our one percenter morons (you know who you are and may I just say "how YOU doin'?"), you might like to get a bit more extravagant and have a rose named for your lady love. The folks at World of Roses who are located across the Pond charge about $1300.
Closer to home, you might check out this Canadian outfit, although their prices seem to be quite a bit higher.
Or perhaps you'd like to grow your own roses, but don't know how to get started. Here's a very good resource to help those of us who are new to rose gardening get started. I particularly like this one as it walks you through the process of choosing a variety of rose, selecting and prepping a site, as well as how to plant and care for them.
This is another useful resource for beginners. I like that this one includes a seasonal "to do" list for caring for your roses in the garden.
Finally, you might even want to meet others in your area who are interested in gardening. One way to do so is to see if there are any gardening Meetup groups near you. For those who don't know, Meetup is a free user-driven networking service. I had some luck finding fellow puppy owners who were organizing "play dates" back when we lived in California. YMMV.
**UPDATE FROM OUTHERE IN THE COMMENTS: Before you dive into the world of roses, the horde may consider the ongoing movement back to old, hardy rose varieties. A couple of places to start if you are considering getting into roses are The Antique Rose Emporium and Chamblee Rose Nursey. I'm not advocating shopping at either, although I have purchased from both and they are great, but the information provided gives a new perspective on roses. They can be bulletproof plants, bloom constantly, and trouble-free. One key - at least from my perspective - is to incorporate roses into the general landscape and not create a "rose garden". They can be great, great landscape plants and many of the newer varieties offered by garden shops around the country may do a disservice to roses by only offering finicky, hard-to-maintain varieties (other than the ubiquitous knock-outs).**
To wrap up this week's program with some eye-candy, it turns out Rose is a pretty popular name, both as a first and last name. I had no difficulty in finding attractive Roses to tantalize the Morons. Ultimately, I settled on Pania Rose, who was featured in the 2006 Sports Illustrated swimsuit edition (link to SI).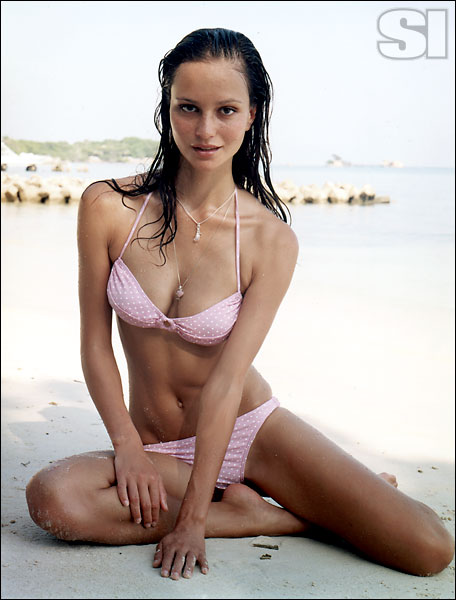 Now THAT'S a hot tomato!
Sadly, my efforts to find an attractive MALE Rose for the 'ettes was less-successful. Most of the hits I got were either meh sports stars (or positively fugly ones like Pete Rose) or, more alarmingly, pron stars. No way I'm clicking those links, not even for my fellow moronettes. Sorry gals!
Here's a male Rose that some of you may enjoy: Axl Rose.
This "fail" performance of Welcome to the Jungle suggests Mr. Rose's days may be numbered.
Yeesh!
OK, to be kind, here's Axl in better days performing Sweet Child O' Mine:

What's happening in YOUR garden?

posted by Open Blogger at
10:15 AM
|
Access Comments