« Saturday Yard and Garden Thread: Hot Tomatoes and Red Roses Edition [Y-not and WeirdDave]
|
Main
|
Margaret Carlson: Pro-Life Extremist [OregonMuse] »
February 08, 2014
Saturday Car Thread 02/08/14 - [Niedermeyer's Dead Horse & Countrysquire]
Another glorious Saturday, eh? The Winter chill has settled over most of the country and those areas, such as mine, which aren't freezing, are still miserable and rainy.
This week's car thread delivers just what you need to thaw the chill: Some of the most beautiful cars ever produced. Countrysquire has scoured the net seeking out the best of the best and has compiled a list of cars so hot that you will become 10% more cool just by knowing they exist.
Lead the way, Countrysquire...

This should have been easy. The ugly car list was simple - choose a few French cars and you move on. Not so simple when discussing the art of the automotive world. When the list that I generated reached 50 cars, I knew that I had a problem and had to stop adding as different cars popped into my mind. Still, how does one cull cars like the 300SL Gullwing, '63 Stingray, or Jaguar XK13? Oh well, here we go:
Ferrari GTO
There are probably a dozen right answers as to what's the most beautiful Ferrari ever. The silhouette of the 250 GTO is still being used today by designers of sports cars around the world. Scaglietti got it that right. Here's Pink Floyd drummer Nick Mason racing his $40,000,000 art specimen.
Jaguar D Type
Unlike Ferrari, there are probably only eight right choices for most beautiful Jaguar. The crazy thing is that they did not employ a stylist, but rather depended on the work of aerodynamicist Malcolm Sayer for their sporting cars. The LeMans winning cars of '55, '56, & '57 had a large stabilizing wing that obviously worked well, but I think they looked best without them.

BMW 328
Of all the classically styled two seat roadsters, this is my favorite, besting even its contemporary competition from Alfa Romeo. The proportions are just perfect.

Lamborghini Miura
Introduced in 1965, this showed the world what a supercar looked like. As Jeremy Clarkson would say, pure filth. Though the Miura shown here is a classy metallic blue, no car does wild colors better.

Ford Model 40
It has been said that the 20 year production run of the Model T proved that Henry Ford did not care how his cars looked. This was not the case for his only son, Edsel, who made beauty accessible to the common man, assuming they were working during the depression. This began with the Model A in 1928 and continued until the war. While the '32 makes a better looking hotrod, the 6" longer Model 40 of '33 & '34 is pretty much perfect as-is. A little more than $500 would buy one of these Bob Gregorie penned masterpieces.

Cadillac Series 62 Sedanette
For the first couple years following WWII, American manufacturers were selling the essentially same cars that they were building in 1942 when production stopped in support of the war effort. When the new cars finally hit the showrooms in the late '40s, the designs were all over the place. Harley Earl defined the direction with styling cues from the P-38 fighter plane. It's hard to think of another car that has this combination of spottiness and the elegance of a big American car.

Mercedes 540K Special Roadster
This was a tough one. The 1930s is considered the golden age of automotive design by many, so this list had to include one of the premium cars from that decade. The simple gracefulness of the 540K exceeds the beauty of the best from Duesenberg, Packard, Lincoln, etc.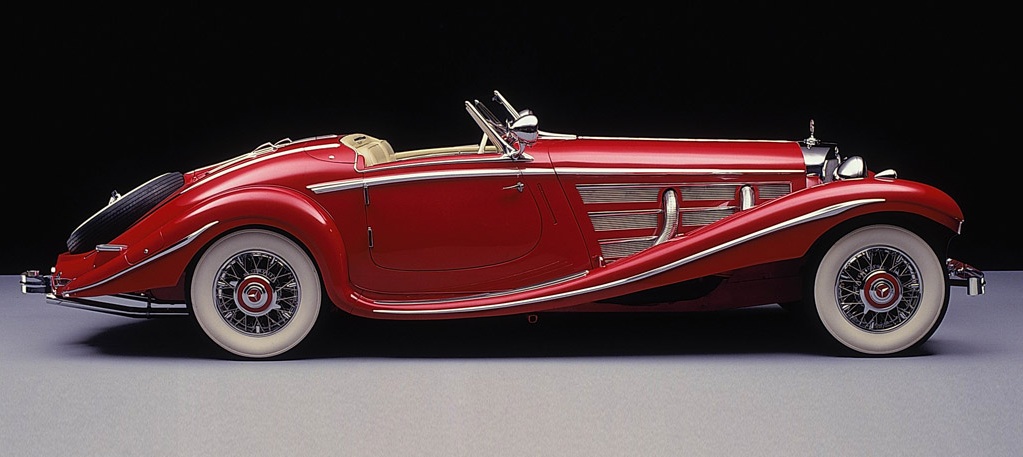 Ford GT-40
While the importance of race car aerodynamics was understood at this time, Ford's designers purposely made these cars stylish as well as slippery. There were several versions, culminating in the Mk IV, which was the only all-American car to ever win at Lemans. The Mk pictured here is still the best looking, just not the fastest.

Delahaye 165
It doesn't seem fair to include custom coach-built cars in this list, but life ain't fair, plus many Delahayes of this era had bodies by either Figoni et Falaschi or Saoutchik. One of the famous owners of these cars was Diana Dors, who had an even better body than her car.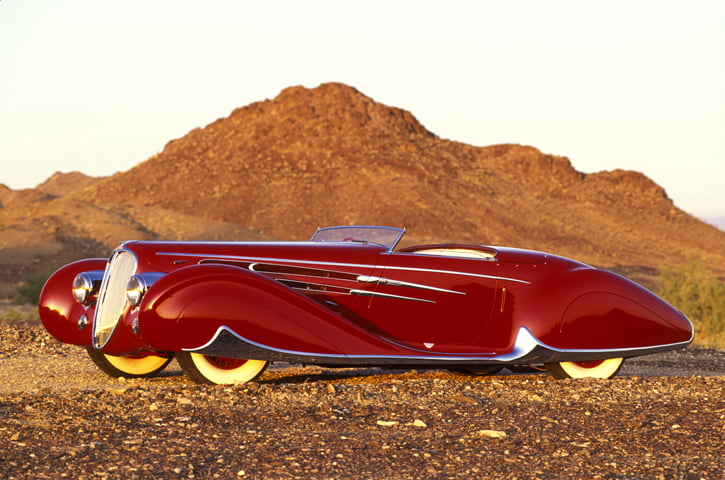 Ferrari Dino 246
These were never actually marketed as Ferraris, but named after Enzo Ferrari's late son, Dino. While cheaper and slower than many of their other offerings, the Pininfarina designed Dino just may be the best looking road car to have rolled out of Maranello.

That's a fine list of cars and Countrysquire will be more than happy to take you on in the comments thread if you disagree.

When you think of beautiful cars, there's yet another maker that comes to mind. The history of Porsche as we know it dates back to 1931 although Ferdinand Porsche himself was a designer of cars, and carriages, for considerably longer. Recently, a discovery was made that set the automotive world atwitter: The earliest known Porsche ever made was found, sitting in an Austrian barn for more than 100 years.
After more than 100 years of sitting in a shed in Austria, the world's very first Porsche has been uncovered in remarkably good condition (via The Atlantic Cities). The "Egger-Lohner electric vehicle, C.2 Phaeton model," or P1 for short, was designed and built by Ferdinand Porsche himself, first hitting the streets of Vienna on June 26, 1898.
Hey! Did you notice that it was electric? NPR wants you to know that it was electric.
Continuing from the Business Insider article:
Though it may look a lot like a horse-drawn carriage, the P1 was an electric car. Its "octagon" motor could travel up to 50 miles at a time, hitting a maximum speed of about 22 miles per hour. According to a press release from Porsche, the engine could deliver 3 horsepower during usual performance with bursts of up to 5 horsepower as it reached its maximum speed.

The entire vehicle weighed some 3,000 pounds and relied on more than 1,000 pounds of battery.
It's quite a cool discovery, although I hardly recognize it without a spoiler, and I can't imagine anyone cruising for hot chicks in it.

Vintage Films: Facts on Friction (1934):

For the Moronettes:

While it's not strictly a car, I can't imagine you'll care very much:

Rounding out this week's car post, something a little different. Try to look past the jackass up front to the beautiful machines behind him. Frankly, I have no idea what he's saying.

Please feel free to send any complaints or commendations to us at Twitter: Nied's Dead Horse and Countrysquire.


posted by Open Blogger at
01:00 PM
|
Access Comments