« A Mushy-Headed, Incoherent Attack on Concealed Carry Reciprocity [CBD]
|
Main
|
Semi-Open Thread (restricted to insulting Paul Krugman) [CBD] »
February 21, 2015
Saturday Gardening Thread: Nothing "Beets" Planning [Y-not, KT, and Weirddave]
Greetings gardening morons and 'ettes! Welcome to the Nothing "Beets" Planning edition of the Saturday Gardening thread.
Today's thread is brought to you by:
(You knew I'd go there, didn't you?)
KT has decided to give us a primer on planning your crop of beets this week, so I thought it would be a good time to cover some of the basics of garden and landscape planning, drawing on my own limited experience, as well as some useful resources I found on the web.
I say "limited" because for many years the Mister and I lived in apartments and rental houses as we moved around the country pursuing our careers. Our first home was a delightful money pit. It really was a great house, but it was too big and old for us to handle. All of our spare time was spent keeping the thing upright, which meant that gardening there consisted of containers of herbs kept on the (absolutely terrific) sunny deck. The one year we tried to tackle actual "yard work" (planting a few flowering shrubs in a small bed) my husband re-discovered his poison ivy allergy and we discovered that not all of the ivy in our yard was of the Boston variety!
Our next place was in Southern California. The soil was not great for planting in ground beds, so we again limited ourselves to container gardening. The big project there was a do-it-yourself xeriscape affair on a side yard that had been perpetually hard to maintain. We installed gravel and pavers, planted cacti and other drought-tolerant plants, some in the ground and others in attractive pots.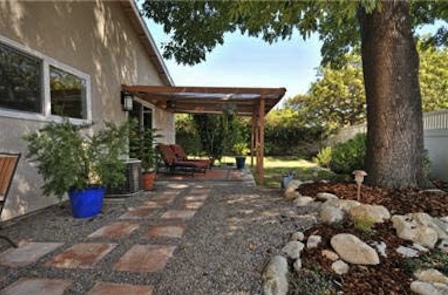 Then we moved a short time later... SMDH at that turn of events!
Here in Utah we've only recently begun gardening. Again we are cursed with lousy soil (very hard clay) compounded by the unfortunate decision of the previous owners to install landscape fabric in all of the beds. (Whoever popularized the use of landscape fabric should be shot.) As a result, there has been no natural augmentation of the soil over the years. It remains as hard as a rock, so I never plant annuals. When we decided to tackle vegetable gardening, raised beds were the obvious solution.
Upon reflection, it seems to me that there are some basic steps to garden or landscape planning that even we (who do not plan) undertook:
1. Decide on your goals
What is the purpose of the project -- is it to treat a problem area? to provide outdoor living or entertaining space? to beautify your property? to grown things for your kitchen? That will help guide your decisions.
2. Arrive at a budget
In this case I'd say you should be budgeting both the direct expenses to install your landscape feature as well as the maintenance expenses and the "cost" of your time. For ourselves we are much more inclined to put the effort into a landscape project if the upkeep is going to be reasonable in terms of both time and money.
This raises the related issue of what value, if any, is added to your property by landscaping. There are many articles on the topic. Here's an excerpt from a good one at SF Gate:

Niemera's research makes clear that there's more to landscaping than sticking some flowers and a couple shrubs in the ground. The number-one thing that buyers are looking for in landscaping is a sophisticated design. Close behind is plant size and maturity. A lesser factor, but one still worth considering, is the diversity of plant life within the landscaping design.
I can't say for sure that the exterior work we've done on our homes have made them sell for more money, but I do think they've helped make the sales. In our first home's case we made sure that the large deck, which extended across the entire back of the house (with a great view), was in perfect repair and freshly painted. We didn't want potential buyers to look at it and think "maintenance burden." We cleaned up the yard (removed the ivy, both types since the Boston ivy was starting to damage the siding) and made sure the front porch and beds were neat and tidy. That house sold in one day in what was a very weak market.
Our California house took longer, but I am sure that the way we staged our back patio and the side yard (which we'd xeriscaped and hardscaped) helped distinguish our home from the others in the neighborhood. The buyer asked as to leave our grill and potted plants, which we happily did.
As buyers we've always factored in how we would use the yard (for views, for entertaining, for shady privacy, for doggy playtime) into our purchases. Although "sophisticated design" might be nice, our priorities have been privacy, mature trees, and more privacy. Given a choice between a yard with a "sophisticated" landscape installation of small plants and one with big trees, we'll choose the big trees every single time. YMMV.
What's been your experience, either as a seller or a buyer? How important is the landscaping?
3. Decide on the site for your garden feature
This will be influenced heavily by the "why" and possibly also by your budget. One favorite approach of ours is to place aromatic plants near windows, especially ones that we tend to open a lot during the nice months. Similarly, we generally place water features near windows or at the parts of our property that tend to be subjected to noises that we'd like to mask. Things like sun and drainage are also very important.
4. Draw up a plan
I am lousy at this step; consequently, this tends to be where we stumble. Our projects tend to evolve somewhat organically, but even then I realize that we have been planning, just not on paper. For example, here's a picture of our current backyard: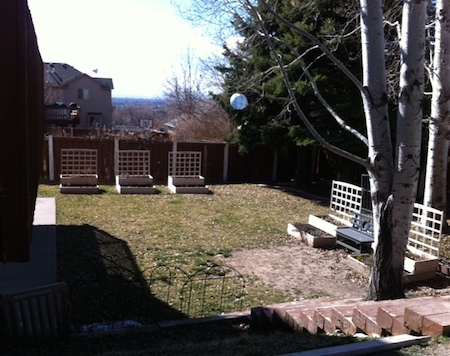 Roughly 2/3rds of our backyard is sunny and level. Three raised beds were positioned to take advantage of the sun (they run along the southern edge of our property) while the other two were placed under large shade trees. Together with the natural slope in the yard and our back patio, this forms the outline of a large space where we plan to install hardscape and a seating area.
The raised beds we installed were chosen for their size (particularly their height) and their design, which included trellises. We placed three in the sunniest part of our yard, within the range of main automatic sprinklers (yeah, not the best way I'm sure but I am lazy) and the other two at right angles to those under our large trees. The sunny beds are used for vegetable gardening, while the latter two beds are used for perennial herbs and attractive vines, like clematis. The effect (when combined with the natural grade in our yard) is to create a "space" into which we eventually want to install a hardscape. Eventually we'd like to create an outdoor area that has lower water needs and that is zoned off from the grassy back lawn we'll maintain for our dogs.
(By the way, if we've guessed wrong or our needs change we can move our raised beds. They can be disassembled and reassembled because they're held together by tongue and groove joints with long metal pins.)
We put the beds in two years ago, but we've stalled a bit. Last year we had some unexpected expenses and family issues that put us into a holding pattern. I think this year our next step is to draw up a plan on paper, starting with measurements. This is a necessary step for us if we're going to try to do the work ourselves, but I've also heard that providing a detailed map of your yard can save a few bucks from a professional landscape designer.
Better Homes and Gardens offers some useful advice for mapping a yard, including how to measure a slope and how to accurately measure curved beds.
One thing I did note is that they recommend using a 100' tape measurer. That seems very awkward to me. Two other options (for some applications) would be either measuring wheels or laser measurers.
Do any of you have hands on experience with either of these tools?
So that's what we'll be up to here at Casa Y-not, I think. Of course with my luck we'll get a foot of snow dumped on us this week!

Take it away, KT:
Have we got the beet?
The weather here in the South Central San Joaquin Valley has been unseasonably warm. My broccoli and turnips are bolting. The stone fruit trees are late blooming because they didn't get a lot of winter chill. My tomato seedlings are growing. It's time to do some spring planting.
This Vegetable Planting Guide for San Joaquin Valley Gardens indicates that it is time for me to plant beets. You could probably find a similar guide online if you don't know when to plant beets where you live.
A surprising number of people have never eaten beets. Some people are real fans, though. I think that raw 100% beet juice is more than just juice -- it is an experience. You might want to work up to it slowly if you are offered some by a juicing enthusiast. Finely grated raw beets are OK on a salad if you exercise a little restraint. But I really prefer beets cooked. I like the little ones simmered just until tender. Don't use too much water. Slip off the skins and cut into bite-sized pieces. Add butter and a little salt and pepper. For bigger beets, here is a recipe for beet soup with fennel and kefir.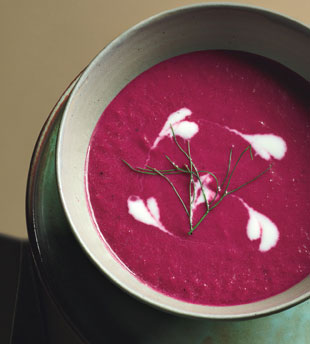 I had never thought of roasting beets as a way to provide a spa experience to sexy vegetables, but why not go with this image if it makes your kitchen duties more interesting?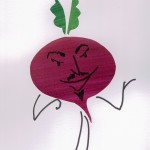 The trickiest part of growing beets for many people is getting them to sprout. Beets will sprout in cool soil and many people plant they quite early. But they sprout very slowly in cool soil. Until a few years ago, I didn't realize that you could start beets in flats and transplant them. I think this is often a good idea, particularly with the golden beet varieties. They typically show poor germination in cool soil.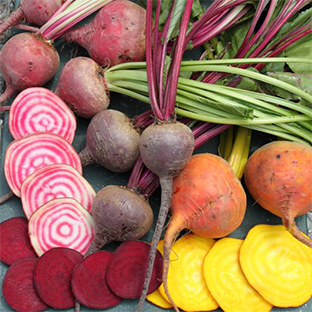 Red, Golden and Striped Beets
If you want to start beets in a flat, you could use one of the cold frame/hot frame ideas Weirddave linked last week. Or try a gallon jug for winter-sowing. It provides just a little extra warmth. Open the tops during the day if the weather turns warm.
Direct sowing may be more appropriate if you are timing beets for winter storage. Unless you have a really short season, your soil will probably already be warm at planting time. The short video below provides some interesting information about beet "seeds", which are actually fruits.
Not all beets are good for storage. Those with "Lutz" in their names are famous for winter storage as well as quality tops (especially if you are eating the baby plants you thin from the row). But some of the Lutz strains and their names have apparently gone off track over the years. Buy seed for winter storage beets from a reputable seed house that does its own product testing.
It would be easy for a strain of beets to lose its original characteristics over time because beets are wind-pollinated. I once let one white beet plant (Albina Vereduna) go to seed near a couple of red beets. The F1 offspring of the white beet were wonderful, tender, huge pink beets. This suggests to me that beets are preferential out-breeders, since I got no white beets (that I remember) in the F1 generation. The white beet plant did not seem to pollinate itself.
Beets are reputed to cross with some common garden weeds, so if you are a seed saver, you need to pay attention to what is in your garden and the gardens of your neighbors if you attempt to save beet seeds.
The socialists at Fedco Seeds have an interesting beet mixture in development. A big livestock beet called a "Mangel" (Yellow Intermediate is the variety) was used as a parent. "Grex" is a fancy orchid word indicating that they released this strain of beets before it was stabilized. I grew some mangels one year. I like regular beets better. That didn't stop me from buying some of these seeds, though.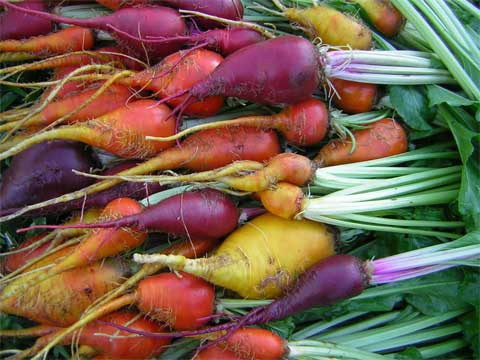 3 Root Grex

Y-not: Thanks KT! It's great to have some detailed information about growing beets. If you'll recall, last year here at Casa Y-not we managed to have some decent success with red beets, even without planning. (Beginner's luck for the win!) I'm eager to try to apply some of the ideas KT has provided to what we do this year. I will definitely be trying golden beets this year because those red ones sure do make a mess when I'm cooking them!

Weirddave - To Preserve and Protect
One of the things that always seems unfair about vegetable gardening is that you have to put in long hours of work with no reward, until suddenly you get burred under an avalanche of produce, far more than one person can eat. This requires that you find some way to preserve it. Last year we did a bit on canning, always a good choice, and mankind has come up with a variety of other storage methods throughout history, from drying to smoking to freezing. One that's relatively new is vacuum sealing. This week I bought myself a vacuum sealer and I'm already in love with the damn thing (not that way, although I suppose someone must have tried. The nozzle is awfully small, however.).
I've always been a fan of buying in bulk, when I catch a sale I make the most of it. I've been known to spend $100 or more on meat. Last year in Wegman's they mispriceded a bunch of NY strip steaks at $3.99/lb. I bought every one that was in the case and tossed them in the freezer, they were already vacuum packed. This week I was in Safeway and they had just had a bunch of prime grade tenderloin and NY strip hit their sell by date, they were all marked 30-50% off, making them cheaper than the choice grade cuts. I bought them all, brought them home and vacuum sealed them. Then I thought to myself "Gee self, that would have made a good topic for the garden thread, why didn't you take pictures?" So I grabbed a couple of shell steaks I had in the freezer awaiting their cheesesteak destiny and sealed them, this time for the camera.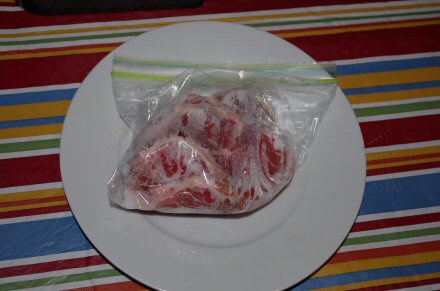 Steaks in baggies soon get covered with frost and subject to freezer burn
The machine has a roll of plastic in the top from which you make bags. This plastic comes in all sizes, this particular roll makes two bags with a perforation between them for easy separation. You pull out enough plastic to fit what you're sealing with a little extra on each end, then you cut it with the handy attached cutter.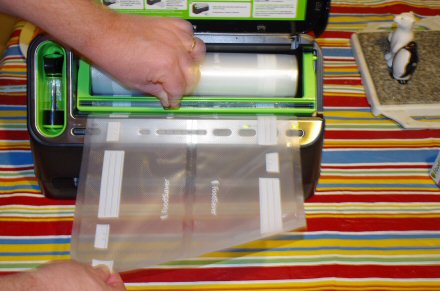 Then you press the seal button and stick one end into the machine, the machine heat seals it closed.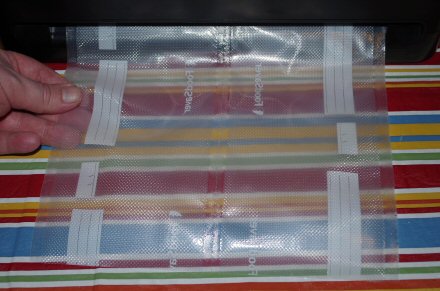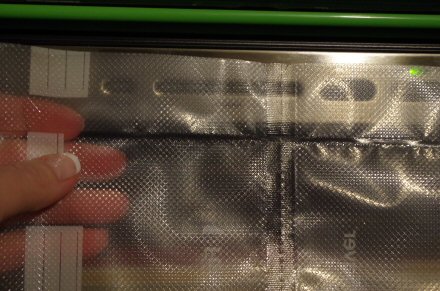 Now you have a bag that's sealed on 3 sides. Put what you're going to be sealing into the bags,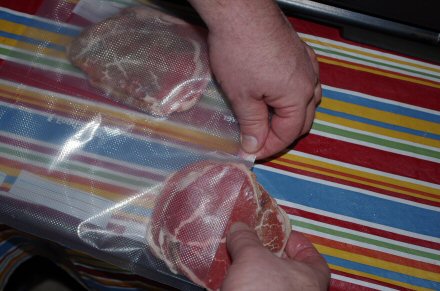 and then stick the open end of the bag into the vacuum sealer, or, as my wife puts it, cram it in the cram hole.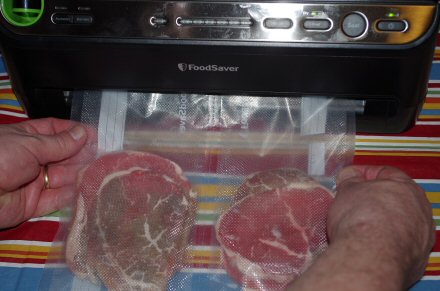 The machine automatically sucks all of the air out of the bag and seals the bag shut.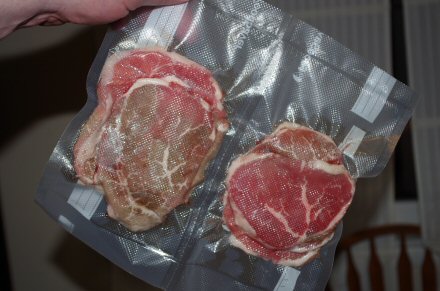 VOILΐ! 1 package of vacuum sealed shell steaks, impervious (or at least resistant) to freezer burn.
I can't wait to try this out once I get some veggies harvested. I'm also told that it's great for storing leftovers. I have a buddy who barbecues all the time, and he seals everything, ribs, brisket, loin, you name it, and then when he wants to reheat it he just tosses the bags into simmering water and slowly brings them up to temperature, He swears that out of the bag tastes the same as just off the grill. We shall see, but I can already tell that I'm going to get my money's worth out of the sealer and then some.

Y-not: Thanks for that, Weirddave. Meat tree, huh? WD must have one interesting garden. (BTW, there is some useful info about preserving veggies by freezing in an old gardening thread here.)
To wrap things up, I give you Fistulina hepatica...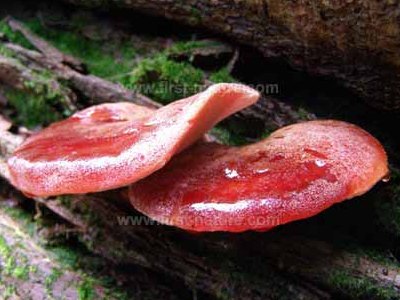 Also known as the Beefsteak Fungus!

What's going on in YOUR gardens this week?

posted by Open Blogger at
01:45 PM
|
Access Comments