« Sunday Football Thread
|
Main
|
Gaming Thread 11/30/2014 »
November 30, 2014
Sunday Travel(ish) Thread: Regional Differences [Y-not]
'Been a while since we had a new thread...
In the comments this morning Mama AJ asks:

Oklahomans seemed nice when I'd encounter them in Texas. Nice is important to me.

Nice is a good start. Beyond that, my mom and I were discussing differences in "willingness to make new friends".

I don't know if differences in that are actually geographic vs. things are different these days vs. small communities vs. cities.

I'd love to know what you all think about that.

I had been thinking about similar topics this week after reading story after story about regional differences (primarily to do with Thanksgiving traditions). This is the time of year when many of us return "home" to see family, so I guess it's natural that the topic of regional differences tends to surface.
This report from last year claims to have identified the personality traits that dominate particular parts of the U.S. Here's a sample of their findings:
Creative types in the U.S. cluster in the West while friendly folk tend to stay in their hometowns in the Midwest and South, according to new research.

American-born Jason Rentfrow, a psychologist at the U.K.'s University of Cambridge, tracked the general temperaments of each state and found that people with certain personality traits tend to reside in three distinct regions.

People living in the South and Midwest were the most conventional but also the friendliest in the country, according to the study. Americans living in the West were the most relaxed and creative, while those in New England and the Mid-Atlantic were the most temperamental and uninhibited.
On a related note, I stumbled into this 2013 article about the 11 American nations:

Red states and blue states? Flyover country and the coasts? How simplistic. Colin Woodard, a reporter at the Portland Press Herald and author of several books, says North America can be broken neatly into 11 separate nation-states, where dominant cultures explain our voting behaviors and attitudes toward everything from social issues to the role of government.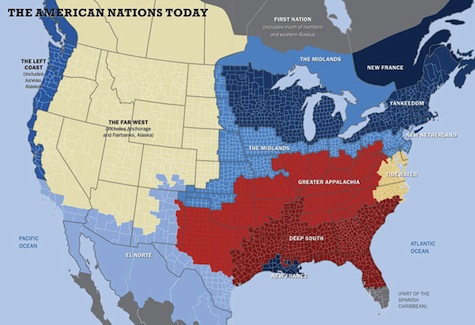 Not sure I agree with the map, but it's good thread-fodder.
What makes your home state (or your favorite state, if you don't happen to be living there) special?
Try to keep it positive and avoid bashing other parts of the country. Just tell us why your state is the best and what you like about the people there.
Also, with respect to Mama AJ's question, what has been your observation about what makes people more apt to be willing to make new friends?

Open thread for chit chat.


posted by Open Blogger at
02:45 PM
|
Access Comments