« Weekend Blow Off Thread: Your Hometown on the Silver Screen [Y-not]
|
Main
|
Overnight Open Thread (11-16-2014) »
November 16, 2014
Open Thread: Gratitude [Y-not]
Via BCochran (and CharlieBrown's Di) we have this:
Jane D'oh's son got out of the Marine Corp last year after serving his time and doing at least one combat deployment. [Some] of us wanted to help him out [with his transition to civilian life]. I took up some donations and shipped them up to Ms. D'oh. D'oh boy emailed me a couple days ago with a pic of what he spent a good portion of those donations on and said he'd like for the Horde to see it.
(Slight edits by me indicated with the [bracketed text].)

**UPDATED with enlargement of the boomstick**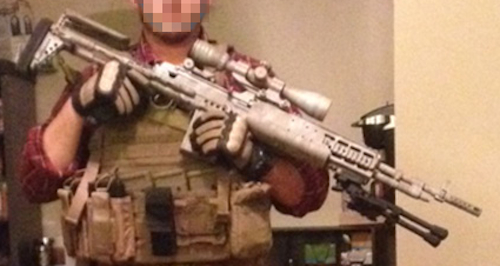 I know you all join me in expressing OUR gratitude to "Son" D'oh for his service to our country and to Jane D'oh and their entire family for the sacrifices they made to support their son in his important work.

Open thread.


posted by Open Blogger at
07:48 PM
|
Access Comments