« Early Morning Open Thread - [Niedermeyer's Dead Horse]
|
Main
|
Sunday Travel Thread [Y-not] »
July 27, 2014
Sunday Morning Book Thread 07-27-2014: Pain and Pleasure [OregonMuse]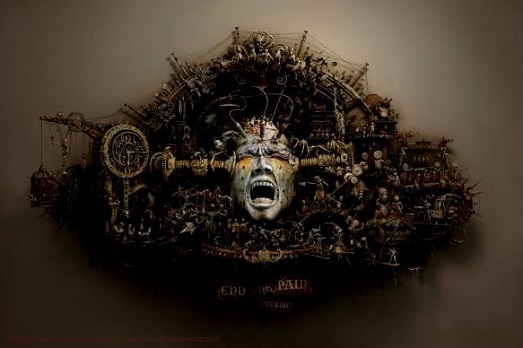 Good morning morons and moronettes and welcome to AoSHQ's stately and prestigious Sunday Morning Book Thread.
All non-book discussion should go into NDH's Open Thread below, thanks.

I Feel Your Pain
Well, actually, I don't. But I can at least read about it in The Story of Pain: From Prayer to Painkillers by Joanna Burke. This is a book that
tells the story of pain since the eighteenth century, addressing fundamental questions about the experience and nature of suffering over the last three centuries. How have those in pain interpreted their suffering - and how have these interpretations changed over time? How have people learnt to conduct themselves when suffering? How do friends and family react? And what about medical professionals: should they immerse themselves in the suffering person or is the best response a kind of professional detachment?
What continually amazes me is the amount of pain I see many people enduring and yet remaining sane and even functional. Me, I'm such a big crybaby, I can't stand even a sore tooth without making a huge deal over it, like it's the end of the world.
On the one hand, pain relief is good, and alleviating the suffering of others is unquestionably virtuous. Nobody wants to experience pain. But on the other hand, "for whom the Lord loveth he chasteneth, and scourgeth every son whom he receiveth" (Heb 12:6). So sometimes pain is a good thing. And this is another thing that amazes me, the innocent, ordinary people who are wrenched from their homes, locked away in some hellish prison, humiliated, tortured, raped, starved, brutalized, day after day for months and even years, and at the end of it, after all the pain they've endured, they enthusiastically and without a hint of irony say bless you, prison.

But Enough About Pain...
The music performer who goes by the name of Marilyn Manson supposedly once said "it's up to the parents to raise their children, if they don't, I will." That's kind of the idea behind Michael Rittenhouse's new book Sex: What Your Parents Didn't Tell You. The author's parents didn't discuss sexual matters with him, and also he discovered that his friends' parents didn't discuss sex with them, either. So they had to get their information from somewhere else, and in those days, it was mainly each other, so they were, and remained, a bunch of clueless boneheads. Of course nowadays, we have the the internet, which means that a child's first exposure to hardcore porn occurs around age 10(!).
If parents don't discuss sexuality with their children, the internet will do it for them.
So Rittenhouse's book is meant to help tongue-tied parents fill that gap, and provide good information to their children. He explains it a lot better here.
I suspect the gender warriors on the progressive side of the aisle will hate this book. Look at the cover. It has a man, a woman, and a baby on it. This implies that normal sex involves (a) a man, (b) a woman, and which may result in (c) a baby. Got that? I can already hear the shrieking.

Word Crimes

So the #1 album on the Billboard charts right now is "Weird Al" Yankovic's latest, "Mandatory Fun". Well, who cares? What's that got to be with books? I mention this because one of the songs is a catchy, upbeat little number called "Word Crimes" wherein various errors of English grammar and usage are amusingly illustrated. Here's the video:
Warning: not being at all familiar with modern pop music, I had no idea what song Weird Al was parodying. So I eventually found out it was 'Blurred Lines' by Robin Thicke, and so naturally I had to watch the video and holy crap, talk about NSFW! Of course, most of you probably already knew this and are now laughing at me.

Children's Bookstores
Here's a fun list of 14 Best Kid's Bookstores. I think The Wild Rumpus should be my favorite.

Kindle Unlimited
Any of you morons sign up for this service yet? For $9.95, you get access to 600,000 eBooks, but hold on a minute:
The so-called Big Five publishers - Penguin Random House, Macmillan, HarperCollins, Hachette and Simon & Schuster - don't appear to be participating in Kindle Unlimited, Amazon's new e-book subscription service.
So, if they're not, who is?
While titles from the Big Five publishers seem to be missing, those from publishers like Houghton Mifflin Harcourt, Scholastic, Bloomsbury, Algonquin, and of course, Amazon's own self-published titles, are available.
But:
Compare that with similar services like Oyster Books, which offers about 500,000 for $9.95 per month, and Scribd, which offers about 400,000 books for $8.99 per month. (According to the AP, both of these services offer extensive libraries from two of the largest publishers, HarperCollins and Simon & Schuster.)
Also, audio books:
It's bundling its Audible audiobook library into the Kindle Unlimited subscription service, so users can access more than 2,000 digital audio titles in Kindle Unlimited.
Hmmm... 2,000 sounds like awfully small pickings to me. I'm not sure this is the big selling point Amazon thinks it is.
Me, I think I'll pass. In order to make it cost effective, I'd have to buy one "full-priced" ebook per month, and by full-priced, I mean best-sellers and other high-demand books they charge you $9.99 to $14.99 for. Or, a bunch of cheaper ones. I'm not sure I could do this.

Blah.
Yeah, I suck. I only got 53% on this American literature quiz.

What I'm Reading
I just finished the first book in the Bill the Vampire series by Rick Gaultieri, and I've got good news and bad news. The good news is that the author sounds like he could be a Moron, so much so that I keep wondering if he hangs out on the ONT. So the book is fun for that reason. But the problem I had with it is that the dialogue isn't very good. He wants clever snark and witty repartee going on between the characters, but it sounds so wordy, laborious and forced. So if Sally wants to tell Bill that he's an idiot, she just doesn't say "you're an idiot" or even "all the leading experts agree that you're an idiot", but it's usually something like, "if I'm not mistaken, all the leading indicators point in the direction of you being an idiot." It just sounds so ponderous. Especially when the characters find themselves in tense situations where conversation is usually terse, having to read these long, drawn-out expostulations had me rolling my eyes more often than Sally.
And another thing I didn't like about this book which is probably not objectively bad, just one of my pet peeves, is the parenthetical narration constantly being delivered by the main character. That sort of thing just irritates me. My kids used to watch the TV show Arrested Development, which I grew to hate, not because I ever watched an episode, but because they'd be watching with the TV volume up kind of loud, and I'd be in another room working and I kept hearing this voice speaking over (and sometimes under) the actual dialogue, and to me it sounded like some idiot was just constantly yammering and I wished he'd just shut up. Turns out that the narration is an integral part of AD, which makes me not want to ever watch it. I always think it sounds like weak writing, having a voice that just explains everything for you as you're going along, what to think and how to feel about the story. There are more subtle and beautiful ways to do this rather than to have some guy constantly be spelling out everything for the audience.
So, in short, Vampire Bill is a fun book, but the author needs to tighten up the dialogue.

Books By Morons
Sabrina Chase has finally released Dragonhunters, the long-awaited sequel to her fantasy novel The Last Mage Guardian, which incidentally the Kindle edition is on sale for $1.99 until Tuesday. Concerning her new one, Sabrina says:
Dragonhunters features magic, explosions, exotic locales, mysterious and abandoned ancient cities, evil plots, and just a bit of dangerous romance. And a dragon.
What, no pastries?
Only $3.99 on Kindle. Also on B&N for the same price, if you prefer the epub format.
___________
Moron Wesley Morrison (author of I Would Like My Bailout in Bacon) has released a new novel, which is actually an unfilmed screenplay, A Piece of Eternity.
The Amazon blurb:
A premium human in a genetically enhanced future, Rylen Weir was bred for a life of harmony and balance...An unknowing test subject for the Traveller Enhancement, allowing him to send his consciousness back through time among his own ancestors, Rylen can possess the one man who set this future in motion. Which gives Rylen the power to save everyone, and everything, that he has ever known—or to prevent his world from ever happening.

Only neither side knows what Rylen will choose, because Rylen Weir is flawed.
___________
So that's all for this week. As always, book thread tips, suggestions, rumors, threats, and insults may be sent to OregonMuse, Proprietor, AoSHQ Book Thread, at the book thread e-mail address: aoshqbookthread, followed by the 'at' sign, and then 'G' mail, and then dot cee oh emm.
What have you all been reading this week? Hopefully something good, because, as I keep saying, life is too short to be reading lousy books

posted by Open Blogger at
10:05 AM
|
Access Comments