« Really, Really Early Morning Thread -[Niedermeyer's Dead Horse]
|
Main
|
Travel Thread: Going to the Dogs [Y-not] »
July 06, 2014
Sunday Morning Book Thread 07-06-2014: Dare To Be A Bad Writer [OregonMuse]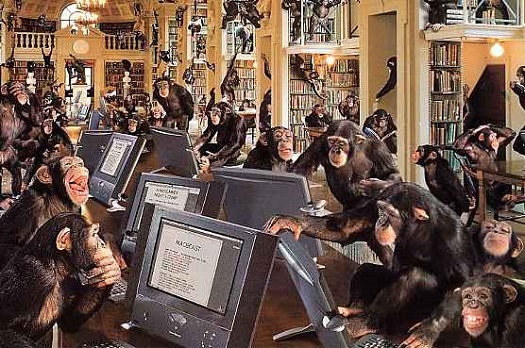 The Daily Kos Netroots Library MeetUp Was A Huge Success

Good morning morons and moronettes and welcome to AoSHQ's stately and prestigious Sunday Morning Book Thread.
All non-book discussion should be done while enjoying maple-bacon pancakes in the previous open thread.

A Tragedy, Not A Farce
I've missed more than 9000 shots in my career. I've lost almost 300 games. 26 times, I've been trusted to take the game winning shot and missed. I've failed over and over and over again in my life. And that is why I succeed.

Michael Jordan
OK, so a few weeks ago, I told the story of James Theis' novella The Eye of Argon, by reputation the worst SF-F story ever written. But, based on some comments in the thread, I went back and re-read it more carefully, and now I'm kind of sorry I piled on. It's actually not that bad.
Oh, it's plenty bad, alright, but it's not bad-bad. It's badness comes chiefly from questionable word usage and outright malapropisms, and some of them are, admittedly, hilariously funny. And you can tell that Theis has spent way too much time reading Robert E. Howard. But, to his credit, the pacing is good, and the story is consistent. A while back, I was asked to critique a story written by a friend of Mrs. Muse, and one of the mistakes was a complete shift of point of view. It start out using a more or less omniscient perspective but then, about 2/3rds of the way through, with no warning, we're listening to the story being told to us in the first person by the main character. I suppose a more experienced, competent writer could make something like this work, but this author did not have such skills. It was very jarring and amateurish, and she obviously didn't know what she was doing. But I don't think this was the case with Theis, there's nothing that bad in EoA. I think Theis knew what he wanted to do, he just did it clumsily.
Even his worst malapropisms aren't completely hopeless:
Startled by the barbarians stunning appearance...and the fear that Grignr might be the avantgarde of a conquering force dedicated to the cause of destroying their degenerated cult, the saman momentarily lost their composure.
So WTH does "avantgarde" mean in the context of an action scene? Well, it doesn't mean anything, it's actually the wrong word. I think Theis meant "vanguard" here, not "avantgarde". Even though we can all have a hearty laugh, it's actually a good thing: It's easy to see that Theis had heard the correct word, knew what it meant, knew how to use it, but got it confused with another, similar-sounding word. This is a forgivable mistake, which would have been corrected in the first-draft editing, if OSFAN ever had such a thing. Theis was trying to imitate something he had heard or read, and was trying to get it to work for him. That's a laudable goal for a beginning writer. Sometimes in art museums, you see art students in front of famous paintings with their paints and easels out, copying the work of the master. Theis is doing something similar here, imitating the overly-florid writing styles of early pulp writers like Howard and HP Lovecraft. In short, there's nothing wrong with Theis' writing that couldn't be fixed by practice and experience.
Some of years ago, a friend of mine told me he was in a writers' group, and that this group called itself the "Dare To Be Bad Writers Club". The idea is that all of these aspiring writers knew that most of what they wrote was going to suck, but that that shouldn't be a deterrent to writing. They knew they would improve only if they stunk out the joint first.
The wiki entry for James Theis indicates that was stung by how badly his story was received, and that he never wrote anything else. I think that's sad, because the potential is clearly there.
I wish I had some device that would enable me to send messages back in time. If I could, I'd tell him "Jim, this story you just published in OSFAN is going to become a laughingstock. But whatever you do, however bad it hurts, don't let it discourage you. Those guys laughing at you couldn't string two sentences together to save their own lives. I'm not going to say your story is good, because it obviously needs a lot of editing and rewriting, but that's the way it is. Nobody is ever good at anything the first time they do it. Or second, or third. You need to ignore the laughing and work hard at perfecting your craft. And the only way you're going to do that is practice, practice, practice. So please don't give up."
A List of Children's Books That Look Death in the Eye
There are some interesting books on this small list. I had never heard of the one by Terry Pratchett, Nation. Also, the excerpt from Charlotte's Web is heartbreaking. I cry like a little girl every time I read it.
And speaking of which, E.B. White's interesting correspondence concerning some of the ideas behind his writing Charlotte's Web can be read here. I really like the way he writes.

The Smashwords Summer Sale Is On
And it lasts the entire month of July. Many authors of many genres are offering their eBooks at reduced prices, including free. Click here to browse the titles.

Another Independent Brick-And-Mortar Bookstore Bites The Dust
Any of you morons in SoCal?
Brand Bookshop in Glendale, CA, is closing its doors after 29 years:
A used bookstore with a vast, eclectic selection, Brand Bookshop was one of the largest bookstores of its kind in Southern California. In addition to the books in its sprawling Glendale store it has a large stock warehoused offsite, totaling more than 100,000 books.
I'm sorry to hear this.

Books of Note
The 5th installment of the Monster Hunter series, Monster Hunter Nemesis, by the eeeeeevil Lord of Hate Larry Correia was released last week. And I hope it becomes a huge bestseller for Larry if for no other reason than it will result in his his enemies weeping and wailing and gnashing their teeth.
___________
Is it safe? The political thriller Marathon Man by William Goldman is on sale for less than $3 (Kindle edition) until July 31st. Goldman is also the author of The Princess Bride: S. Morgenstern's Classic Tale of True Love and High Adventure. In my opinion, the movie is better.

Books By Morons
Another moron author heard from. Long time reader "Gnardo Polo" has written a Celtic fantasy (I never knew this sub-genre existed before now) about a young man who needs to learn to be a good man before he can be a leader of his people.
"Wizard's Heir" is available on Kindle for $2.99.
And this is not his first book. Gnardo is the author of a number of other fantasy novels.
___________

Funding For A Moronette: Part-time author and full-time moronette Anna Puma is seeking funds so she can complete the writing of her 'Sluggor' novel. Hopefully some of you morons can lay off the Valu-Rite and Czech pr0n for a day or two and pass along a few pfennigs her way.
Also, Anna recommends The Keep by F. Paul Wilson, he of 'Repairman Jack' fame. Anna saus it's not your typical vampire story. It asks, at what price will you sell your soul for vengeance?

What I'm Reading
I saw that the Kindle edition of Wild Swans: Three Daughters of China by Jung Chang was on sale for $1.99, so I snapped it up. Mrs. Muse highly recommends this biographical view of modern Chinese history as seen through the eyes of a daughter, her mother, and her grandmother. It starts out with the grandmother as a teen-aged girl, given as a concubine in 1909 to a local warlord, and Chang's description of those times is one of chaos and barbarism (Note: you do NOT want to Google for images of footbinding. Trust me on this). Chang's mother married a zealous communist party official who was denounced and purged during the Cultural Revolution. Chang herself was a Red Guard for a period of time, and also she worked as a doctor, electrician, and steelworker.
What drives me crazy in the reviews is that they really, really want to excuse the horrific crimes of communism. Like this:
Working as a "barefoot doctor" with no training, Chang saw the oppressive, inhuman side of communism
OK, so what if somebody wrote this:
Working as a writer and theologian, Dietrich Bonhoeffer saw the oppressive, inhuman side of Naziism
I'm guessing the person who wrote the sentence I quoted first would be OUTRAGED! if he or she ever read the second.
And these reviews keep referring to the "excesses" of communism, as if it were a wonderful thing that got ruined because somebody took it just a little bit too far, refusing to acknowledge the truth of Solzhenitsyn's observations that the concentration camps, purges, and mass killing are there, and always will be there from the very beginning.
But read Chang's book.
Jung Chang is also the author of Mao: The Untold Story.

___________
So that's all for this week. As always, book thread tips, suggestions, rumors, threats, and insults may be sent to OregonMuse, Proprietor, AoSHQ Book Thread, at the book thread e-mail address: aoshqbookthread, followed by the 'at' sign, and then 'G' mail, and then dot cee oh emm.
What have you all been reading this week? Hopefully something good, because, as I keep saying, life is too short to be reading lousy books.

posted by Open Blogger at
10:04 AM
|
Access Comments