« Sunday Morning Book Thread 07-06-2014: Dare To Be A Bad Writer [OregonMuse]
|
Main
|
Yoda: The Early Years (CBD) »
July 06, 2014
Travel Thread: Going to the Dogs [Y-not]
Yesterday on Twitter this article from Today crossed my timeline:
Fluffy pillows might make hotel guests feel welcome, but sometimes face time with a floppy-eared mutt is what a road warrior might be craving.

That's why the Red Mountain Resort in St. George, Utah, offers the Pound Puppy Hike, a complimentary amenity that matches guests with a puppy or dog from a local shelter for hikes on scenic trails in the area. "We know that busy executives are visiting the property to recharge and disconnect yet stay active and not sit around," said resort general manager Tracey Welsh.
Seems like a neat idea.
I think we've covered before how to find pet-friendly accommodations when you're traveling with your own furry friends (here's a recent article on the trend of luxury pet accommodations), but this newish trend involves partnering with animal shelters and giving guests the use of a dog... and the dog the use of the guests!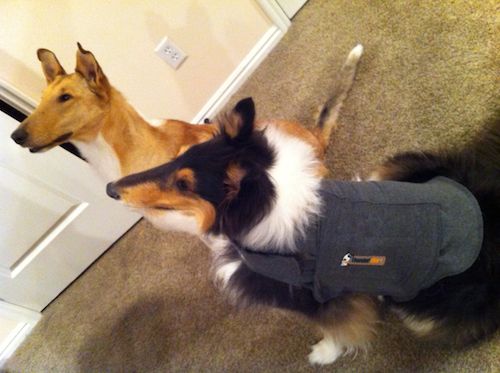 "Thunder Girl" (aka Bailey) and her sidekick "Little Debbie" are available for rent... for the right price.
The wannabe lawyer in me has a lot of questions about liability issues and other practical matters, but I dig the concept. I know we always miss our pets when we travel and have been pleasantly surprised when the bed and breakfast where we're staying turns out to have a friendly animal "on staff." The first vacation we ever took as a married couple was to a B and B in Vermont's "Northeast Kingdom." It was a pretty simple place -- a large farmhouse with some guest rooms and a small one-room cottage (a former schoolhouse) where we stayed. Rural soundings and plenty of peace and quiet. But the highlight was the farm kitten who was hanging around the property and who adopted us for the few days we were there.
So, would you take advantage of this service?
What are your pet-related vacation stories?
To close things up, here's a "dog"-related scene from one of my all-time favorite cartoons, "The Tick:"

posted by Open Blogger at
12:25 PM
|
Access Comments