ę Remember That Irish Orphanage Horror Story? Well... [Y-not]
|
Main
|
Overnight Open Thread (21 Jun 2014) Ľ
June 21, 2014
Republican Governors at the Front Lines of the Border "War" [Y-not]
Earlier this week I was complaining a bit about Rick Perry not being visible enough with regards to the Obama Administration's border stunt. Everyone here knows I like Perry, but I just felt like the "optics" of him fooling around with Teslas and even the X-Games thing (which I realize he had to attend, but perhaps not so PR stunt-y about it) while thousands of kids swarm the border were less-than-great.
In any event, he has stepped it up this week and ordered a "surge" of enforcement operations at the border by the Texas Department of Public Safety to the tune of $1.3M a week. I'll direct you to Legal Insurrection's coverage:
Note whatís being said here. My understanding is that the state can use the increased patrols only to help prevent entry or to apprehend illegal immigrants and turn them over to the feds; they canít actually deport people if the Obama administration refuses to do so.

The huge number of families and children illegally coming to this country is not even the issue on which Texas is concentrating here. Rather, itís that their entry is flooding the border and distracting the guardsí time and energy while the drug cartels climb aboard.
Go to Legal Insurrection to read the whole thing.
My fondness for the State of Texas and Perry aside, this makes me so mad I could spit. I can't believe that a U.S. President whose country's economy is being propped up in large part by ONE state would play chicken with THAT state's economy and, frankly, the safety of its citizens.
Anyone who follows me on Twitter knows how pissed off I am about this. It's going to cost Texas a boatload of cash and tie up a lot of manpower. Plus, it seems to me that the risks of some sort of "incident" happening involving these illegal kids are very high. All because of our lawless, America-hating President.
From a purely political standpoint, I think there is - potentially - a silver lining: if Perry successfully navigates through this Obama-made "crisis" it will certainly do a lot for his 2016 prospects.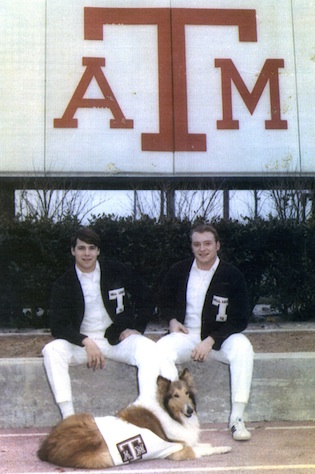 My collies insisted I include this picture of Rick Perry with Reveille III for some reason.
Meanwhile, Jan Brewer is meeting with Mexican governors:
Governor Jan Brewer has spoken out about the influx of illegal immigrants from Central America.

She's called what is happening inhumane and demanded that the federal government be more open with her office and also stop the problem.

The numbers keep on growing with unaccompanied children and families from across Central America entering the United States from Mexico.

In Phoenix the Arizona and Sonoran Mexico Governor's talked business, but immigration loomed large.

"We cannot by any stretch of the imagination continue to have an influx of what we have seen in the past few days and weeks," said Gov. Jan Brewer.

The Governor's met at the Arizona-Mexico Commission Conference, and the Governor of Sonora described the situation on his side of the border.

"What we try to do is help them, give them any aid they need, and also give them information trying to persuade them not to take that step and come into the United States.

Governors are so important. I'm not sure I would consider living in a state that did not have a track-record of solid Republican governors at this stage in my life. But this POTUS has declared war on them.
So, those of you morons in border states, what's happening at the front lines? What has been the impact of Obama's "Operation Desert Katrina" on your state?

Oh and Open Thread.


posted by Open Blogger at
07:33 PM
|
Access Comments