« Open Non-Space Thread
|
Main
|
Overnight Open Thread (4-6-2014) »
April 06, 2014
Spaced-Out Challenge: MARS! MARS! MARS! (& a Great New Scope Shop for SoCal)
[We Politely Request That All Off-Topic or Political Comments Be Directed to the Open Thread down page, Which Will Serve Officially as the Current "Active Conversation" Thread for All Discussions Not Related To This Topic. Enjoy!]
Fantastic shot of Mars by amateur Joel Tonyan
Welcome again to the Spaced-Out Challenge! Whether you have a question about equipment, a new astronomical discovery you want to expand on, or just want to kick back and enjoy the cosmos above, come one come all on our weekly astronomical journey.
This week, all eyes are on Mars as we get our best view of the red planet in almost seven years. We'll also discuss the upcoming total lunar eclipse, a great new telescope shop in Southern California, and we'll review Baader Planetarium's UHC-S light pollution/nebula filter. So stroll outside, plop into your favorite lawn chair, and look up and out into the vastness above...

MARS MARS MARS!
Mars is not only at opposition, it is at its closest to earth in almost seven years, and will make a great target for even the smallest telescope this week, culminating the same night of a fantastic total lunar eclipse, Monday April 14th.
First, a quick word about the image at the top of the post. I implore anybody who enjoys great photos of the wonders above to please follow @joeltonyan. I was awestruck when that image popped up on twitter- it is easily the best amateur shot of Mars I have ever seen. His shots range from wow to wooow, and are even more amazing considering he is only using a 6" telescope! His flickr account is here. Show him some love, horde!
Onto Mars, it's opposition and why it's so damn bright and awesome right now, from EarthSky:

Mars is at its best about every two Earth years, whenever Earth flies between this planet and the sun. That happens next on April 8, 2014 at around 21 UTC (4 p.m. CDT).

Earth orbits the sun one step closer than Mars does, and we move in orbit more swiftly than Mars. Our world laps Mars on the average every 780 Earth days – a little over every two years. When Earth goes between the sun and Mars, placing Mars opposite the sun in our sky, astronomers call it an opposition of Mars...As a general rule, Mars reaches opposition every other year, but oppositions of Mars are not created equal. Although Nature rarely repeats herself exactly, there is a cycle of near and far oppositions of Mars.

The cycle of extra-distant and extra-close Martian oppositions lasts 15 to 17 years. Extra-close oppositions happen when we go between Mars and the sun around the time Mars is closest to the sun. Makes sense, right? Mars is closest to the sun. We go between the sun and Mars. So Mars is closest to us. The last extra-close opposition of Mars took place on August 28, 2003, and the next one will be on July 27, 2018.

Mars will be bright and obvious in your south-southeast to southern sky after 10pm local time, near the bright star Spica, forming an arc with the handle of the Big Dipper and Arcturus, and easily outshining them all: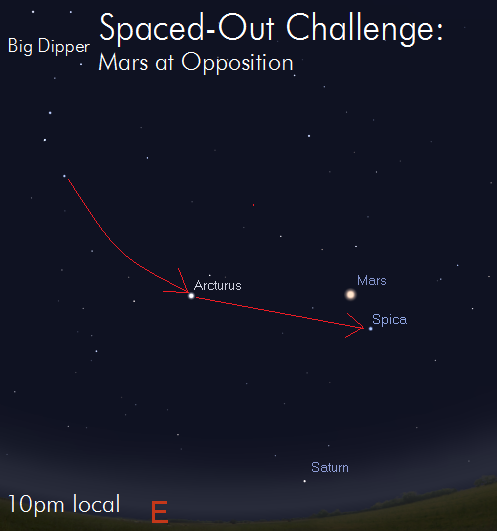 What can you expect to see? Well, with your naked eye, it's rust-red color is obvious even with city lights. With binoculars or a very small telescope, you should be able to make out its disk. Telescopes of 4" of aperture or better will reveal some surface features, though it is nearing Martian summer, so dust storms will soon obscure much of the surface. If you have a motorized telescope, even a small one, basic imaging and stacking will reveal something akin to what you see in the fantastic photo at the top of the post.
Southern California Gets a New Scope Shop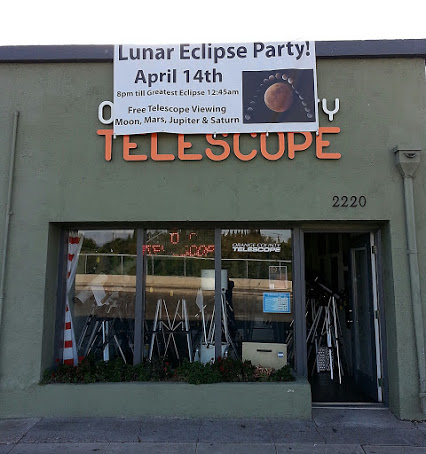 Orange County Telescope
2220 N Main St
Santa Ana CA
website
Toll-Free: 1-888-471-9991
Astronomer Mike Fowler, formerly of Vixen Optics and Ocean Pacific Telescope, has opened a "small" scope shop just yards from the I-5 in (as the name suggests) Orange County. With the closure of Scope City, this "small" store is most welcomed. I keep putting small in quotes because the store is like a TARDIS- far smaller on the outside than it is on the inside. Apologies for a lack of pictures, but I spent so much time talking with Mike, getting my scope properly re-aligned (after my old collimating eyepiece failed me), and just browsing the dozens of scopes on the floor, I forgot to snap any!
When I say dozens of scopes, I mean dozens, and not just the latest computerized offerings from Meade and Celestron, but classics older readers will salivate over, such as an immaculate Sears Discoverer refractor. Mike's extensive knowledge and friendliness means you're in good hands: whatever your question, he almost certainly can answer it. My wife has been hesitant to tag along to "the scope shop" ever since we dealt with a particularly rude social introvert at a shop I won't name, but she had a blast walking through this one- you don't have to know a lick about astronomy to enjoy this place, just a curiosity and a few minutes to squeeze into the parking space (and in her case, a love of vintage-her eyes were the size of dinner plates when she saw the Sears scope!)
His website is relatively new, so if there is an astro product you don't see on the website, please call him up and he'll get his hands on it. I promise to upload images the next time I go, but in the meantime, just take my word for it: if you live in Los Angeles, OC, or the IE, this is your walk-in shop. A warning though: you won't leave empty handed. I visited this past Wednesday to get the scope checked and to check the place out, and walked out with a laser collimator and the below filter.
Product Test: Baader's UHC-S light pollution/nebula filter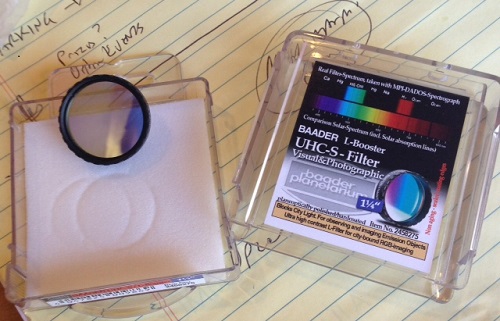 $89.99 from Orange County Telescope (call em up!)
Tested using an Orion XT8 8" Newtonian reflector, a Parks Zoom eyepiece, and two cheap plossls
Observation location, weather, time/date:
Tested from a dark parking lot in Alta Loma, California. Bortle Sky Zone 7 (heavily light polluted). Excellent transparency. Excellent seeing. 0% Cloud Cover. 4:00AM-5:00AM today.
After chit-chatting with Mike about observing under washed-out skies, he recommended Baader's 1 1/4" UHC-S filter (a "poor man's Lumicon'), insisting it would really help a few of the more sensitive nebula pop. To keep the testing fair, I used the same eyepieces, observed from a washed-out sky where the Milky Way (and half of Ursa Minor) was invisible, and compared it to my Celestron 1 1/4" O-III filter. Here's how things stacked up on several big amateur targets.
Messier 8: The Lagoon Nebula
Unfiltered view: Nebula hazy and barely enveloped open cluster.
With the O-III: Nebula popped into view, hazy but the full "lagoon" region was clearly evident. Surrounding stars faded out by the filter.
With the UHC-S Nebula again popped into view, this time more faintly than with the O-III, but with the bonus of preserving, rather than dampening, much of the surrounding stars' light. A pleasant view.
Verdict: Better with the O-III, but the UHC-S certainly delivers as promised: the nebula is evident where it was just hinted at without.
Messier 17: The Swan Nebula
Unfiltered view: Scanned over it several times before stopping- extremely faint, washed out by the city lights of Ontario and Rancho Cucamonga to my south.
With the O-III: One of the reasons I bought my O-III was the write-up on this nebula, and it certainly delivered: the swan is bright and obvious, a black-and-white version of an astrophoto.
With the UHC-S: Obvious, but far fainter than with the O-III- several of the "feathers" at the rear end were invisible, but surrounding starlight penetrated easily.
Verdict: O-III by a country mile, but the UHC still took the nearly invisible and made it pop.
Messier 16: The Eagle Nebula
Unfiltered view: Impossible to see. Cluster faint but visible.
With the O-III: A ghostly hint of nebulosity with averted vision, almost no improvement from the view without.
With the UHC-S: Nebulosity is faint but apparent with direct vision. Far, far too faint to see any real details, but even getting a minimal view is a vast improvement.
Verdict: UHC-S hands down.
Messier 57: The Ring Nebula
Unfiltered view: Faint smoke ring against the bright sky.
With the O-III: Immediately obvious. Faint, but the ring shape is clearly more defined. Background sky darkened considerably, including nearby stars.
With the UHC-S: Even more obvious than with the O-III. Solid definition of the ring without much of a reduction in the surrounding sky's starlight.
Verdict: UHC-S, though the Celestron still does a great job.
Messier 27: The Dumbbell Nebula
Unfiltered view: Faint, but hint of its namesake shake there with averted vision.
With the O-III: Immediately obvious, no aversion necessary. Stars are obviously dimmed, nebulosity approaches beginner-level astrophoto quality, but in black-and-white.
With the UHC-S: It screams at you. Dumbbell shape is bright and obvious, remaining nebulosity brighter than in the O-III, minimal reduction in surrounding stars' brightness.
Overall, I enjoyed using the UHC-S: the threading was fine, item came free of any blemishes, and it delivered as promised by making every faint nebula targetted easier to see. Certain objects look better in the O-III, but the improvements in the Dumbbell and M16 are reason enough to make this a solid buy.
***
Odds and Ends
The upcoming total lunar eclipse (more about it next Sunday) gets a bit of mention in this week's edition of Sky and Telescope's Sky Week, along with (as already discussed) brightening Mars:
ISS FLYBY for Western US tonight
One of the guest bloggers sent over this fantastic link from SpaceWeather, telling you when to look up and wave at the International Space Station and other major satellites. It rises tonight here in SoCal around 7:58pm local time.
OC Telescopes' Live Viewing/Streaming of the Total Lunar Eclipse
Orange County Telescopes will be holding a modest "viewing party" at 2220 N Main Street, Santa Ana (just 25 yards off the I-5 freeway exit) next Monday (April 14th) evening, starting at 9:30pm (eclipse totality is at 12:07am Pacific). Overflow parking is available just yards south past the 5 SB entrance. Telescopes are available for the public to enjoy views of the eclipse up close, along with planets Mars, Saturn and Jupiter. A live HD broadcast can be seen for the less adventurous here.
***
The full Beginner's Buyer's Guide, our Comet Guide (featuring additional grab-and-go telescopes), and any other edition you're looking for can be found in the master index of all Spaced-Out Challenge threads
here
, but of course you can always inquire about binoculars, telescopes, and all the rest in the comments. As always, if you have astrophotography, product recommendations, or astronomy news you'd like to see on a future Spaced-Out Challenge, email me at theoneandonlyfinn (at) gmail.com, or tweet me
@conartcritic
.
If you have any more questions about your new optics, feel free to ask below. Until next time, clear skies to you, and keep looking up!

posted by CAC at
08:42 PM
|
Access Comments