« New Series: The Home Improvement/DIY Thread - [Niedermeyer's Dead Horse and Countrysquire]
|
Main
|
Anti-Travel Open Thread [Y-not] »
March 22, 2014
Saturday Gardening Thread: Weird Edition [WeirdY-Not and WeirdDave]
Greetings, gardening morons and moronettes, and welcome to your Saturday Yard and Garden thread! Today's thread theme is "weird" and is brought to you by the master of weird, wild stuff:

OK, YOUTUBE IS NOT COOPERATING, SO INSTEAD FOLLOW THIS LINK TO THE BEST JOHNNY CARSON MOMENTS. SORRY ABOUT THAT.
From your host, WeirdDave:
Dear Y-not,
I must confess to being flummoxed at your decision regarding the garden thread this week. You said that the theme today would be "weird". "Weird". What a strange word. I was stumped. I'm not familiar with the word, nobody has ever used it around me in any context. "Handsome"? Yes, I've heard that. "Brilliant"? Almost daily. "Hung like a buffalo"? More times than I can count. But not "weird". I confess that I went to the dictionary for help.
1. involving or suggesting the supernatural; unearthly or uncanny: a weird sound; weird lights.
Huh. That's not a help. I can't see any connection to gardening. I mean, I mentioned a few weeks back how the radioactive bodies I used to fertilize my garden animated my corn plants and sent them shambling through the woods, but is that weird? I don't think so, it seems to me that that's to be expected. Sounds? Each fall after the harvest when the neighborhood gets together for the traditional "Who can fit the most cucumbers in their bum?" celebration lots of strange sounds get made, but that's not weird, that's tradition. Lights? I got nothing.
2. fantastic; bizarre: a weird getup.
Weird has to do with clothes? Hmmm. I dunno. When I'm gardening, I dress just like everybody else: Helicopter beanie, X-ray glasses, football shoulder pads, a halter top, nipple clamps, elbow length satin gloves (white), beer can pull tab rings, a purple merkin, Speedo trunks, chaps (and yes they are assless. All chaps are assless by definition. Non- assless chaps are called "pants"), garter belt, stockings, swim fins and spurs. All very conservative, nothing "bizarre" at all. I don't think that helps in any way.
3. Archaic. concerned with or controlling fate or destiny.
Destiny. Now destiny I know something about. Every night before I lie down to sleep, I strip naked and paint orange and green stripes across my body. Hooking my legs behind my head, I prostrate myself before the shrine to Yotta, the triune God of diapers, wormholes and head lice. I gently knock my head against an iron pipe and repeat the ancient mantra "Owah Ta-gu Siam". Faster and faster, in an orgy of devotion I rock, chant and knock, rock, chant and knock. After about 15 minutes a beautiful peace comes over me and, as the blood runs gently, peacefully out of my ears Yotta reaffirms for me my destiny. I WILL one day rule with fire and terror over the terrified pigs that live in the wallow down the street. It is my destiny, my fate. I then lapse into a sleep warmed with beautiful dreams of squeals and bacon. Oh I know all about Destiny. I'm not sure what that has to do with gardening though.
Really Y-not. I thought and thought about it. All yesterday and today. I thought while I was spackling my dog. I thought as I lovingly swabbed the navels of the seniors at the local rest home with earwax and 30 weight oil. I thought while cooking dinner as the grasshoppers popped and sizzled in the deep fryer. I thought as I gave honor to Yotta, all hail his benevolent rage. I tried and tried to come up with something "weird", but I just couldn't do it. Nothing about me or connected to me intersects with the word "weird" in any way, shape or form. I'm sorry I've let you down, I'll try to do better next week,
Your obt servant,
Weirddave (Hey look, I just noticed. My name is Weirdda Ve, but if you rearrange the way the letters group, "weird" is in there. I never noticed that before! Freaky.)
And now from your co-hostess, Y-not:
As I was looking for thread-fodder this past week, I kept stumbling across "weird" things. And, as not much new has happened in the vast, quarter-acre gardens of Casa Y-not this past week (except a bit of pruning – still licking my wounds from that endeavor!) I figured "weird" was as good a topic as any. So without further ado, here's a potpourri of weirdness in the world of gardening:
Via Popular Mechanics, we have the world's strangest gardens. Some of these are truly weird. For example, the Garden of Cosmic Speculation, located in Scotland, was created by architect Charles Jencks and his wife Maggie Keswick. Taking over two decades to construct, the garden features 30 acres of geometric design like something out of an Escher painting.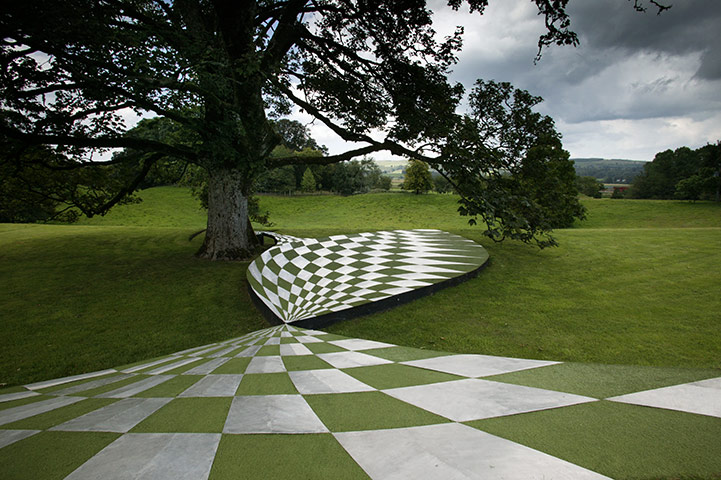 Either a photograph of the Garden of Cosmic Speculation or CAC's backyard. You decide.
Another weird garden featured in the Popular Mechanics article is located in Fukuoka, Japan (which seems to be an interesting place in and of itself). Its design was the brainchild of architects who wanted to preserve as much green space as they could when putting up a new civic center. The building includes north facing walls of glass and a Step Garden containing more than 120 varieties of plants.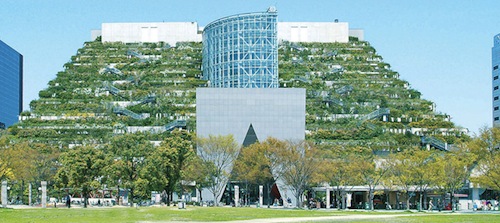 The Step Garden at Fukuoka
While we're on the subject of gardens, this story from Arizona Public Media highlights some of the weird plants that have adapted to survive in harsh desert conditions. There's a video available at the link and although the narration is gawdawful (and a little dull in delivery), it's still worth watching if you have an interest in unusual desert plants. By the way, the scientist featured was formerly of the Arizona-Sonora Desert Museum, which is one of my favorite botanical gardens. Well worth a visit if you are in the Tucson area.
Speaking of Tucson and weird, courtesy of Cool Weirdo, here's a bizarre phenomenon that was discovered in the Arizona desert: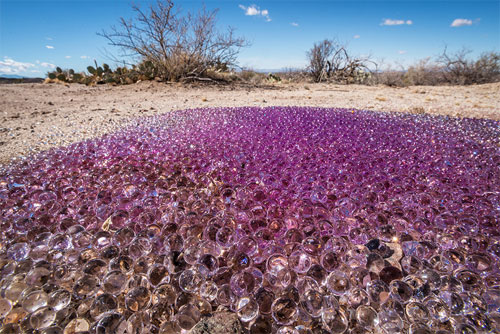 Plant? Fungus? Polymer? Who knows – but it's weird!
Moving on to other weird plant stories, file this under amazing:
A team of British researchers drilled core samples from moss beds on Signy Island, off Antarctica, and took slices from different depths back to the lab. Then they warmed up the samples in an incubator and exposed them to light to see if they could get anything to grow. They weren't optimistic. The deepest layers from their Antarctic cores were more than 1,500 years old.
And the record for getting frozen plant material to start growing again was no more than 20 years. (Among animals it's even shorter: Brine shrimp, aka Sea Monkeys, can be rejuvenated after a couple years in dry, freezing conditions; tardigrades, bizarre little eight-legged, water-dwelling creatures, can be revived after as much as a decade.)
To the researchers' surprise even the oldest mosses in their core samples began to grow new shoots, they report today in Current Biology. Perhaps even older mosses could be coaxed into growing, they write. The oldest Antarctic moss banks are 6,000 years old.
Not exactly "weird" but perhaps unexpected, courtesy of Niedermeyer's Dead Horse, watch out for these seemingly innocuous plants that are killers. I had no idea that daffodils are poisonous.
This next "weird plant" story is more sad than weird. Look at this NY Daily News list of "weird" fruits and vegetables and tell me how many of them really seem weird to you. I dunno, maybe I'm weird, but many of these land in my grocery basket or on my dinner plate fairly regularly. I did think that this Romanesca cauliflower was pretty cool-looking, though: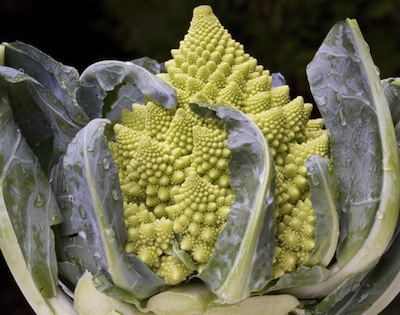 OK, how about a weird science story? Turns out honeybees like caffeine. Who knew? Courtesy of LiveScience:
Honeybees, like tired office employees, like their caffeine, suggests a new study finding that bees are more likely to remember plants containing the java ingredient.
Caffeine occurs naturally in the nectar of coffee and citrus flowers. Bees that fed on caffeinated nectar were three times more likely to remember a flower's scent than bees fed sugar alone. The findings, detailed today (March 7) in the journal Science, show how plants can manipulate animals' memories to improve their odds of pollination.
Why should you care about honeybees?
One mouthful in three of the foods you eat directly or indirectly depends on pollination by honey bees. The value of honey bee pollination to U.S. agriculture is more than $14 billion annually, according to a Cornell University study. Crops from nuts to vegetables and as diverse as alfalfa, apple, cantaloupe, cranberry, pumpkin, and sunflower all require pollinating by honey bees.
A little closer to our own backyards, how about some weird gardening tools and techniques? From WebEcoist, "Plant Outside the Box: 14 Strange & Unusual Gardening Products." I gotta say, if you put a pointy hat on them, pretty much EVERY politician looks like (and probably smells like) the fertilizing gnome… except that the gnomes are actually useful!
Finally, here are some weird (but helpful) gardening tips.
So that's your roundup (not Round Up) of weird gardening stories for the week. If you have an interest in weird and wonderful plants, I'd recommend you check out the Kew Royal Botanic Gardens web pages. It's my Blog of the Week.
Happy gardening!
(Make sure to check out tomorrow's Travel Thread, which will feature botanic gardens and arboretums!)


posted by Open Blogger at
05:42 PM
|
Access Comments