« Chinese Satellite Snaps Picture of Possible Wreckage of Flight 370
|
Main
|
Top Headline Comments (3-13-2014) »
March 12, 2014
Overnight Open Thread (3-12-2014)–Mechaphiliaphobia Edition
Car F*cker Ready to Settle Down
There's comes a time for a man when playing the parking lot no longer holds the thrill it once did and he begins to long for a single vehicle to share his life with and perhaps one day even raise a fleet of little priuses with.
And for Edward Smith that time is...well real soon now.
After losing his virginity 45 years ago, Edward Smith of Yelm, Washington, knew that the way he felt about headlights and bumpers was the way most men felt about "boobs and buns." Although he never forgot his first - a neighbor's Volkswagon Beetle - the self-proclaimed mechaphile went on to sleep with thousands more automobiles and one woman (who we can only assume is his long-term neighbor Sarah, who is very happy that he's found "something that makes him happy").

Now, at the age 62, after driving around with any car or helicopter part that ignited his passion, Smith is ready to give up his slutty ways and become a one-car kind of man. Well, kind of. Although he considers his carfriend Vanilla (a secondhand VW Beetle he's been with for 30 years) his number one, he still has two other cars he sees on the side - Cinnamon and Splash. But Vanilla doesn't seen to mind much. Their relationship is as solid as steel according to Smith.

"When I hold Vanilla in my arms there's a powerful energy that comes from her in response to that . There's something about Vanilla that I can't fully express on an emotional level," Smith said of his carfriend.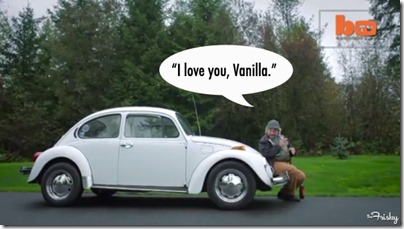 [Side note to Yelma-Olympia area morons: Be careful where you park you car and watch yer exhaust hole.]
Ukraine: Hopeless But Not Serious
Spengler is quite down on Ukraine as a viable, independent nation.
There isn't going to be a war over Ukraine. There isn't even going to be a crisis over Ukraine. We will perform our ritual war-dance and excoriate the Evil Emperor, and the result would be the same if we had sung "100 Bottles of Beer on the Wall" on a road trip to Kalamazoo. Worry about something really scary, like Iran.

Ukraine isn't a country: it's a Frankenstein monster composed of pieces of dead empires, stitched together by Stalin. It has never had a government in the Western sense of the term after the collapse of the Soviet Union gave it independence, just the equivalent of the family offices for one predatory oligarch after another-including the "Gas Princess," Yulia Tymoshenko. It has a per capital income of $3,300 per year, about the same as Egypt and Syria, and less than a tenth of the European average. The whole market capitalization of its stock exchange is worth less than the Disney Company. It's a basket case that claims to need $35 billion to survive the next two years. Money talks and bullshit walks. Who wants to ask the American taxpayer for $35 billion for Ukraine, one of the most corrupt economies on earth? How about $5 billion? Secretary of State Kerry is talking about $1 billion in loan guarantees, and the Europeans are talking a similar amount. That's not diplomacy. It's a clown show.
Still even a poor, benighted country deserves its sovereignty. But that doesn't imply that we must or should go to war over it.
And yes it's clown shows all the way down.
Is Talking the Shortest Path to War?
All too often it is. Thank you State Department.
A half century worth of experience, however, does not support the thesis that diplomacy with rogue regimes or terrorist groups brings peace. Rather, diplomacy misapplied can be the shortest path to war.

False assumptions undermine strategic interests. Rogues do not accept American standards of diplomacy or the sanctity of agreements. By Western standards, North Korea, Iran, and the PLO cheat, but if judged by their own goals, they triumph. The West may consider economic integration a benefit, but adversaries do not share motivations. Throughout the 1990s, diplomats spoke of the "China model" for Iran, in which trade might bring economic liberalization and, in turn, spark political reform. The result was a cash infusion into Tehran that ended up fueling its nuclear and missile programs.

...The maxim that "it never hurts to talk" has cost lives. Diplomacy imbues rogue leaders with respectability and rewards both bluster and terror. Rogue rulers are not idiots; they understand that they can delay retaliation for months or even years by feigning sincerity. Iranian authorities have become masterful at taking ten steps forward toward their nuclear goal, so long as they mollify diplomats by occasionally taking one step back.
Also Is Sports Diplomacy Worth it?
The short answer is no since sports were the outcome of diplomacy - not the beginning of it.
Second is the Ping-Pong diplomacy that allegedly broke the ice between the United States and Communist China. Henry Kissinger makes clear in his memoir White House Years, however, that the Ping-Pong exhibition actually came after months of behind-the-scenes diplomacy. To credit the athletes for the diplomatic breakthrough puts the cart between the horse.
Bad Girls, Bad Girls, Whostaa Gonna Do?
Can you guess the crimes these hoosegow honeys were charged with?
How about attempted larceny...of my heart. And misdemeanor bossiness.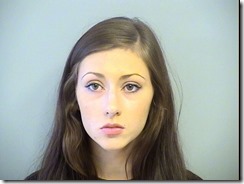 Attempted murder, mopery, and littering? Well I'm sure it's all a misunderstanding or something.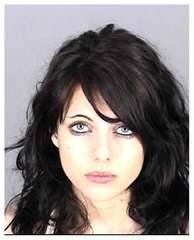 If You Can Whine, Thank a Teacher
Some jobs appear right off the bat to be harder than others. Most would concede that it's incredibly hard to do road maintenance work in Arizona in summer or in Michigan in winter. Marine work - both training and fighting - is hard too. Working in a coroner's office must have a high disgust factor. Working on a cattle ranch is a 365-day-a-year, physically exhausting job. I won't go on, but I will point out that you never read articles from road maintenance people, or Marines, or coroner's assistants, or cattle ranchers and cowboys moaning on and on about how horrible their job is and how only haters don't appreciate what they're doing. Funnily enough, that kind of whiny, narcissistic, incredibly irritating rant comes only from teachers.
Teachers make very good money for the hours they work and the job security they enjoy yet are absolutely convinced that they are uniquely underpaid across all professions. The market disagrees.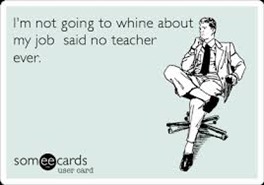 With five unanimous thumbs up, officials on Tuesday agreed to let Facebook foot the bill for a full-time sworn police officer to work out of a substation near the social media giant's new campus.

Menlo Park police Chief Robert Jonsen called it a "benchmark in private-public partnerships" that will result in a highly visible patrol in the Belle Haven neighborhood, an area that has a lower socioeconomic status than the rest of the city and a higher crime rate.

Facebook would fund the officer for three years, with an option to extend the agreement for another two. Tuesday's vote accepted the company's offer of $200,000 a year but added a stipulation that there may be a need to ask for more should costs rise due to pension issues.
Well footing the bill also means influencing how the shots get called.
News You Won't Use: How to Stop Being a Cynical Asshole
I've had many cynical friends over the years. Those friends are funny when you're in your early 20s, but as time marches on that cynicism and negativity tends to wear on a friendship. If you have too many of these types in your social circle, it's hard to kick the habit of being cynical all the time.

I didn't notice how cynical I'd become until I noticed how negative one of my friends was. I realized that we spent the bulk of our time complaining about things, whining about trivial mishaps from the day, or resenting anything new. I couldn't take it anymore and started changing the dynamics of our relationship. The friendship remained, but we hung out less and for shorter periods of time.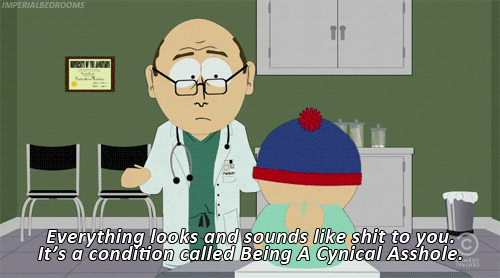 Does The Kind of Car You Drive Matter?
It does when you're trying to get a woman's phone number.
The results? The men were successful 23.3 percent of the time when women saw them in a high-status car, 12.8 percent of the time when they drove a middle-status car, and 7.8 percent of the time when they drove a low-status car. Clearly, women are monitoring our status, and we're acutely aware of that fact.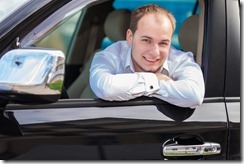 Teh Tweet!
Le AoSHQ groupe de Yahoo. Ooh la la!
Tonight's post brought to you by freaky weirdo guys who just look around: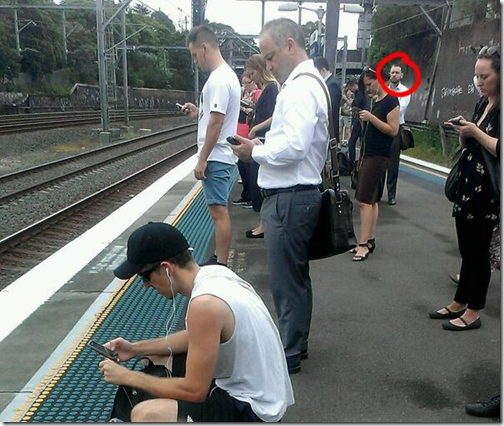 Notice: Posted by permission of AceCorp LLC. Please e-mail overnight open thread tips to maetenloch at gmail. Otherwise send tips to Ace.

posted by Maetenloch at
10:41 PM
|
Access Comments