« #WarOnPoorChildren
|
Main
|
Overnight Open Thread (3-12-2014)–Mechaphiliaphobia Edition »
March 12, 2014
Chinese Satellite Snaps Picture of Possible Wreckage of Flight 370
The picture was taken March 9, but they've only now revealed it.
Jake Tapper's guest says it's the only lead, but it's a logical lead, as the site of the wreckage is about where one would expect the plane to have crashed.
"It's where it's supposed to be," Peter Goelz, a former National Transportation Safety Board managing director, told CNN's Jake Tapper, noting the "great skepticism" about reports the plane had turned around to go back over Malaysia. "I think they've got to get vessels and aircraft there as quickly as humanly possible."
But there are skeptics that these objects are from flight 370:
Clive Irving, a senior editor with Conde Nast Traveler, said that the size of the pieces -- since they are fairly square and big -- "don't conform to anything that's on the plane."
Video at the link. The satellite picture is displayed from 1:57-1:59.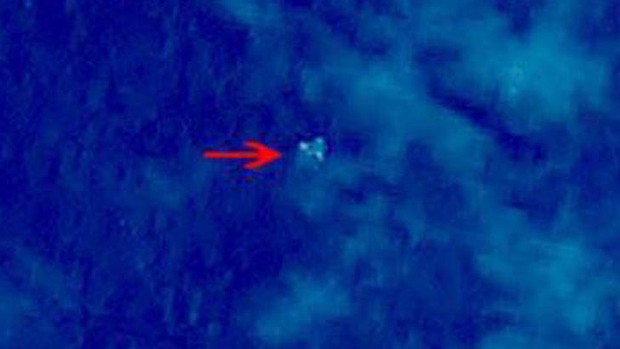 Pic from the Sydney Morning Herald
CBS.com has released the cockpit's last words: "All right, good night."
This Popular Mechanics article discusses how such a large object can just disappear without a trace.
A system that would use satellites to beam an airliner's position and other vital information is not only possible—it's already being used on some planes. In fact, on long-haul routes that fly over the North Pole or the Pacific Ocean, where radar coverage can be iffy, the latest models from Boeing and Airbus are using data link communications to transmit GPS coordinates and status updates.
But the particular Boeing 777-200 flown here didn't have that technology.
The fact that the plane did not offer communications during the presumed tragedy is not notable, it turns out.
"All we know for sure is that a plane went down with no warning or communication from the crew," says Patrick Smith, a pilot for a major airline and the author of Cockpit Confidential. While that would suggest a sudden and dramatic event such as a bomb, Smith cautioned that pilots in an emergency are trained to focus on flying first, with communicating to the ground a lower priority.
I read another article which said a pilot's goals in an emergency were: 1. Aviate 2. Navigate 3. Communicate. Further, an article said that when a plane is far from any tower, communication is not as simple as just picking up a radio and pushing the button; it is often a multi-step process, which might be difficult during a true emergency.
So assuming this was a sudden disaster, it's not strange that the cockpit issued no information to the outside world.
BTW, I've wanted to put up a flight 370 post for days-- but commenters were always ahead of me in the comments! This is the first time I feel like I'm posting something that's reasonably fresh.
About Where It's Supposed To Be: @rdbrewer4 says FoxNews has offered some skepticism on this picture. The debris are only 115 miles from the last known position of the plane. I think he's suggesting that a plane falling from 35,000 feet would move a lot further from its last known position before crashing. He says he doesn't think that drifting on the sea can bridge the gap.

And... If you're the type of person who can't help seeing Omens in things (I pride myself in being a rationalist, but I can't help doing it myself), this news from four days ago will give you your Recommended Daily Allowance of Doom.
A slew of shockingly weak data from China and Japan has led to a sharp sell-off in Asian stock markets and the biggest one-day crash in iron ore prices since the Lehman crisis, calling into question the strength of the global recovery.

The Shanghai Composite index of stocks fell below the key level of 2,000 after investors reacted with shock to an 18pc slump in Chinese exports in February and to signs that credit is wilting again. Iron ore fell 8.3pc.

Fresh loans in China's shadow banking system evaporated to almost nothing from $160bn in January, suggesting the clampdown on the $8 trillion sector is biting hard.
"It seems that rising default risk has started to erode Chinese investors' confidence," said Wei Yao, from Societe Generale. "Together with continued regulatory tightening on banks' off-balance-sheet activity, we are certain this slowing credit trend has further to go and will inflict real pain on the economy."

And Open Thread.

posted by Ace at
07:37 PM
|
Access Comments