« Ron Fournier: President Obama "Blinded by [Self-] Righteousness" on Foreign Policy
|
Main
|
Calling SNL Unfunny and Biased is Incomplete.
It's Also Racist. »
March 11, 2014
More Carriers For The US Navy? Not Anytime Soon.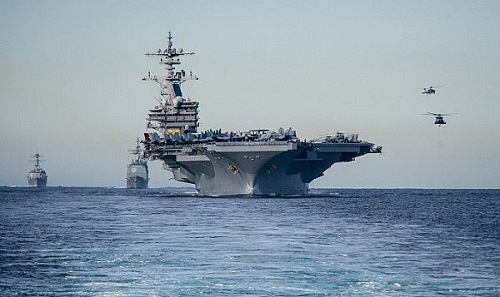 Mackenzie Eaglen and Bryan McGrath make the case that not only shouldn't the Navy be reducing its carrier fleet but should be expanding it.

The Navy has been trying to keep three aircraft carriers forward deployed in two operational hubs with ten carriers, accomplishing this through lengthening deployments and deferring maintenance, both of which are symptoms of approaching hollowness. People and platforms wear out more quickly, and short-term gains come at the cost of long-term availability.

In spite of these measures, the nation has been caught without aircraft carrier presence in the Mediterranean several times in the past few years, raising the need to once again fill a third deployment hub there.

No American aircraft carrier was in the Mediterranean at the outbreak of the conflict inLibya.  Nor was a US carrier in the Mediterranean when our Ambassador to Libya and three others were murdered. No American aircraft carrier was in the Mediterranean when Syriastepped over President Obama's "red line" and attacked its own citizens with chemical weapons. And while international conventions would ordinarily limit a carrier's presence in the Black Sea, the complete absence of one in the Mediterranean surely helped further embolden Mr. Putin in Ukraine.
I spoke with McGrath about this a bit
during our podcast
a few weeks ago and have written in the past about why
I think shrinking the carrier fleet is a bad idea
. That said, we're not increasing the number of carriers we buy anytime soon. Not simply because there's no political will to spend the money (which would be an enormous amount,
$12 billion or so to build
, not to mention millions more to equipped, operate and crew over 50 years) but also because the lead time to build a carrier is so long.
Realistically, there's no help on the horizon in terms of numbers (assuming you can fend off the calls to cut the current force size). So what's the solution?
One question I'd ask is, why do we have to have two carriers in the Persian Gulf at all times? We had two carriers there for well over a decade to enforce the no-fly zones over Iraq. Well, the no-fly zones are gone and yet two carriers are still routinely stationed there.
Yes Iran is still there but so what? It's been clear for quite sometime that we're not going to attack Iran. We might but as supporters of the carriers rightly point out, one major benefit of a carrier is it's mobile. You can take it out of the region but put another one back in if you need to.
Maybe there's some deep reason to keep two carriers in the Gulf forever and always but before asking the nation to make the kind of investment a new carrier would represent, the military needs to make that case. This is especially true given that reducing our presence in the region was one of the supposed side benefits of the Iraq war.
One extra carrier doesn't buy you the third hub Eaglen and McGrath argue for but it's better than nothing and you can get the flexibility/operational relief in a much shorter time frame than any new build will provide.
Instead of advocating for a carrier presence in the Mediterranean that isn't going to happen, advocates of a greater US role in that region are going to have to come up with something else. At the risk of playing armchair admiral, perhaps a combination of increased surface combatants, expeditionary strike groups, and increases in land based aircraft is a more realistic set of possible alternatives. But even these options require greater expense that a majority don't seem to support.
I understand why proponents of a muscular defense posture (especially sea power) are troubled by the direction our politics have taken but it's a necessary state of affairs. The financial path we are on as a nation is unsustainable. Should defense be at the head of the line? Yes, I believe that. But the American people in their wisdom have come to a different conclusion.
What's needed now is a realistic evaluation of what we are willing to pay for and what missions and operations we are willing to forgo. We must also be clear and honest about the risks these choices will entail. Some will say this is accepting a lesser America, I prefer to think of it as a more realistic America.
In the long run I think forcing this kid of choice on the American people will be for the better. Yes there will be costs associated with it (as there are with all choices) but we have to decide what we value as a nation. "Everything" simply isn't an option any longer. The sooner we accept that, the sooner we can we can deal with things the way they are, not how we'd wish them to be.

posted by DrewM. at
04:26 PM
|
Access Comments