« New Years Day Open Thead
|
Main
|
Ten Years of Nonsense: JackM's Epic Poems »
January 01, 2014
New Year's Day College Football Things
Well that was a wild one in the Georgia Dome last night. ICYMI A&M came back from behind and took it to Duke. Here was the fun play.
In the NFL I think Lawrence Taylor would have just broken his leg.
Or this could have happened..(below the fold)
GAMES UP! Nebraska and Georgia in a few minutes at the Gator Bowl.
UNLV and University of North Texas (the second college I was kicked out of) in the Heart of Dallas Bowl (I did not make that name up), noon eastern too.
Iowa and (16) LSU, Outback Bowl (19) Wisconsin and (9) South Carolina, Capitol One Bowl, both duking it out for attention at 1pm
(5) Stanford and (4) Michigan State at the Rose, 5pm
(15) UCF and (6) Baylor (the first college I got kicked out of) Fiesta Bowl at 8:30pm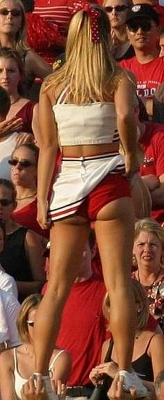 Happy New Year y'all.

posted by Dave In Texas at
11:49 AM
|
Access Comments