« Sunday Morning Open Thread
|
Main
|
Sunday Morning Book Thread 07-21-2013: All Zimmerman, All the Time [OregonMuse] »
July 21, 2013
Gun Thread 7/21/2013
Stand Your Ground On Stand Your Ground Laws
Charles C.W. Cooke, who is tied with Jonah Goldberg as my favorite NRO writer, has written another enjoyable piece. The topic is the media's current infatuation with Stand Your Ground Laws.
In essence, "Stand Your Ground" is a blanket term for any legal regime in which individuals do not have a duty to run away in the event that they are attacked. In states with such systems, juries are not expected to consider whether an individual could feasibly have retreated before resorting to violence in his defense; in states that do not, juries must inquire as to his chance of safely fleeing. In other words, in most of the country the Castle Doctrine has been extended to the village.
Jacob Sullum of Reason also wrote an article explaining why the Zimmerman case had nothing to do with Florida's Stand Your Ground law.
Andrew Branca Participates On NPR Zimmerman Panel
Andrew Branca, author of the book The Law Of Self Defense, has been covering the Zimmerman trail for Legal Insurrection. Recently, he was asked to participate in a panel discussion on gun rights and the Zimmerman case.
You can follow Andrew Branca on twitter here.
Gun Of The Week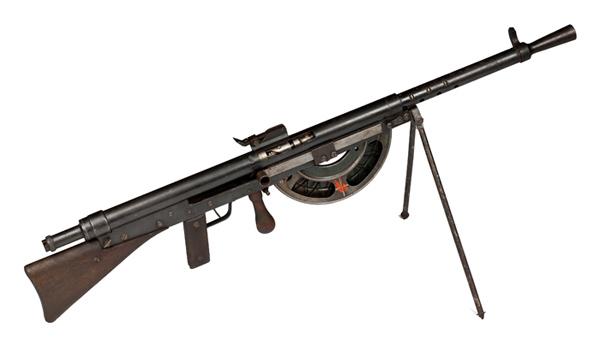 (answer below)
Colorado Recall Of Two State Senators To Proceed
A Denver judge Thursday ruled petitions submitted to oust a pair of Democratic senators from office are valid, a pivotal ruling that sets in motion Colorado's first-ever recall election of state lawmakers.

"The petitions here substantially comply with law," Denver District Court Judge Robert Hyatt said in his oral decision from the bench. "Recalls are a fundamental right of Colorado citizens."
The special election will take place September 10th. Be sure to turn out and vote if you live in either of their districts. It is important that our elected officials know there are consequences for restricting our access to firearms.

Marksmanship Of The Week Award


Gun Of The Week Answer
That piece of crap is the French Chauchat (pronoucned sho-sho) machine gun. It is generally accepted to be one of the worst machine guns ever put into service. Don't take my word for it, take R. Lee Ermey's.

Why You Should Teach Your Kids About Gun Safety If You Own A Gun

This girl is unbelievably lucky she didn't blow her own head off. She violated every rule of gun safety. If you own a gun and have kids, you should teach them about gun safety. You can't just depend on the safe, trigger lock, safety, or that shoe box on the top shelf of your closet. Kids have a way of getting into their parents' things.

Tips
I'm just filling in for Andy this weekend. If you notice any spell or grammar errors in this post, feel free to e-mail me with corrections.
If there are topics you're interested in seeing in the gun thread, please send them to AoSHQGunThread at gmail. You can also send them to me on Twitter at @AndyM1911.
Defend the Second Amendment. Join: The National Rifle Association * Gun Owners of America * The National Shooting Sports Foundation * Your state's second amendment org.
Celebrate America's firearms heritage: participate in Project Appleseed.

posted by BenK at
09:35 AM
|
Access Comments