« Gun Thread 7/21/2013
|
Main
|
Batman, Superman Team-Up Coming, Directed by Man of Steel Director Zack Snyder »
July 21, 2013
Sunday Morning Book Thread 07-21-2013: All Zimmerman, All the Time [OregonMuse]
Good morning morons and moronettes and welcome to the the award-winning AoSHQ's Sunday Morning Book Thread.

Moar Self Defense!
I think my recommendation of a few weeks ago needs to be mentioned again:
One of the unsung heroes of the Zimmerman trial is Andrew Branca, a lawyer in Massachusetts who specializes in self-defense issues. Mr. Branca's law practice is so freakin' awesome that he apparently doesn't have to do any actual work. He is able to sit on his butt eating Cheetos and drinking Dr. Pepper/Valu-Rite cocktails all day long while piles of money arrives at his front door. In between the cash deliveries, he's been watching the Zimmerman trial on his Jumbotron TV and his insights on Twitter have been invaluable throughout the duration: a veritable fountain of facts and evidence, as opposed to the hysterical, low-information screeching emanating from the MSM.
'Struth: if more people listened to Andrew, the less foolishness about the Zimmerman trial would be produced.
Also invaluable is his book The Law of Self-Defense: A Guide for the Armed Citizen. It includes both general information, good for all, and also state-by-state information for the reader to use for his or her specific region.
Currently, it's cheaper on Andrew's website than it is on Amazon, although this may have changed by the time you read this. The Amazon price has been going up and down faster than Andrew's drinking glass. Also, the Kindle price is nearly identical to that of the dead-tree edition. What are they thinking?
Regardless, get a copy of Andrew's book today. He needs to buy a shop vac so he can clean the Cheetos dust off of his office furniture.
[Update - Andy]: Andrew Branca stopped by and graciously extended the offer below to the Moron Horde. I picked the book up a week or so ago and highly recommend it:
147 Hey, that's ME! Haha, thanks for the kind words guys.

In appreciation, I'm setting up a AOS discount code, $10 off and free shipping. Code at checkout is:

LOSD2-AOS

Type it in and press "Apply" and should be good to go. If not working, use contact form on my blog to let me know. www.lawofselfdefense.com

I'm not going to put any number of uses or date limits on the coupon, but as soon as my business manager (e.g., wife) finds out she's going to yank it harder than, well, I actually can't recall at the moment.

--Andrew, @LawSelfDefense, #LOSD2


Never P* Off A Moronette
I'm actually writing this from an undisclosed location. The reason for this is because after I posted the spider pic last week, moronette MWR took out a hit on me, and now there's some wannabe Boba Fett out there skulking about my neighborhood. So I'll be on the down low for awhile. Meanwhile, in order to make up for that, I'll post a more cheerful, happier pic. But what? I know, clowns. Clowns are happy. Everybody likes clowns, right? Happy, happy clowns.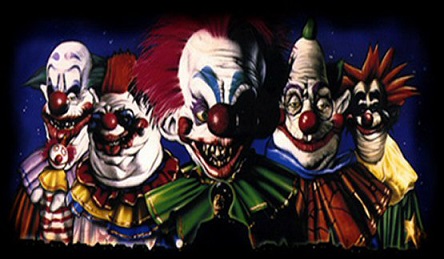 Photo Taken At MSNBC Staff Meeting
There you are.
Books By Morons
Got an e-mail this week from an author who describes himself as a "frequent AoS reader", and he asked me to pimp his new book, so I will. And because I'm such a lazy s.o.b, I will do so, as is my wont, by copying and pasting the author's own words from his blog. Writing is hard, so I like to take every opportunity to get others to do it for me.
This books sounds like it has a high degree of MoronTM appeal:
I have a new book out, and it has nothing to do with how morally bankrupt and authoritarian our union is. Instead, it's a sci-fi novel about how morally bankrupt and authoritarian a fictional future planetary union is. So, if you like sci-fi adventure and mystery with a little bit of a libertarian twist, check it out!
Here's the book: Zero Point: The Union Chronicles - Book One (Volume 1). That's the $2.99 Kindle Edition. A dead-tree edition is also available.
A more detailed description of the plot:
At the edge of the Planetary Union, Volya Frye, a desperate salvage operator in need of some good news, makes a curious discovery: a derelict vessel with no indication of origin and signs of foul play. What's more, the ship itself shouldn't exist, at least according to what Frye knows about interstellar travel. Before they can unravel the mystery of the ship, however, Frye and his crew find themselves caught up in a conspiracy that involves some of the most powerful people in the galaxy, and threatens to take what little Frye has left - including his life. Set in a time long after mankind has settled the galaxy, Zero Point weaves a tale of technology, intrigue, and conspiracy, while touching on the timeless themes of greed, corruption, and abuse of power, coupled with a search for freedom and justice.
Retribution, the second installment of this series, has also been published. Also dead-tree.
Also, and he didn't tell me this, I just discovered it on Amazon, the author has written a non-fiction political treatise, From Liberty to Tyranny: How Expansion, Warfare, Economic Crisis, and Entitlements Threaten Personal Liberty in the United States.
The depressing thing about a book like that is that the people who need to read it, the ones who would most benefit by it, won't.
Very much like that Bill Whittle video I linked to yesterday.

___________
Questions: Have any of you morons read one or more of the "Wandering Engineer" sci-fi books by Chris Hechtl? I ran into them on Amazon while gathering information on other books. Any good?
___________
Also, I think Adam Baldwin would've made a pretty good Jack Reacher Just sayin'.

The Gell-Mann Amnesia Effect, Explained
This came up in a thread a few days ago, so here is the full explanation. It's from a Michael Crichton talk called 'Why Speculate?' I always think of it when we get yet another one of those media circuses, like the Zimmerman trial, forced on us:
Briefly stated, the Gell-Mann Amnesia effect works as follows. You open the newspaper to an article on some subject you know well. In Murray's case, physics. In mine, show business. You read the article and see the journalist has absolutely no understanding of either the facts or the issues. Often, the article is so wrong it actually presents the story backward-reversing cause and effect. I call these the "wet streets cause rain" stories. Paper's full of them.

In any case, you read with exasperation or amusement the multiple errors in a story-and then turn the page to national or international affairs, and read with renewed interest as if the rest of the newspaper was somehow more accurate about far-off Palestine than it was about the story you just read. You turn the page, and forget what you know.

That is the Gell-Mann Amnesia effect. I'd point out it does not operate in other arenas of life. In ordinary life, if somebody consistently exaggerates or lies to you, you soon discount everything they say. In court, there is the legal doctrine of falsus in uno, falsus in omnibus, which means untruthful in one part, untruthful in all.

But when it comes to the media, we believe against evidence that it is probably worth our time to read other parts of the paper. When, in fact, it almost certainly isn't. The only possible explanation for our behavior is amnesia.
___________
So that's all for this week. As always, book thread tips, suggestions, rumors, and insults may be sent to OregonMuse, Proprietor, AoSHQ Book Thread, at aoshqbookthread, followed by the 'at' sign, and then "gee mail", and then dot you-know-what.
What have you all been reading this week? Hopefully something good, because, as we all know, life is too short to read lousy books.


posted by Open Blogger at
11:00 AM
|
Access Comments