« Are You Ready for the "iWatch"?
|
Main
|
Top Headline Comments 7-17-13 »
July 16, 2013
Overnight Open Thread (7-16-2013)
Theodore Roosevelt's Citizenship in a Republic Speech
He gave this speech in 1910 and it's best known for his 'Man in the Arena' passage:
It is not the critic who counts; not the man who points out how the strong man stumbles, or where the doer of deeds could have done them better. The credit belongs to the man who is actually in the arena, whose face is marred by dust and sweat and blood; who strives valiantly; who errs, who comes short again and again, because there is no effort without error and shortcoming; but who does actually strive to do the deeds; who knows great enthusiasms, the great devotions; who spends himself in a worthy cause; who at the best knows in the end the triumph of high achievement, and who at the worst, if he fails, at least fails while daring greatly, so that his place shall never be with those cold and timid souls who neither know victory nor defeat.
But there's a whole bunch of goodness in the rest of the speech as well including this:
The very last thing an intelligent and self-respecting member of a democratic community should do is to reward any public man because that public man says that he will get the private citizen something to which this private citizen is not entitled, or will gratify some emotion or animosity which this private citizen ought not to possess. Let me illustrate this by one anecdote from my own experience. A number of years ago I was engaged in cattle-ranching on the great plains of the western Unite States. There were no fences. The cattle wandered free, the ownership of each one was determined by the brand; the calves were branded with the brand of the cows they followed. If on a round-up and animal was passed by, the following year it would appear as an unbranded yearling, and was then called a maverick. By the custom of the country these mavericks were branded with the brand of the man on whose range they were found. One day I was riding the range with a newly hired cowboy, and we came upon a maverick. We roped and threw it; then we built a fire, took out a cinch-ring, heated it in the fire; and then the cowboy started to put on the brand. I said to him, "It So-and-so's brand," naming the man on whose range we happened to be. He answered: "That's all right, boss; I know my business." In another moment I said to him: "Hold on, you are putting on my brand!" To which he answered: "That's all right; I always put on the boss's brand." I answered: "Oh, very well. Now you go straight back to the ranch and get whatever is owing to you; I don't need you any longer." He jumped up and said: "Why, what's the matter? I was putting on your brand." And I answered: "Yes, my friend, and if you will steal for me then you will steal from me."
He gave the speech to a French audience so the first few paragraphs are a review of American history but after that he really gets rolling.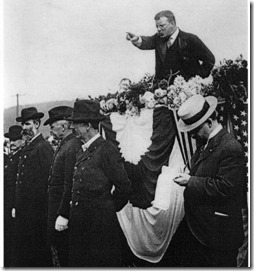 Sorry for the Trayvonapalooza below but there's been so much stupid in such a short time:
The Meme That Won't Die: 'Zimmerman Followed Trayvon Martin'
If you think Zimmerman pursued Trayvon on foot you simply don't know the facts of the case. Sadly even the WSJ gets this wrong.
My Brother Wears A Hoodie Every Day, So I Am Afraid
How Racist Can 'the System' Be When It's Run by Blacks Themselves
The left wants to blame these outcomes on racial animus and "the system," but blacks have long been part of running that system. Black crime and incarceration rates spiked in the 1970s and '80s in cities such as Cleveland, Detroit, Chicago and Philadelphia, under black mayors and black police chiefs. Some of the most violent cities in the U.S. today are run by blacks.
Trayvon's Father Was a Member of the Crips and He Was Buddy Buddy with the Sanford Police
I suppose both could be true at the same time but I'm skeptical.
The Last Race Riots Were Over 20 Years Ago
So why is the media so convinced that they're always on the cusp of breaking out?
The EU Arbitrarily Redefines Israel's Borders
The EU directive, sent out on June 30 and set to take effect on Friday, extends to "all funding, cooperation, and the granting of scholarships, research grants and prizes" to Israeli entities in East Jerusalem, the Golan Heights and the West Bank.

It also requires that any contracts between EU member countries and Israel henceforth include a clause stating that East Jerusalem and the West Bank are not part of the state of Israel.
Thought question - If the West Bank doesn't belong to Israel, then who would be the legal owner? Hint: Look towards the EU.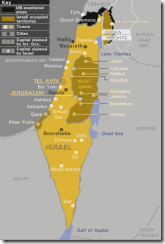 Scenery Over Choreography: Why This Summer's Action Films Have Kinda Sucked
It's more than "Check yr brain at the door, artfag!".
Movies have been breaking the first rule of the human interest story, so brilliantly outlined in Billy Wilder's Ace in the Hole (1951) : That people care more about one guy trapped in a mine than a hundred, more about 50 rattlesnakes on the loose than 1000 being slaughtered. All of this summer's action movies seem to be based on the faulty idea that people care more when the scale is bigger, which we've known isn't true for at least 60 years. Maybe the excitement of what could be done with CGI made us forget.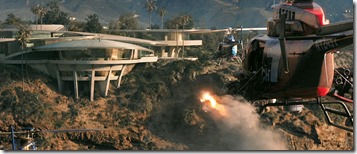 Wait - Jack Handey Is a Real Guy?
Yep.
Jack Handey is a solidly built man of 64 with a swoop of graying hair; when he smiles, his teeth are blindingly white. We were sitting around the island in Handey's Santa Fe kitchen as his wife, Marta, made huevos rancheros for breakfast. Jack and Marta have been together for 36 years. I asked if he helped out around the kitchen, and he said, "I can cook Cheerios."
"For a lot of us, he was our favorite writer, and the one we were most in awe of," said James Downey, who wrote for "S.N.L." "When I was head writer there, my policy was just to let him do his thing and to make sure that nothing got in the way of him creating."

"He was the purest writer," Franken said. "It was pure humor, it wasn't topical at all. It was Unfrozen Caveman Lawyer."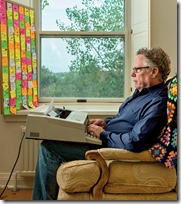 Why Are Some People Mosquito Magnets?
"Both your metabolism and your unique body chemistry-which is as distinctive as a fingerprint-play an important role in determining whether or not you're a mosquito magnet," says University of Florida entomology professor Dr. Phil Koehler. "Also, there's evidence that your degree of attractiveness to mosquitoes can change over time."
Luckily for me I apparently reek to mosquitos so I can walk through a cloud of them unscathed.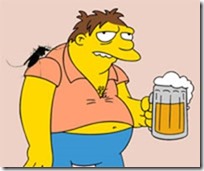 Woman Rebuts Boyfriend's Argument With Fire
Mattel's He-Man's Stinkor figure still stinks even 30 years later. So you definitely got your money's worth.
If you pick up a vintage Strawberry Shortcake today, she'll just smell like a doll. Stinkor? Kids today are still marveling at his stench. He'll smell for decades yet.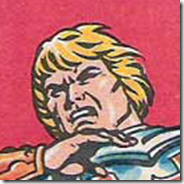 Teh Tweet!
Tonight's post brought to you by Vladimir Putin returning to his underwater lair: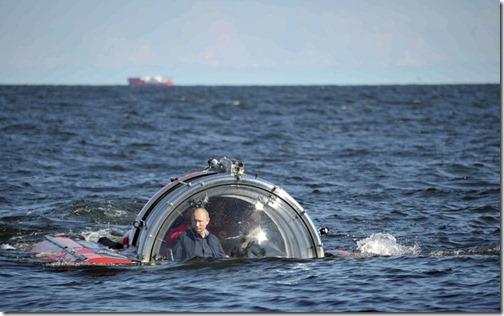 Notice: Posted by permission of AceCorp LLC. Please e-mail overnight open thread tips to maetenloch at gmail. Otherwise send tips to Ace.

posted by Maetenloch at
09:43 PM
|
Access Comments