« Rolling Stone's New Celebrity Icon
|
Main
|
Overnight Open Thread (7-16-2013) »
July 16, 2013
Are You Ready for the "iWatch"?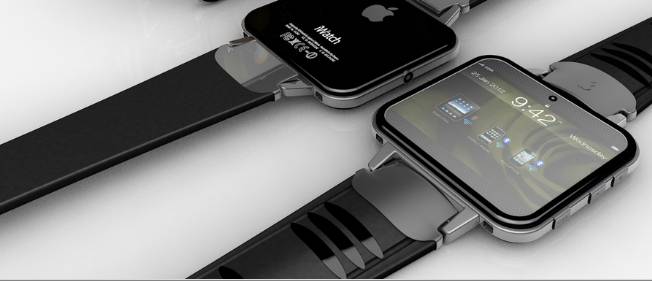 Mock-up of what the iWatch might look like,
by outside speculators at ADR Studios, via http://www.lepoint.fr
Apple's hiring vigorously for a special project that may be the iWatch. It could be that they've run into tough engineering problems and are scrambling to solve them, which could delay the rumored 2013 release until next year.
Or maybe Tim Cook has decided to scrap the project and he needs bodies to wind it down and pack it up and put it in the basement.
But maybe it's a silly Dick Tracy idea whose time has come.
[A]pplications from Apple to trademark the iWatch name in Mexico, Taiwan, and Turkey, as well as Japan and Russia, have added to the speculation, with one analyst predicting the decision to move ahead with production may have already been made.

Still, the success of smartwatches this time around is by no means guaranteed, as among other things tech companies will need to convince consumers that they need to start wearing watches again (a market, ironically, killed by the clock on a mobile phone). And other form factors, such as Google Glass, are being tested out by vendors too.

But if they do take off, businesses that ignore the potential of wearable computing devices will kick themselves for missing a big opportunity said Richard Holway, chairman of analyst firm TechMarketView, who warned enterprises not to dismiss wearable devices in the same way that they may have dismissed tablets previously.

"Wearable computing will infect every part of corporate IT – from financial services (think mobile payments) to airlines (think e-tickets) through to healthcare (in my view its biggest market). You can ignore it. But, much more importantly, you could start to take real advantage of it. You probably have a year to get your plans into production," he said.
If I had to guess about the technical challenge holding up the iWatch: battery. It has no room for anything other than a microscopic battery. Smart phones conserve battery life by mostly being in sleep mode, with the power-eating screen turned off. Anything calling itself a "watch" will have to have a screen on at all (or most) times. There's probably just no way to keep this thing running short of charging it every several hours.
Even assuming they got the thing to work, I have a mixed take on this.
First take: There is no way I will ever wear that stupid-looking thing. It's the timekeeping equivalent of a Razor scooter. It's not an age-appropriate accoutrement for anyone older than 14, or 25 if you're liberal. They should just go ahead and sell the iWatch with a complimentary pair of Zany Zappers.
Second take: I've complained about smart phones before. I think they're too big and too obtrusive.
After smart phones got big (literally big, too), the next innovation was the tablet, which was... a very large smart-phone type device.
It seems to me you don't really need both, do you? If you have a big tablet for consuming media, why do you need a large smartphone too? Does anyone really need a small computer (smart phone), a medium sized computer (tablet), and a full sized computer (a computer)?
I could see that this is where the "smart watch" winds up gaining market: It could be that people like the idea of a small, unobtrusive phone/browser/data manager/storage device they can wear on the wrist, and they might use that in combination with a tablet. The watch would provide the cell reception for the tablet via a Bluetooth link (or just a direct wired connection).
In a market with three similar devices:
1. one of which is very small an obtrusive and can be worn like a watch,
2. one of which is too big for a pocket and yet too small to watch movies on, and
3. a third which is too big to be casually portable but is a better size for watching movies on,
I could see the combination of 1 + 3 replacing 2, which, at its size and capability, does a great number of things but loses in one important way: You now have to carry around an electronic device with you at all times, which no one did up until six years ago.
The watch + tablet combination would work, maybe. When you want pure portability and unobtrusiveness and a phone and a tiny computer link, you just wear the watch and skip the tablet; when you have time to kill and want to watch a movie or read a book, you bring the tablet too.
I just think the smart phone, as it is, is an awkward and unsatisfying middle position. It's too big for a phone and too small for a computer.
I know I'm alone on this. I know that I am isolated in my skepticism-verging-on-antipathy towards the smart phone. I know that most of you still think that smart phones are a pretty neat idea (much like the pre-destruction Earthlings in The Hitchhiker's Guide to the Galaxy still thought digital watches were a pretty neat idea).
But a man with the truth is a majority of one. And my anti-smart-phone position will prevail.
Then again, based on the mock-ups, there is no way this iWatch is looking anything less than completely stupid. So, back to my First Take.

posted by Ace at
07:54 PM
|
Access Comments