« The Mile High Massacre
|
Main
|
Top Headline Comments 10-4-12 »
October 04, 2012
The Mile High Massacre: Post-Massacre Pictures Emerge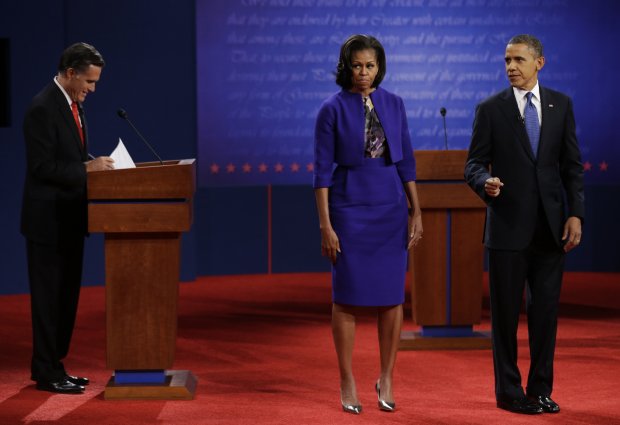 "So who do you think won, honey?"
At the same place, Michael Barone argues Obama's Loving Media has smothered him and left him unable to fend for himself.
Romney was looking confident, with consistent smiles; Obama was constantly looking downward, on the defensive, irritated and—astonished.

Astonished, because during most of his public career Obama has been received by his audiences with undiluted adulation. He has been totally unused to being challenged on his talking points.
At the Washington Times, it's Reagan-Carter Redux.
Party like it's 1980!

Bewildered and lost without his teleprompter, President Obama flailed all around the debate stage last night. He was stuttering, nervous and petulant. It was like he had been called in front of the principal after goofing around for four years and blowing off all his homework.

Not since Jimmy Carter faced Ronald Reagan has the U.S. presidency been so embarrassingly represented in public. Actually, that's an insult to Jimmy Carter.

The split screen was most devastating. Mitt Romney spoke forthrightly, with carefully studied facts and details at the ready. He looked right at the president and accused him of being miles out of his depth.

Mr. Obama? His eyes were glued to his lectern, looking guilty and angry and impatient with all the vagaries of Democracy. This debate was seriously chaffing him.

People are talking about body language, which was annoying me, because I thought Romney was winning on words. As I was live-blogging, I "saw" the debate as a radio debate, only occasionally looking up from my screen.
However, I do now see the big difference in body language. From the Corner:

posted by Ace at
06:19 AM
|
Access Comments