« More On Jon Stewart Being Misinformed About Conservatives [OregonMuse]
|
Main
|
Fugitive Boston Mob Kingpin And Brother of... Um, Longstanding Masschusetts President of the State Senate Whitey Bulger Arrested In... Santa Monica? »
June 22, 2011
They'll Tell You Who They Fear? Rick Perry, Homo!!!
No, not really, but the left is up and running.
A couple of weeks ago I was speaking with a politically-connected kind of guy. I had just begun getting into Perry and was looking over his basic bio. I asked this guy: "Any baggage?"
-- "Rumors."
"What?"
--"Boys."
"Proof?
--"Nahhh."
Yeah, it was actually like that. Anyway, NY Magazine takes the Texas Democrats' smear national:
Rick Perry, if he enters the GOP primary race, will be well-positioned to chip away at Mitt Romney's front-runner status. But while Romney has, at least for political purposes, an impeccable marriage to wife Ann, Perry's marriage to wife Anita has long been dogged, at least inside Texas, by whispers.

Politico resurfaced the rumors for the national crowd this week, explaining that "his team is more than prepared for a re-airing of unsubstantiated rumors." (For instance, in Politico articles re-airing them. Or Daily Intel posts discussing those articles.) The most vicious gossip, which Perry publicly addressed in 2004, alleged that he was gay and had cheated on his wife with a member of his administration. The Austin Chronicle, the one paper that seems to have been willing to devote actual ink to the story, wrote that though they were "extraordinary in their baroque detail and remarkable persistence," there was no evidence whatsoever, and "numerous other reporters, from here to New York, have looked into the rumors, with, as far as we know, an identical lack of results."

But the gossip didn't go entirely dormant, at least not when it was politically expedient: Kay Bailey Hutchinson, Perry's opponent in the 2010 gubernatorial election, juiced up the SEO keywords of her campaign website with "rick perry gay." That same election, a Democratic PAC ran an ad in most of the major Texas newspapers that was clearly meant to remind voters that Perry's red-blooded American maleness wasn't an established fact: "When he's not in San Francisco … Perry's … flipping through the pages of his Food and Wine magazine … in his fancy … rental mansion," read the copy. (Perry does not support gay marriage; Texas Democrats, theoretically, have made LGBTQ rights an important part of their platform. The party was silent on the gay-baiting ads.)
Different states have a different politics, and I've been saying for years Texas' liberals are among the dirtiest and most brazen. And their Republicans aren't choirboys, either.
All I can say on this is: Really? Guy's been a senior government official for... 20 years? First Agricultural Commissioner, then Lieutenant Governor (under Bush), then governor for going on 10 years, a record... and in all this time the outrageously gay Rick Perry hasn't actually done anything outrageously gay?
And before that he was in the Air Force, which was of course then no-gays-allowed, and managed to not get the boot even though he was in one of the randiest periods of a person's life, just-post-teenaged-years-but-now-with-an-income-and-an-apartment?
I'll mention two things that shape my impression of Politickin', Texas style.
I used to hang out on Salon's message boards, pickin' fights, after I got booted off Slate's boards and before I thought, "Hey, maybe I should just start a blog." There was a guy there named Fergussen Foont, who I have to tell you, is a chapter in his own right.
You know that "Michael Moore Goes on a Manhattan Murder Spree" thing I have in my greatest hits? Yeah, that wasn't originally about Michael Moore. It was about this Fergussen Foont.
Anyway, for about six months before the 2000 elections, he informed me (everyone) several times a week that there was a picture of Bush dancing naked on a table, holding his pickle, and maybe doing gay stuff with another dude, and he had personally seen it with his own two eyes, and this photo would emerge just before the election.
Nicholas Kronos, can I get a witness here? Stumbo? Anyone from those Bad Old Days want to back me up on this?
Well, you know about that picture. Or, rather, you don't. It was just made up.
This guy claimed to be some kind of operative. I think he's just a retard, but who knows, there are a lot of retards in politics, you may have noticed. The picture story was "extraordinary in its baroque detail and remarkable persistence," too.
The other thing I know about Texas politics: Bill Burkett, the sad, silly-ass pathetic broken-down half-crazed bridge-troll who faked up those ridiculous "TANG absenteeism" forgeries.
Those claims about Bush, too, had been "extraordinary in baroque detail and remarkable in their persistence." Everyone had heard this endlessly-promulgated rumor for years. Most of the people spreading it claimed to "know it from someone who'd know."
Burkett claimed to have first-hand knowledge. He claimed he personally witnessed the "cleansing" Bush's files. And this was back in 2000, before he'd hatch his absurd Microsoft Word documents on unsuspecting doddering old fool Dan Rather and his vile henchthing Mary Mapes.
Oh, but Burkett had more. So much more. See, he physically touched the "cleansed" documents, too:
Instead I looked down into the trashcan.... And on top of that pile of paper, approximately five-eighths of an inch thick, and Jim wanted me to estimate the number of pages and I said probably between 20 and 40 pages of documents that were clearly originals and photocopies. And it wasn't any big deal, I looked at it, it was a glance situation, and it made no sense to me at all except at the top of that top page was Bush, George W., 1LT.

And I look back at it now and I know I was troubled that those documents were in the trashcan. I did ruffle through the top six to eight pages.

Let me hat-tip Charles Johnson (so long as we're stepping into the time machine) to find the curious documents he "ruffled" through: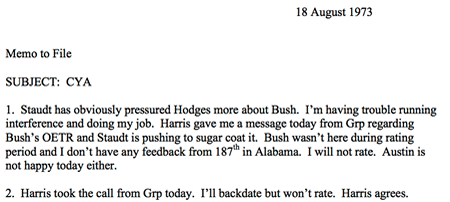 So that's what I think. I think we've got a very talented politician here, someone who just beats 'em, and someone who -- like many Southern politicians of his generation -- defected from the Democratic Party to the Republican Party when it was clear there was no longer a "conservative wing" of the Democratic Party in existence any longer.
And I think they got pretty steamed about that. And so I think they cooked up a queer rumor about a guy who married a girl he'd known since, get this, elementary school (though they didn't start dating until high school).
If this guy's so frickin' gay, where is the evidence? Who's seen this? Who has he shtupped?
This isn't those gay-friendly northern states, like New York, where they had a gay mayor for years and everyone was civil enough to pretend to not notice.
This isn't New Jersey, where a complacent media would blow off gay rumors about a liberal Democratic Governor they liked.
This is Texas, where the Big Q charge still carries a bit of heft. Texas, where the old maxim holds that your career in politics is over only if they catch you with a dead girl or a live boy. Steers and queers, my friends. Steers and queers.
And Texas media liberals are the among the worst c***suckers out there. At least New York media liberals are a little calm about things because they know they're untouchable.
Texas media liberals, on the other hand, are under siege, in a little bastion of Austin surrounded by a sea of hooker-lipstick red. They're not in control, like New York City media liberals. So they're cranky.
So all these Texas media liberals have had this rumor endlessly pushed to them that a guy who holds Christ Day and is against gay marriage and all that is actually an undercover Boy Baster and therefore a...
sexual hypocrite!!!
...but they haven't been able to do anything but chatter about it?
And now it's debuted for the national audience, in the same sad state of full and total unencumbrance by evidence, and not only evidence, but even a live party to make the allegation, someone willing to put a name to the claim?
Okay.
But thanks, NY Mag, because I did want to mention this. Better to have this crap out in the open where people can discuss it and judge it for what it is than to have it whispered about in the darkness.
In honor of Rick Perry officially coming out of the closet, loud and proud, allegedly, here's a song that's totally gay but pretty damn great.
And, liberal media, since you're so eager to chase down gay rumors: Man, have I got a corker for you.

posted by Ace at
11:32 PM
|
Access Comments