« AP: Fires, Floods Perfectly Track Predictions
|
Main
|
Top Headline Comments 8-13-10 »
August 12, 2010
Overnight Open Thread
Happy Thursday all.
Let's Call It The Private Sector Recession
Because it sure as hell isn't affecting the public sector.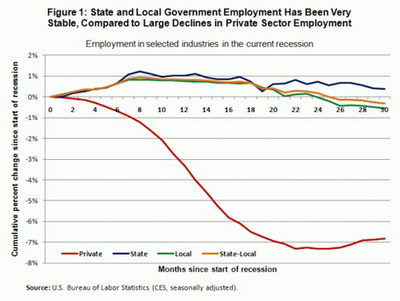 Over the last 30 months of the current recession private sector employment has declined by at least 7% but public sector employment is unchanged or possibly even grew.
There used to be an understanding that working for the government meant that the pay wouldn't be as good but in return there were solid benefits and job security. But now public employees make substantially more on average than the private sector, have amazingly generous benefits, and are essentially immune to any economic effects. Not only is this generally unfair but it's also unsustainable. States couldn't quite afford their public employee salaries and retirement benefits even before the recession and now many are effectively bankrupt.
So something is going to have to give. Otherwise we're turning into a country of the protected class and everyone else.
"'I can't handle a Jaguar right now.' He said that many times. 'All I want is a Chevrolet.'"
I know many people are still in love with Newt but this is just more evidence that his days as a viable politician are long gone. I remember watching him on CSPAN back in the late 80's and his speeches were awesome. I had high hopes for him but he pretty much screwed the pooch in politics during the 90's. So he should forget politics and stick with writing books and punditry and get the hell away from the global warmening cause.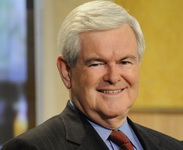 Just One Out of 16 Hybrids Pays Back In Gas Savings
And that was the Mercedes S400 Hybrid sedan which runs for $105,000.

The extra money you spend on a hybrid isn't returned in gas savings, say critics.
Well, that may be true, especially when regular gasoline is averaging $2.77 a gallon this week.
But as we often point out, most people don't buy hybrids for payback--they buy them to make a statement about wanting to drive green.
Bullshit. Nearly all of the arguments in favor of hybrids focused on the cost savings. Without that you'll never get more than a handful people to buy them on the green merits. This is why I've long argued that when you factor in total cost of ownership, diesels are the better choice. But the government has decided that the GM Volt is the future.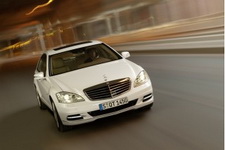 British Man is the First man to Walk the Entire Length of the Amazon
It took 859 days and 6,000 miles for former Army captain Ed Stafford to walk the entire length of the Amazon. He started in jungles of Peru and walked all the way to the Brazilian coast. It's estimated that he suffered 50,000 mosquito bites during his walk.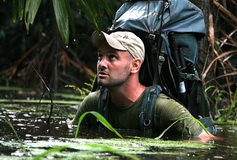 The world of blob launching videos
A blob is just a large bag filled with air floating on the water. So what happens if a skinny girl sits on one end and two big guys jump on the other. Well watch and find out.

Perseids Meteor Shower Thursday Night
At its peak there will be more than 100 meteors a minute. And viewing should be good this year since it's a moon-less night. You can track the activity here.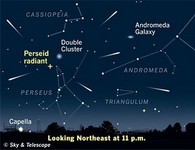 The Greatest Paper EVAH!!!
Well wiserbud really liked it and offered the following reviews:

"This paper made my former wife come back to me!!!"
"I masturbated with this paper and had the best orgasm of my life!!!"
"My 7 year old son wrote a poem on this paper and he won a Nobel Prize!!!"
Your experiences may vary.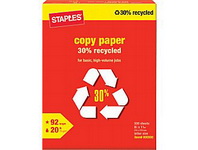 WTF: 8-Year-Olds Now Getting Bikini Waxes
What the hell?! First of all 8 year-olds don't generally wear bikinis and secondly - well you know where I'm going on this.

And Wanda Stawczyk, who runs Wanda's European Skin Care in New York, told The New York Post that she thinks "in 10 years, waxing children will be like taking them to the dentist or putting braces on their teeth."
Meteors please.
Speaking of bikinis here's what they and beaches looked like 100 years ago.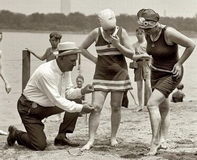 Such decadence.
Yahoo group. That is all.
Tonight's post brought to you by Elizabeth: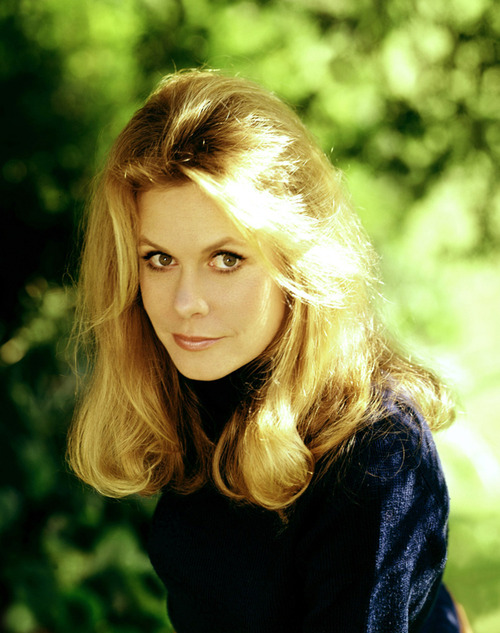 Notice: Posted by permission of AceCorp LLC. Please e-mail overnight open thread tips to maetenloch at gmail. Otherwise send tips to Ace.

posted by Maetenloch at
09:48 PM
|
Access Comments