« Overnight Open Thread – All Your Facebook are Belong to Us (genghis)
|
Main
|
Stupid: ABC News Spins on Obama's Check-Out »
July 10, 2009
The Wheel Turns Round
The richest man in Omaha says we need a bigger, better, more craptastical stimulus package. Because nothing gets an economy running again like the federal government spending billions on political favors. Others (including me) are asking, if the first one was so junked up (Warren's estimate is "half"), and we've only spent about 10% of the funds, how about fixing that instead?
Because that's not the plan? I don't know, I don't do this for a living you know.
A few months ago I shared this old political cartoon with LauraW, and we both noted the similarities. Copyright says "Chicago Tribune, 1934". Some few years after the initial stock market crash, well into FDR's "spend us outta this mess" plan.
Oh how we both laughed and laughed, LauraW and me. Funny stuff.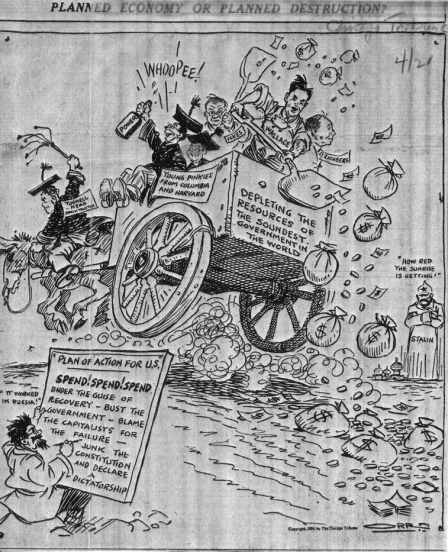 The players:

Donald Richberg, co-wrote National Industrial Recovery Act, executive director of the NRA.
Henry Wallace, 33rd VP, Secrectary of Agriculture, Progressive Party candidate for President 1948. Enamored with the Russian revolution.
Rex Tugwell, Undersecretary of Agriculture, later head of the Resettlement Administration. Socialist, utopian (knucklehead).
Harold L. Ickes, Republican - Bull Mooser - Republican. Secretary of the Interior, Director of Public Works Administration, and father of guess who?
"Plan of Action for the U.S." Spend! Spend! Spend:
Under the guise of recovery - bust the government - blame the capitalists for the failure - junk the Constitution and declare a dictatorship
It's old.

posted by Dave In Texas at
05:45 AM
|
Access Comments