« The Road To Health Care Serfdom
|
Main
|
Obama Administration: Math Is Hard So We'll Just Make Shit Up »
June 08, 2009
Obama Seems Mildly Pleased About Lebanon Elections
When I posted the results of the election last night I noted, "I think the White House is happy about this". Now I'm not so sure.
Chris Good at Marc Ambinder's site notes Obama praised, "their peaceful handling and voicing U.S. support for a sovereign, stable, and peaceful Lebanon. He did not, however, comment on the results."
Statement by the President regarding the elections in Lebanon

I congratulate the people of Lebanon for holding a peaceful election yesterday. The high turnout and the candidates – too many of whom know personally the violence that has marred Lebanon – are the strongest indications yet of the Lebanese desire for security and prosperity. Once more, the people of Lebanon have demonstrated to the world their courage and the strength of their commitment to democracy.

The United States will continue to support a sovereign and independent Lebanon, committed to peace, including the full implementation of all United Nations Security Council Resolutions. It is our sincere hope that the next government will continue along the path towards building a sovereign, independent and stable Lebanon.

Government of the people and by the people sets a single standard for all who hold power: you must maintain your power through consent, not coercion; you must respect the rights of minorities, and participate with a spirit of tolerance and compromise; you must place the interests of your people and the legitimate workings of the political process above your party. Commitment to these principles of peace and moderation are the best means to secure a sovereign and prosperous Lebanon.
Nothing about the rejection of terrorists violent extremeists. Nothing about the rejection of foreign interference by Syria and Iran. Nothing about our willingness to work closely with and stand by a decent and responsible government which stands on the front lines against those we fight. Nothing about the courage of the people of Lebanon to chose decency in the face of terrorism man-made disasters.
It seems these are the things that should be noted. Elections in Lebanon aren't the same as say in the Canada where the party options don't represent an existential choice for the nation.
Sadly, this kind of pathetic display from Obama is the norm.
And worst of all, nothing about protest babes!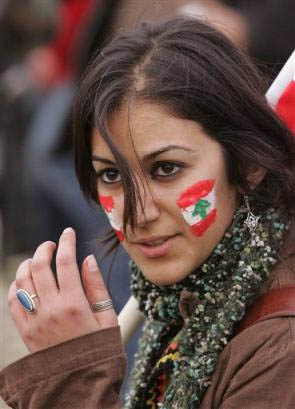 Maybe building hospitals, schools and all that other crap isn't enough to get people to sell their souls. Seems like that's something worth congratulating. But then, I'm not a God.

posted by DrewM. at
01:11 PM
|
Access Comments