« Obama Seems Mildly Pleased About Lebanon Elections
|
Main
|
"Doomsday Scenario"? California Mulls Ending State Welfare »
June 08, 2009
Obama Administration: Math Is Hard So We'll Just Make Shit Up
What's a number of "new or saved jobs" that will impress people worried about rising unemployment? We now know where the dart landed.
Eager to show action on the ailing economy, President Barack Obama promised Monday to speed federal money into hundreds of public works projects this summer, vowing that 600,000 jobs will be created or saved.

..."We've done more than ever, faster than ever, more responsibility than ever, to get the gears of the economy moving again," Obama said.

Based on the work done across a broad spectrum of federal agencies during the first 100 days of the administration, Obama said, "we're in a position to really accelerate."
Yeah, 600,000 jobs over the next 100 days is an acceleration over the 150,000 jobs after the first 100 days. Problem is, that 150,000 number is pretty much made up.
The administration last month claimed that 150,000 jobs had already been saved or created due to the stimulus bill, though that number is based on a theoretical projection and not an actual count.

As ABC News' David Kerley points out, last week Keith Hall, the Commissioner of the Bureau of Labor Statistics, told a House subcommittee that he could not substantiate the claim.

"No," Hall said. "That would be a very difficult thing for anybody to substantiate…We're busy just counting jobs."
Thankfully Geoff at IB did the hard work of demonstrating how good Obama administrations predictions are.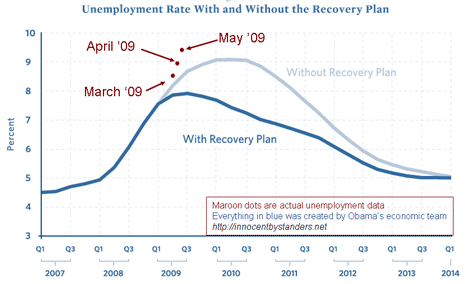 Feel better now?

posted by DrewM. at
01:47 PM
|
Access Comments