« Spirit of 94: A Call To Arms
|
Main
|
When a Naked Man Comes Out of the Lav on Your Flight, Try Reasoning With Him First »
July 19, 2008
Afghanistan Basks In Obama's Presence
The long awaited visit by Obama to Afghanistan is underway.
Democratic presidential candidate Barack Obama arrived in Kabul, Afghanistan today to meet military commanders and local officials in a country he wants to make the focus of the U.S. war against terrorism, his campaign said.

Obama is seeking to bolster operations in Afghanistan with at least 7,000 additional soldiers to counter Taliban and al- Qaeda fighters, who have been stepping up attacks against the U.S. and its allies there in recent months.

``I'm looking forward to seeing what the situation on the ground is,'' Obama said yesterday in Washington before boarding his flight, according to a pooled press report. ``I want to, obviously, talk to the commanders and get a sense, both in Afghanistan and in Baghdad of what their biggest concerns are. I'm more interested in listening than doing a lot of talking.''
Ah, a Hillaryesque 'listening tour'!
Obama has argued that His direct involvement will make the difference in dealing with thugs from Iran to Venezuala, so I don't see why it wouldn't make a difference here.
At this point there's no word on any mass surrenders by Taliban and al Qaeda fighters yet but I'm sure it's just a matter of time before the magical effect of His simply being there takes hold.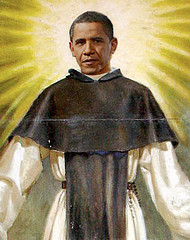 posted by DrewM. at
12:43 PM
|
Access Comments