« "Economic Stimulus" Checks Go Out Early
|
Main
|
The War on Strippers: Dancers Laid Off Due To Competiton From... Internet »
April 28, 2008
"Chaos" As Paultards Hijack Nevada GOP Convention; Voting Suspended "Indefinitely"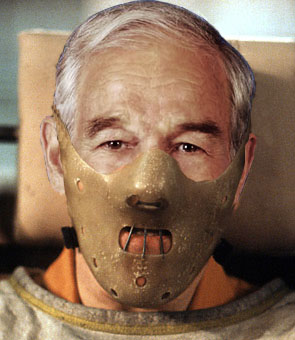 Photo Credit: Associated Slublog
I suppose it's their right to take over a convention and push new rules to get their boy Paul some delegates.
Except... as usual, this is a futile gesture which is just annoying the living fuck out of the rest of us.
For the last goddamn time: Ron Paul will not be President. Get a life, you freaks. Stop fucking with normal people just because that's all you're good at. Of course you can do this and beat normal, non-retarded people at these stupid games. Because you're unemployed, are filled with lunatic energy, and are impelled by hyper-religious resolve. And the rest of us just don't fucking care as much as you do.
But even so: Your boy ain't going to win. And he's not going to speak at the convention, either. So please just stop embarrassing yourselves.

posted by Ace at
03:57 PM
|
Access Comments