« AoSHQ EXCLUSIVE: Scott Beauchamp's Book, Revealed!
|
Main
|
Scott Beauchamp: World's First Documented Case of Pre- Traumatic Stress Disorder »
August 07, 2007
Steyn: Worse Than Stephen Glass
He says it's worse because this wasn't some dumb story about a goofy hacker yelling "I wanna Miata!" This is a vicious little concoction designed to poison our troops in the fights of their lives.
That's true.
But it's also worse because TNR vowed, post Stephen Glass, the their slapdash, "smells good" fact-checking would change forever and that they now had standards in place to prevent this from ever happening again.
Was that true?
I direct your attention once again to Jonathan Chait's shocked look when he's informed The Atlantic magazine -- not the "in-flight magazine of Air Force One," of course, but a fairly serious outfit nonetheless -- actually bothers checking quotes with the interviewee who supposedly said them.
Chait does a pretty good impression of Chris from Family Guy:
So. Yeah. That fact-checking system. That certified super-secure smells-good system you installed after Stephen Glass.
It's a real cherry, huh?
Obviously TNR is really working hard at fact-checking. You can tell from Jonathan Chait's utter shock at the idea that "fact-checking" includes the notion of "checking" to see if "facts" in fact "check" out as actual "facts."

Another Scott Beauchamp Book! This one looks like a quickie sequel, but I'm sure it must be good! Look at the reviews!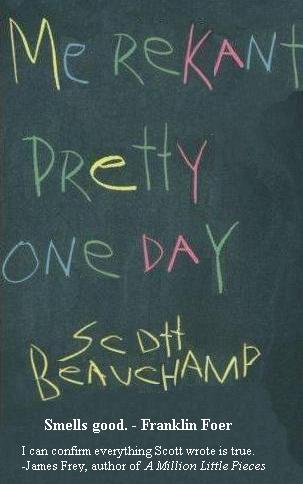 Thanks to fellow Munivian abw of A Better Where To Find. My goodness, this is a jam-packed night of late-breaking exclusives!
I Don't Believe This! A Trilogy Already! When Scottie Beauchamp set out to Iraq to return a famous writer, he sure didn't waste any time!

posted by Ace at
01:22 AM
|
Access Comments