« BEAUCHAMP RECANTS: SIGNS STATEMENT THAT HE FABRICATED STORIES WITH ONLY "SMIDGEN OF TRUTH"
|
Main
|
Steyn: Worse Than Stephen Glass »
August 06, 2007
AoSHQ EXCLUSIVE: Scott Beauchamp's Book, Revealed!
I made fun of Ross Douthat and Jonathan Chait for suggesting that Scott Beauchamp's embellishments were similar to the comical exaggerations in David Sedaris' semi-absurdist "memoirs" of his childhood, such as Me Talk Pretty One Day.
Boy, is my face red! It turns out they were exactly right! Beauchamp's embellishments and fabrications are precisely like David Sedaris'!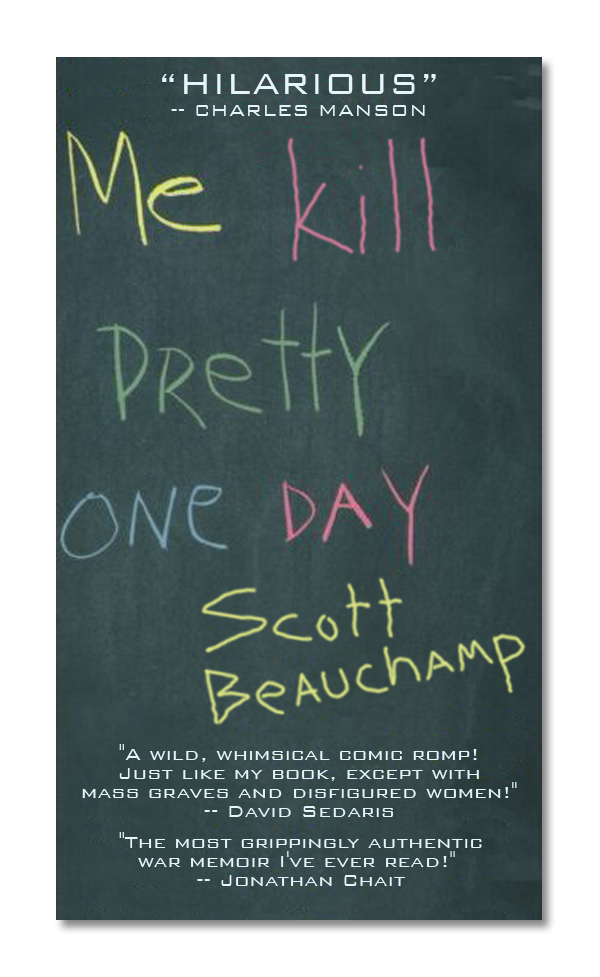 Thanks to someone I only know as "site admin" from Jessica's Well for slipping me that exclusive galley version of the cover.
More: Jonathan Chait was shocked that The Atlantic actually bothers calling up interviewees to fact-check quotes.
Meryl Yourish is rather shocked that Jonathan Chait is shocked by that.
I'm not even in the business and I'm shocked.
How the hell can you be in the media business and have never seen fact-checking even in a movie?
Shattered Glass, guys? Remember when Chuck Lane checked everything? See?
How about All The President's Men? Surely...? No? Not ringing any bells?
Maybe that's too long and boring for you. How about Bright Lights, Big City, which of course featured Jay McInerney (well, a fictionalized version of himself) playing a fact-checker at the rigorously fact-checking New Yorker (wel, maybe they didn't call it that, but that's what it was)?
Didn't you even see that? Michael J. Fox attempting to verify quotes over the phone in a language he barely speaks (French)?
Nothing? No bells ringing?
If you listen to the Chait dialogue, he once again claims that TNR vigorously fact-checked the Beauchamp pieces before publication, but states once again that what they did was ask other "experts" (read: journalists) if this "smelled good" and seemed plausible.
Um, Chait? That's not fact-checking. That's merely plausibility-checking.
And if you'd fucking bothered to ask actual experts -- military guys, milbloggers, etc. -- you would have found out that the Beauchamp pieces were highly questionable even by that trivial standard.
Smells good.
Okay.
The media's new standard of confirmation -- "smells good."
For Ross Douthat: He claims that it's preposterous that TNR might have had some idea of the sort of anti-military, anti-Bush, anti-war, anti-American "diarist" it was getting, and so it's "ludicrous" to imagine that Franlkin Foer, Jonathan "I Hate Bush" Chait & Co. could possibly have been wanting precisely what Scott Beauchamp would soon be providing.
It was all obvious from his blog; are we to believe none of this was obvious in his character and politics? That Beauchamp didn't routinely rail about empire and dying uselessly for one's country? They had no idea he wrote derivative fantasias about being ordered to gun down a child on the street?
That he didn't have thoughts such as this?
I know that NOT participating in a war (and such a misguided one at that) should be considered better than wanting to be in one just to write a book...but you know, maybe id rather be a good man than a good artist...be both? Some can and some cant...i guess it all depends on how great an artist, or how great a man they want to be. Sometimes it feels like i have to choose between being totally loyal to thoughts of my future family OR totally loayl to chasing down the muse. *must find a middle ground.
Did Scott Beauchamp find his "middle ground" between being a good man and a good artist by embellishing his Tales of Glory and Adventure just enough to make them borderline interesting to Franklin Foer?
I find it rather difficult to believe Foer and Chait and co. didn't have a pretty firm idea what they were getting. Did they expect him to be a fabulist? Of course not. But they 1) should have been vigilant against that possibility, given the fact he was a frustrated (and godawful) writer and 2) could not possibly have overlooked Beauchamp's basic attitude towards the war, the military, Bush, and America itself.
I am fairly confident they knew they would not be getting tales of smiling Iraqi children and villagers grateful for a well from Scott Beauchamp, who seemed to prefer fantasias like this:
"See that sarge, kids digging or something?"

"Well, better safe then sorry. Cap his ass Leclaire."

"You sure sarge?"

"Well, im either right or wrong. And if I'm wrong im still right because i could have been right even though i was wrong."
Douthat, Mr. Reasonable Conservative (just reasonable enough to stay on as a blogger at a liberal magazine) finds it "ludicrous" that Foer and Chait knew the sort of man they were getting in Beauchamp and actually wanted that kind of man for the job. And it's furthermore "ludicrous" that their credulity at his tales -- a soldier prancing around with a child's disinterred skull on his head to the laughter and delight of the whole company, while their careerists NCOs nod approvingly at the macabre jackassery -- might just have been partly due to a willingness to believe, uncritically, whatever horrors Beauchamp might tell them about American fighting men.
"Ludicrous."
And yet that's exactly what happened, eh?


posted by Ace at
11:57 PM
|
Access Comments