« Tender Thoughts On The Thirtieth Anniversary Of Star Wars
|
Main
|
Al Gore's Book Signing Attended By Thousands of Greedy Earth-Destroying Republicans »
May 25, 2007
Rosie Surprises No One In Drama-Queen Gibbering-Lunatic Diva-Act Tantrum-Quitting of The View
Our long national nightmare is over just gearing up.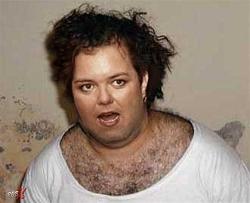 --Taken from Electric Venom
Rosie O'Donnell will not be back on "The View," ABC announced Friday, two days after she and co-host Elisabeth Hasselbeck got into a huge political dust-up live on the talk show.

"We had hoped that Rosie would be with us until the end of her contract three weeks from now, but Rosie has informed us that she would like an early leave. Therefore, we part ways, thank her for her tremendous contribution to 'The View' and wish her well," Brian Frons, the president of Disney-ABC's Daytime Television Group, said in a statement.
Pictured: fg, Rosie O'Donnell;
bg, the poor son-of-a-bitch paid to wash her feet
and drain the pus from her bedsores
Actually, that story is here. 1,051 pounds. It definitely does not look real. And yet, it seems, it is.

Wait, Wait, Wait: Apart from a taxidermist and some folks at a weighing station who are not named and not officials of anything, no one except for the kid and his dad can confirm the size of this thing.
Status: Undetermined.

posted by Ace at
04:16 PM
|
Access Comments