« "Mina's World" Woke Coffee Shop Closes
|
Main
|
Is This Something?
Added: Is The Terminal List Something? »
July 11, 2022
Who Is "P3do Peter"?
4chan cracked a backup of Hunter Biden's phone and found an interesting pseudonym among his phone contacts: "P3do Peter."
Who is that?
Given what we know about the Biden family, there are a couple of prime suspects, says Bonchie of RedState.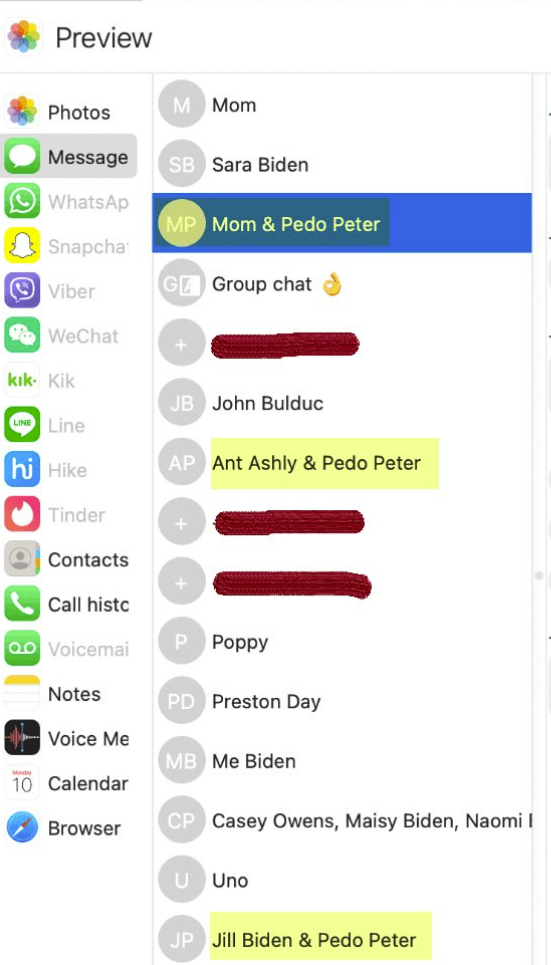 Given that "P3do Peter" is in group chats with members of the Biden family like "Ant Ashley," and "Jill Biden," it appears to be someone in the Biden Family.
There are two possibilities being bounced around, and I won't venture to try to solve the riddle in this article. I'll just note that people examining the data seem to believe it's either Joe Biden or Hunter Biden.

Those in the former camp believe it's a play on an email pseudonym that Joe Biden used named Peter Henderson. Apparently, that name derives from a Tom Clancy novel about a Soviet spy who infiltrated the US government. That alone is weird enough. Still, others believe that "P3do Peter" is actually Hunter Biden's number saved under the title on different devices because the iCloud backup is shared.
I don't understand something big, though: If these are chat messages on Hunter Biden's iPad, why is he calling his sister Ashley "Ant Ashley"? Why is he having chats with "Mom"? His mom died years ago in a car accident with a man who was not drunk but whom the inveterate liar Joe Biden always claims was drunk to elicit sympathy.
That list of names seems like it comes from one of the Biden grandchildren (that is, the generation younger than Ashley and Hunter).
Which makes it even more worrisome: why would a younger Biden call one of the older Biden men "P3do Peter"?
There's more from the leak: Hunter discusses his partnership with the head of Chinese intelligence as well.

What the Crackhead whoremonger and amateur pornographer says there is:
[V]ery alone in dealing with rebuilding an income that can support the enormous alimony and my kids costs and myself, dealing with the aftermath of the abduction and likely assassination (that's what the NYT's suspects) of my business partner the richest man in the world and the arrest and conviction of my client the chief of intelligence of the people's republic of China by the US government, the retaliation of the Chinese in the ouster and arrest of US suspected CIA operatives inside China, my suspected involvement in brokering a deal with Vladimir Putin directly for the largest sale of oil gas assets inside Russia to China, a tax bill that Eric left hanging over my business and...

And Dads running for president.
Nice. Not a security risk or anything.
Nick Arama of RedState has more on the background Crackhead is talking about there.
And this:
Then there's a voice mail from Francis Person to Hunter about China business -- "right there in Tiananmen square for our beijing site."
Nick Arama explains:
Francis Person was a Biden aide who worked very closely with Joe Biden when he was vice president.
So sure, Joe Biden's son is cutting deals with the Chinese head of intelligence assisted by his former close aide but Ol' Joe Biden don't know nothin' about any of this.
Then there's this, which seems almost quaint compared to the rest of it:
PJ Media notes that Hunter has two contacts in the FBI to get him out of jams, and also has a disturbing picture which suggests a candidate for "P3do Peter."
Note/Correction: Deb Heine tells me the pic of a bunch of little girls with their feet on a man's naked chest, in the above link in the article by VodkaPundit, is not a picture of Hunter Biden. It was posted on the 4chan threads discussing the Hunter Biden leaks, but many of the 4chan posters are claiming it's a "fed post," a deliberately false posting designed to poison the well so that all information posted there can be claimed to be false.


posted by Ace at
02:45 PM
|
Access Comments