« World Swimming Body Bans Men From Women's Swimming Events
|
Main
|
Professor and "Litigator" Shows His Mastery of the Law By Not Knowing the Basics of the Law's Application to Airplanes, Then Shows His Elite Thinker Status By Melting Down In an Embarrassingly Juvenile Twitter Sperg-Out »
June 20, 2022
Kamala Harris Fingered To Head "Online Policy Taskforce"
Just what Kamala Harris needs -- another high-profile assignment in which someone will Fail to Position Her for Success.
Although this is a highly partisan operation that doesn't involve delivering general political goods, but simply delivering political scalps to the left. She might actually do well in this position.
This is just a renamed "Disinformation Governance Board," with an even less credible figure at the top.
The Gender Policy Council and the National Security Council will co-chair the task force, whose members include Cabinet officials like Attorney General Merrick Garland, Secretary of State Antony Blinken, Health and Human Services Secretary Xavier Becerra, Homeland Security Secretary Alejandro Mayorkas and other agency heads and officials, as well as advocates and survivors.

The initiative, which fulfills a campaign promise Biden made, has been charged with developing recommendations for Congress, state governments and private entities, as well as policies for the federal government. It is to provide its suggestions and recommendations within 180 days of its launch.

The recommendations, according to the senior administration official, will focus on increasing support for survivors of online harassment and abuse, expanding research into the problem, improving prevention efforts and strengthening accountability for offenders and for platforms. The official noted that the administration believes it's crucial to understand the "nexus between online misogyny and radicalization to violence," noting recent mass violence like the Buffalo, New York, supermarket shootings.

"The tragic events in Buffalo and Uvalde have underscored a fact known all too well by many Americans: the internet can fuel hate, misogyny, and abuse with spillover effects that threaten our communities and safety offline," a fact sheet on the initiative reads.

The task force is not zeroing in on any particular technology platform but rather "on the role of platforms and social media more generally," according to the senior official. The official added that they are focused on "illegal conduct" online.
Below, Karine Jean-Pierre is asked why this New and Improved Ministry of Truth was first sold as something that would track the sexual enslavement of women and other actual crimes, before subsequent press releases then said it would also be prosecuting the left's culture war censorship campaigns by hunting down those who cause "harm" online by name-calling and making women feel "unsafe."
Of course, she had no answer.
No one in the media ever asks, not even once, why the left is so committed to censorship. Nor do they ever ask why the right should trust the left's various Ministry of Truth projects, when they immediately change their stated goals of the organizations from non-objectionable ones like tracking white slavery to simply becoming the left's Armed Forces for Censorship, fighting "disinformation" and people saying mean things to women online.
It's sold as a way to track the sexual enslavement of young girls.
Then it is immediately re-tasked to doxxing people who post Taylor Lorenz's actual age.
Nor does the media ever ask, "Will the right be permitted to use this Ministry of Truth to prosecute its list of wrongthinkers when it takes power in January 2025?"
Because the media assumes the answer must be "no."
Perhaps they shouldn't assume that.
Because I am personally ready to visit on the left all the vicious censorship -- the truly thuggish fascism they routinely accuse us of, while actually practicing themselves -- that they're creating the machinery for. I am ready to use their weapons against them, and to teach them to either put this weapon away, forever, or be prepared to be censored and prosecuted and jailed for "hate speech" whenever there's a Republican DOJ.
Just like they do to us.
And, by the way:
The fact that the left is constantly perverting what they claim are just law enforcement endeavors aimed at stopping the trafficking of children for enslavement in sex rings into censorship operations designed to punish the left's enemies for political speech the left doesn't like really gives you confidence in the red flag laws the Democrat Left and the Republican Left are pushing, huh?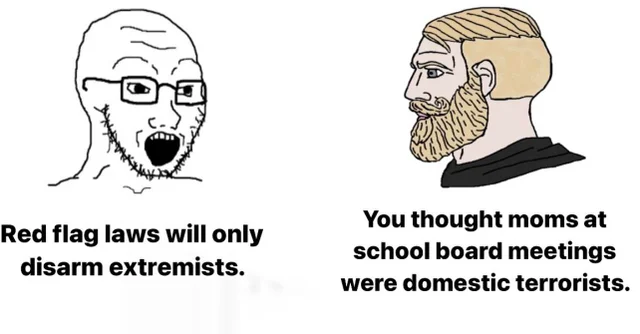 Jonathan Swan
@jonathanvswan

From a source in the room: "The video doesn't do it justice. It was really bad." As we reported last night, there's a growing conservative backlash against Cornyn.

posted by Ace at
01:19 PM
|
Access Comments