« Kamala Harris Fingered To Head "Online Policy Taskforce"
|
Main
|
Macron Suffers Huge Loss in French Parliamentary Elections, as Le Pen's National Rally Takes Huge Number of Seats »
June 20, 2022
Professor and "Litigator" Shows His Mastery of the Law By Not Knowing the Basics of the Law's Application to Airplanes, Then Shows His Elite Thinker Status By Melting Down In an Embarrassingly Juvenile Twitter Sperg-Out
Here's this Elite's bio:
Amir Attaran @profamirattaran Professor. Litigator. Scientist. Bicyclist. Husband. Father. Son. Wrecks grifters, anti-vaxxers & scientific illiterates. Personal account (not @uOttawa). Ottawa, Canada, Pale Blue Dot. Joined April 2014
He really needs you to know he's a professor -- it's in his handle. You can't even refer to him without using the word "prof."
And he wants you to know he's a professional "litigator" and "scientist."
Who is really concerned with covid.
But not concerned enough to trouble himself to check how covid restrictions apply to international flights -- despite this being easily discoverable by google.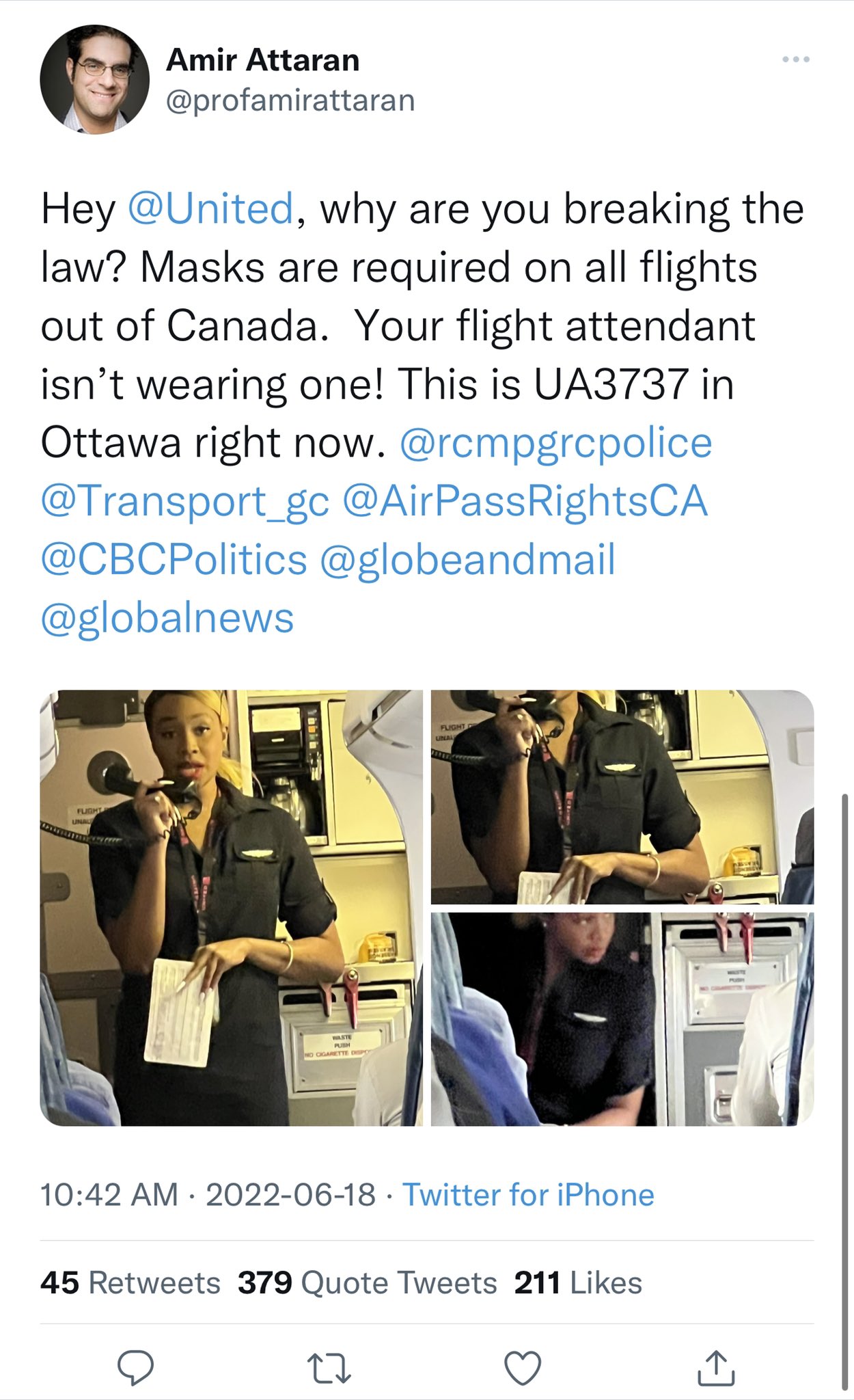 Viva Frei @thevivafrei

Are you seriously trying to get a woman fired from her job @profamirattaran? Or was this intended it to be satirical and mock @JustinTrudeau's unscientific Canadian mask mandates?
He was serious. He immediately blocked Viva Frei.
Noons @Juventus_4Life

Replying to
@thevivafrei @profamirattaran

NOt aLL HEroEs WeAR CApeS!
Why are professors so ignorant?
Ryan Medd @RWMedd

Replying to
@thevivafrei @profamirattaran and @JustinTrudeau

US bound flights, on US carriers, follow US rules once the door closes, since Transport Canada has no jurisdiction over those carriers.

This isn't rocket science. You'd think a professor would be intelligent enough to understand.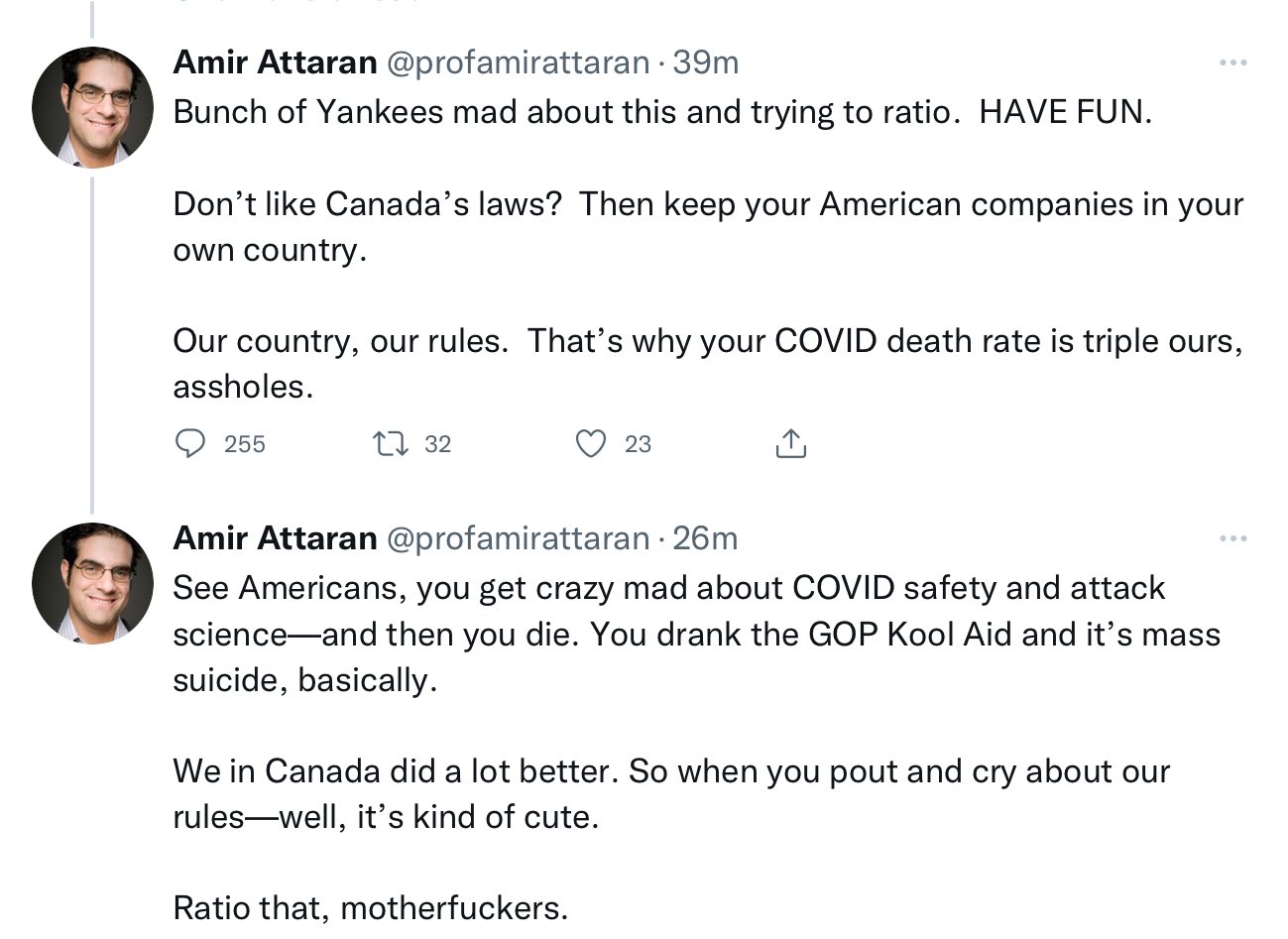 Note that this specimen was permitted to immigrate to America, and in fact was made an American citizen -- Iranian-American. He then immigrated to Canada, to spit hatred at a different country who had welcomed his nomadic ass.
The spergification was so intense and so sudden that many people doubted this was real. Rumors persisted that he was actually parodying Justin Trudeau's anti-science, fascist imposition of Karen Kloth Koverings.
But no: He's quite serious.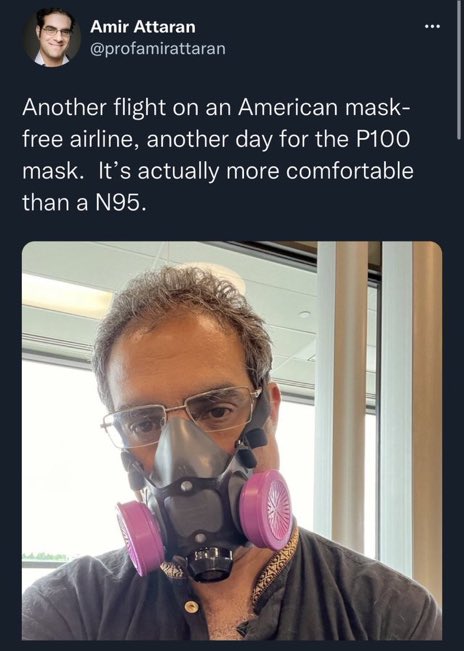 Although he claims to be "scientist," his career seems to consist chiefly of troublemaking lawsuits for leftwing NGOs of the environmental/social justice variety. Such as:
In 2012, Attaran filed a complaint against right-wing political commentator Ezra Levant, who was also a lawyer called to the Alberta bar.[27] Levant told a Hispanic banana company executive "chinga tu madre" ("go fuck your mother") on his Sun TV show.[28] The Law Society of Alberta initially withdrew the charges, but Alberta Court of Queen's Bench Justice Dawn Pentelechuk said the society's explanation for doing so was "unsatisfactory and unclear" and ordered a hearing to determine if they had committed an abuse of process.[29] Levant ultimately resigned from the bar in March, 2016 rather than face a disciplinary hearing.
For saying chinga tu madre.
Attaran criticized the law society for allowing Levant to resign without reprimand, saying that it breached their own rules.[30] In 2013, Attaran accused Peter MacKay of falsely alleging that Justin Trudeau committed a crime by smoking marijuana. In dismissing the complaint,[31] the Nova Scotia Barristers' Society said there was no evidence to suggest MacKay knew he was saying something false.[32] MacKay was Attorney General of Canada at the time.
When this snarling SJW nullity charity-hire was denied a promotion, of course he immediately filed a complaint with the gooned-up Canadian Human Rights Commission claiming that it was due to racism.
"There is a systemic problem with not enough visible minorities, women, disabled and aboriginal people getting into Canada Research Chairs, not just in this university, but across the country," said Attaran, who has filed the suit against both the university and the Association of Professors of the University of Ottawa.
He actually was recruited into the program, despite being "a visible minority" -- they just didn't want to retain him.
Is that due to racism? Or due to poor performance?
Trudeau's government sided with Attaran's basic complaint, of course, demanding they expand their minority hiring.
He generally sees racism everywhere, while spitting a fair amount of it out himself:
In July 2019, Attaran was accused of elitism for calling the conservatives the "party of the uneducated".[37][38] In June 2020, Attaran wrote on Twitter: "In my experience as a brown guy at a bilingual university on the Quebec--Ontario border, there is plenty of racism, and more often than not when it speaks to me the first word is 'Bonjour'."[39] He was later accused of francophobia and Quebec bashing by officials of the province.[40] Attaran made similar comments targeting French-speaking professors in October 2020.[41] In December 2020, Attaran was heavily criticized for comparing "US nationalism" to "Quebec nationalism."[42]
His claim seems to be that Quebec nationalists are essentially White Nationalists. He calls Quebec "#TheAlabamaoftheNorth," which is probably the nicest thing anyone's called Quebec, but I don't think he meant it as a compliment.
He takes the position that to be pro-French-language is inherently racist because, well, most people who speak French are white.
Except, you know, for millions of people in Africa.
He's a professor, you know?
He says you can't be racist against francophones because francophones are not a "race."
Amir Attaran @profamirattaran Francophones are not a "race" because French is a lovely language spoken by people of many races.

People like this agitated fellow ⬇️ make me lose hope in the future of human evolution.
Great.
Now do Muslims.
Anyway, I've spent long enough on this nasty sperg. I'm glad he's Canada's problem now. (America stupidly let him immigrate here, but then he immigrated to Canada, to take advantage of them.)
Oh, one little tasty bonus: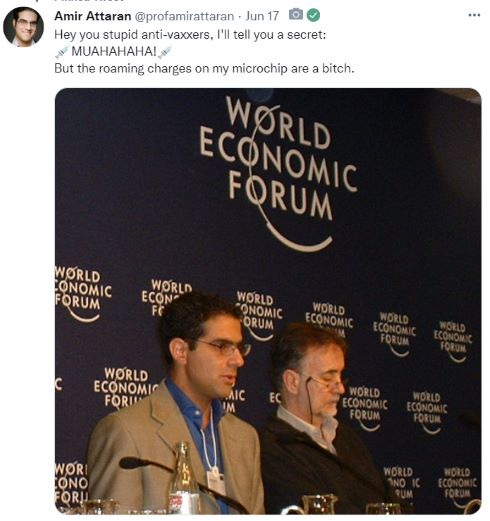 Update:
Still sperging.
Hey can we please hand out more visas and greencards?
Boy the Jeb! wing of the party sure is right!

posted by Ace at
02:31 PM
|
Access Comments