« Professor and "Litigator" Shows His Mastery of the Law By Not Knowing the Basics of the Law's Application to Airplanes, Then Shows His Elite Thinker Status By Melting Down In an Embarrassingly Juvenile Twitter Sperg-Out
|
Main
|
Elon Musk Lays Off LGBTQ Employees At Tesla
During Pride Month?!?!!? »
June 20, 2022
Macron Suffers Huge Loss in French Parliamentary Elections, as Le Pen's National Rally Takes Huge Number of Seats
Marche pas. That's my attempt at a pun. Macron's party was called En Marche, which means On the Move. Marche pas means "not moving."
He seems to have changed the name of the party to "Ensemble" (together) for this election.
French President Emmanuel Macron on Sunday was set to lose his parliamentary majority after major election gains by a newly formed left-wing alliance and the far-right, in a stunning blow to his hopes of major reform in his second term.

The run-off election was decisive for Macron's second-term agenda following his re-election in April, with the 44-year-old needing a majority to secure promised tax cuts and welfare reform and raise the retirement age.

His "Together" coalition was on course to be the biggest party in the next National Assembly, but on 200-260 seats well short of the 289 seats needed for a majority, according to a range of projections by five French polling firms.

If confirmed, the results would severely tarnish Macron's April presidential election victory where he defeated the far-right to be the first French president to win a second term in over two decades.
The left won a lot more seats. A new party, or really a new party coalition called "Nupes," united the Socialists, Communists, hard left and greens, won somewhere between 149-200 seats, which is a lot more than the 60 seats the left held in total before the election.
LePen's National Rally party previously held only eight seats, but now will hold between 60 and 102.
Macron attacked the left during the parliamentary election season and is unlikely to form a coalition with them. He's extremely unlikely to form a coalition with LePen's NR, which leaves only Les Republicains -- the traditional center-right party, the party of Sarkozy -- as his only dance partner. They will elect between 40 and 80 members of parliament.
Macron will have to strike a deal with LR for their support, moving to the "right" to appease them, maybe even picking a PM from their ranks.
This thread discusses the election.
Philippe Marlière @PhMarliere

Since 2017, Macron has not tried to build a proper party. LREM is an empty shell: it has no activists and no local barons. Tonight's electoral setback is political, strategic and institutional.

J-L Mélenchon [leftwing head of the "NUPES" leftwing coalition]: 'It is a political and a moral defeat for Macron's party which failed to call for a vote against the far right.' JLM is no longer an MP and did not say what role he would play now.

Several ministers have been defeated (e.g. Amelie de Montchalin, Brigitte Bourguignon, Justine Benin). Macron had warned that any defeated minister would have to resign and leave the government. More bad news for Macron...

With #Nupes and [Le Pen's Rally National] on the ascendency, a significant number of younger MPs and of working-class MPs will enter the National Assembly.

Christian Jacob (President of Les Republicains): he is very critical of Macron and does not allude to some kind of agreement in the National Assembly to pass legislation. LR will be a force of opposition. A bit of a nightmare for Macron.

Record abstention, no majority for Macron, death of the 'republican front', the United left has made important gains, major electoral breakthrough for the far right. This is a nightmarish situation for Macron who has no majority to pass his flagship reforms.

Macron's coalition will lose 100+ seats. Nupes did well and RN did exceptionally well. An hypothesis: a significant number of RN voters cast their vote for Nupes candidates to defeat the Ensemble [Macron's party] candidates, and vice versa.
Macron's party had been En Marche (On the Move), but I guess now it's Ensemble (Together).
...

Elisabeth Borne, Prime Minister, just talked on French TV: this is an empty speech, full of slogans, even surreal. She looks stunned. Her days as PM are numbered according to political commentators in France. We'll see, but she comes across as a lame duck.

Absolutely no one predicted the [Rally National/Le Pen] results (around 80+ seats). At best, opinion polls gave RN 40 seats. Voters did not vote as expected. Some voters on the left & far right cast their vote for the candidates who opposed Ensemble candidates, whatever the party. #legislatives2022

The #Nupes's good result is overshadowed by RN's outstanding result. Yet Le Pen did not campaign and thought that Macron would secure a majority. RN won a lot of seats despite its abysmal campaign. RN won so many seats because voters wanted to sanction Macron.
I believe "The Republican Front" was a voting strategy previously used to defeat Le Pen. The idea was, whoever faced Le Pen in the run-off would get the vote of anyone in the "Republican Front," be they from the Republicains, or the Party Socialiste, or Macron, or whatever. It was a tactical "We all agree to vote anti-Le Pen" arrangement. (They might have also agreed to vote against the far left candidates: that is, the Republicains and Macron's party agreed to support each other over the far left and the far right (which is what they call Le Pen).)
But it broke down here. The agreement did not hold against candidates from Le Pen's party who were not Le Pen herself.
IPSOS poll. The death of the 'republican front'. When Nupes faced RN: 72% of Ensemble voters abstained, 16% voted for Nupes, 12% voted for RN. 58% of LR voters abstained, 30% voted for RN and 12% voted for Nupes.
In other words, bitter party loyalists do what they usually do when their candidates lose in the primary and abstained in the run-off, rather than follow the "Republican Front" agreement and vote in the run-off for anybody but Le Pen. Or, here, "anybody but the candidate from Le Pen's National Rally party."
They either just abstained or voted for the left or for National Rally, as they preferred.
According to this from Le Monde, the number of "sieges" (seats) won looks like this: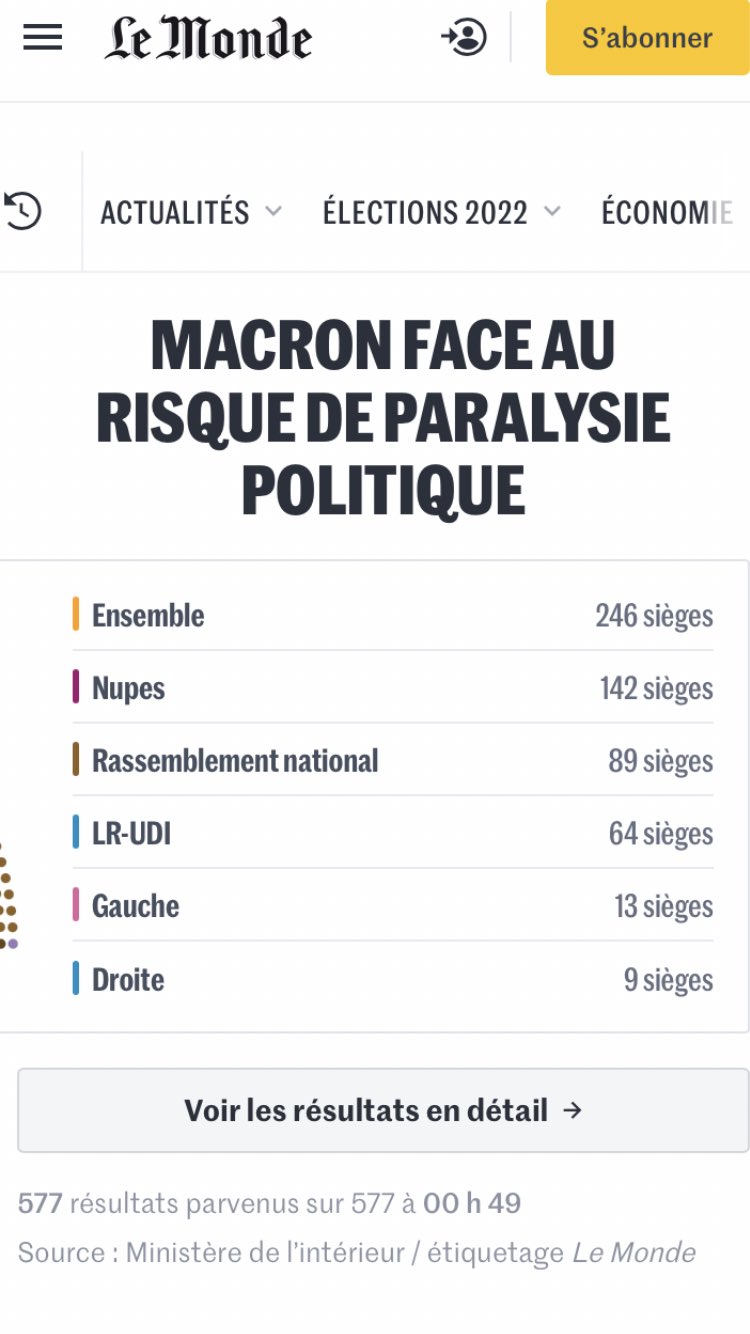 Rassemblement National is what I've been calling Rally National or National Rally (Le Pen).
Headline: "Macron faces risk of political paralysis"

posted by Ace at
03:57 PM
|
Access Comments