« The Pride of the Libs of TikTok
|
Main
|
Quick Hits: We're In the Endgame Now »
June 09, 2023
Quick Hits
WTF are these Canuckleheads doing?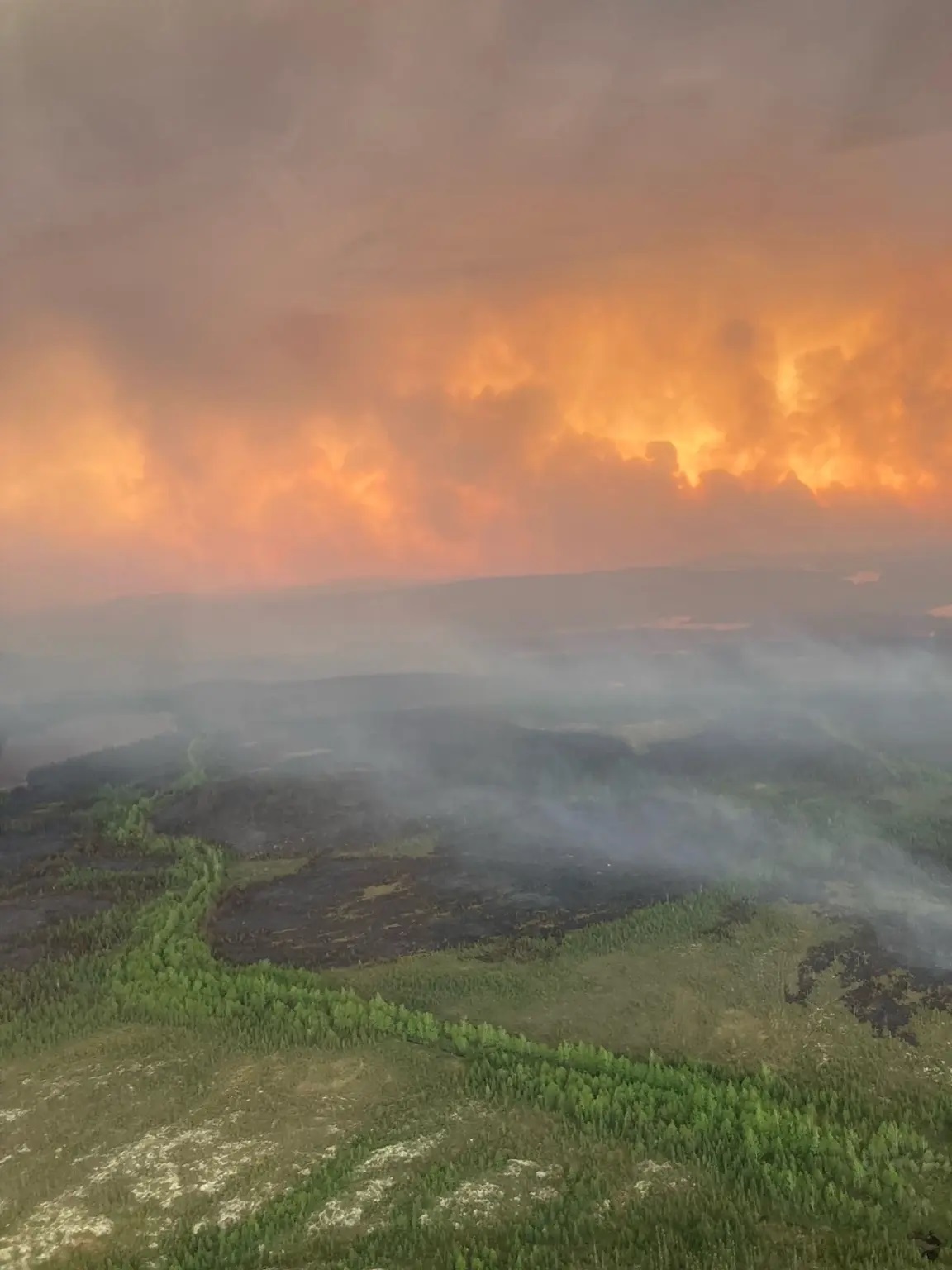 Get your head screwed on right, Canada, or Daddy America is gonna take off his belt.
Jennifer Granholm reveals she lied to the Senate when she claimed she held no individual stocks. In fact, she held Ford Motor Co. stocks, and that's a company directly under her control as Secretary of Energy. (In as much as her decrees can force Ford to increase gas mileage or sell more EVs.)
Ooops!
Ooopsie!
Think there will be a federal prosecutor indicting her on 15 charges over this single lie?
Noooope!

The White House has suspended its weekly "pride" celebration over concerns about possible health dangers posed by the air.
Wait until they find out about the other health dangers at play here!
The White House on Thursday delayed a Pride Month event on the South Lawn over concerns regarding the air quality in Washington, D.C., as smoke from Canadian wildfires engulfs much of the Northeast and Mid-Atlantic.

The White House rescheduled the LGBT+ celebration for Saturday, The Hill reported, as many other events in the region are being canceled.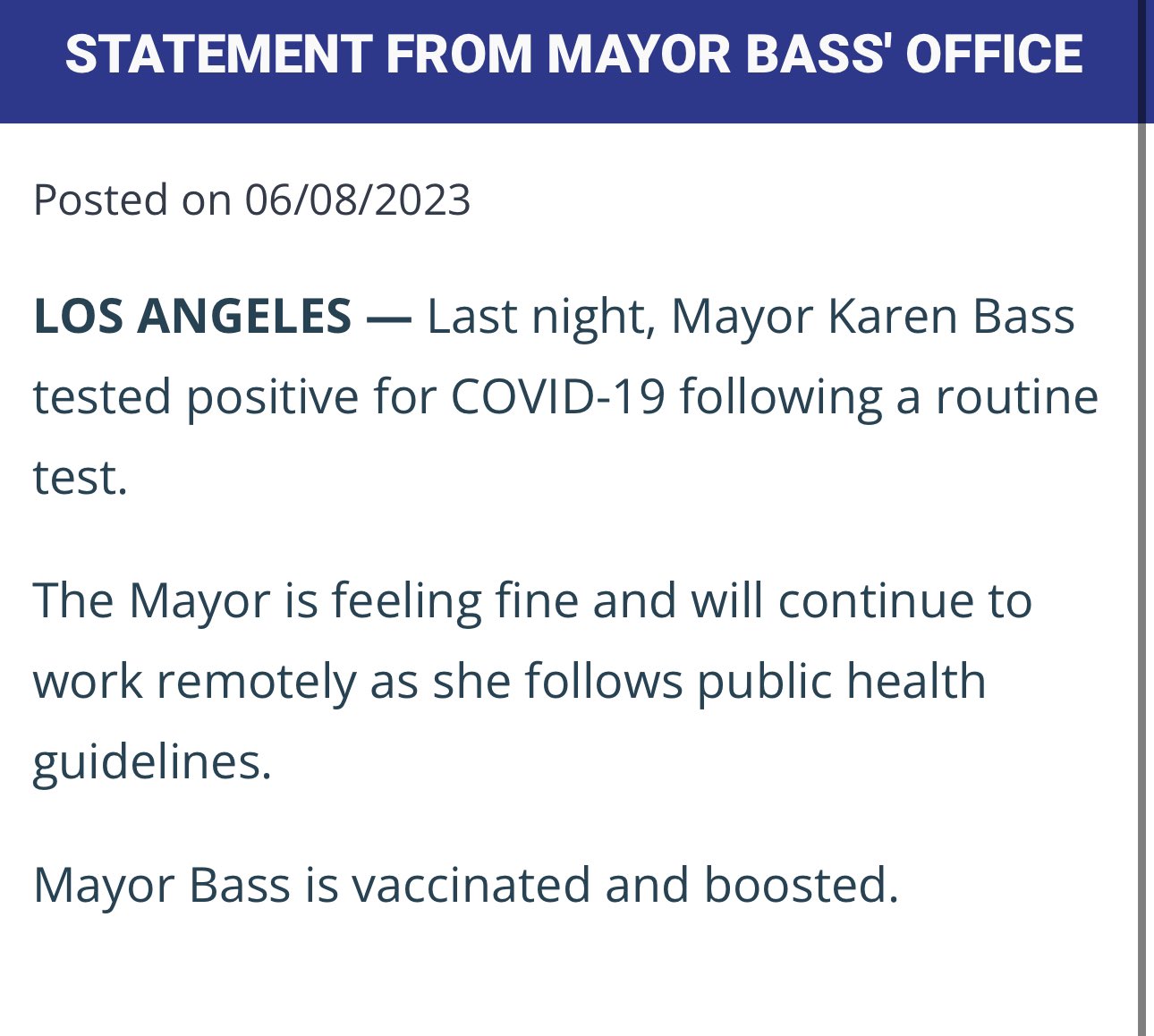 Men: It's time to get your women under control, and force them to stop watching Investigative Discovery all f'n' weekend.
A true-crime fan in South Korea allegedly killed and dismembered a woman "out of curiosity about murder" -- after dressing up as a student and going to the unwitting tutor's home, authorities said.

Jung Yoo-jung, a 23-year-old woman obsessed with TV shows and books about crime, decided to murder someone for real and conducted research about how to conceal a body, the Chosun Ilbo reported, citing Busan police.

Investigators found she had used her cellphone and borrowed books from a library to gather tips for her alleged crime.

To find a victim, Jung reportedly used an app that connects parents with private tutors -- and contacted the victim by posing as the mother of a ninth-grader who wanted to learn English.

She told the victim her daughter would go to her home for a consultation.

Jung then masqueraded as a student by wearing a school uniform she bought online and went to the woman's home, where she allegedly stabbed her to death.

"Jung is short, and with the uniform on, the victim probably mistook her for a middle-school student," a police spokesman said, according to the news outlet.


She then bought trash bags and bleach before returning to the home, where she dismembered the victim, placed some body parts in a suitcase, and took a taxi to the Nakdong River, where she dumped the remains, policed said.

"In order to make it look like the victim had disappeared, Jung kept the victim's mobile phone, ID card and wallet, attempting to commit a perfect crime," police said, according to the report.

But the cabbie became suspicious of the woman's actions and called police, who found bloodstained clothes in some bags and the rest of the mutilated body at Jung's house.

Ladies, no more Wives With Knives for you. South Korea says you can't handle it.

Jonah Goldberg is disappointed -- and not just because his sad dick cannot maintain even the rigidity of a cream cheese Slinky left out in the sun.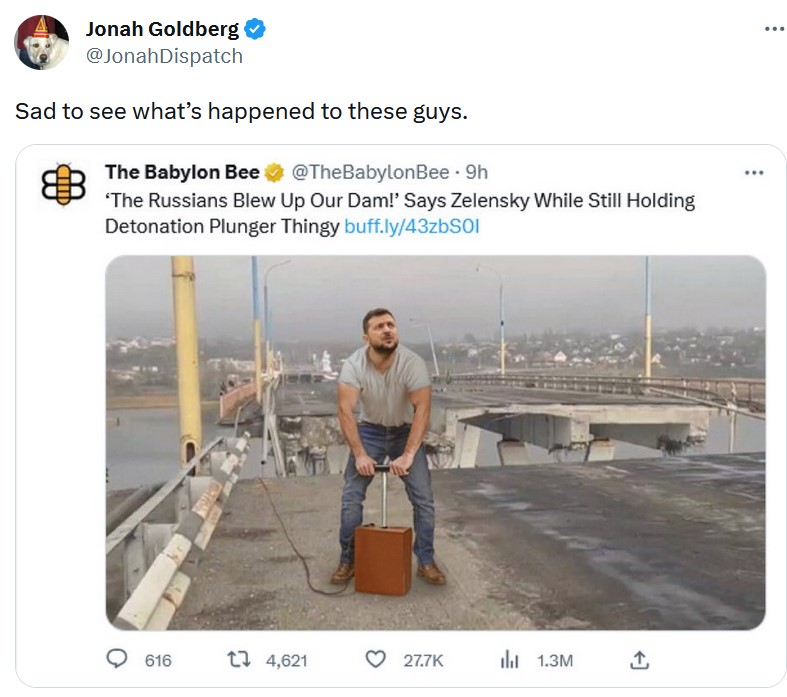 I mentioned this earlier this week, but this is a bit more specific: up to 66% of the US may experience power outages as the over-taxed, under-powered US electric grid fails catastrophically. All due to Biden's "green" agenda.
Soon to be a "brown" (out) and "black" (out) agenda.
Soros DA gives "teen" who committed two murders and is suspected in a third to just seven years in prison.
Far-left district attorney Pamela Price gave a California teen linked to three murders just seven years in prison.

Alameda County Sheriff's Office on Friday urged Price to charge Sergio Morales-Jacquez, now 18, as an adult because of his "extensive and violent criminal history in multiple jurisdictions." Price--who was elected in November as an "unapologetic progressive" who promised to "upend" the county's prosecutorial conventions--declined the petition, sending Morales-Jacquez to the Juvenile Justice Center for seven years with the possibility of probation.

At age 17, Morales-Jacquez fatally shot 30-year-old newlywed Rienhart Asuncion after a road-rage altercation. Less than two weeks later, Morales-Jazquez and two other teens opened fire at a party in Oakland, linking him to the killing of two teenage brothers, Angel and Jazy Sotelo Garcia. He is also "a person of interest" in a homicide case authorities are still investigating, the Berkeley Scanner reported.

During her campaign, Price, who took hundreds of thousands of dollars from progressive billionaire George Soros, promised to "stop over-criminalizing our youth."
In NYC, they now have vending machines that distributes, for free, crack pipes and Narcan (a drug used to save people from overdoses).
City officials' new drug-themed vending machine is a huge hit with local addicts -- who wasted no time cleaning it out overnight as they stocked up on its free crack pipes, lip balm and Narcan.

"Yes, I love it," drug user Evelyn Williams told The Post while standing at the "public health" vending machine in Brownsville, Brooklyn, on Tuesday. "They put it in yesterday, and it's empty already.

By 1 p.m., a drug-prevention-program worker was starting to restock the machine with more drug-test strips, Narcan and condoms -- predicting the vending machine could need to be refilled "maybe twice a day, depending on which items go quite quickly.''

"We have a lot of addicts and heroin users over here," Williams said. "They should re-stock it immediately!"
Karine Jean-Pierre blows off Biden's frequent falls. "Things happen," the unqualified idiot notes.
I didn't know about this near-fall:
The president also nearly tripped down stairs at the Itsukushima Shrine in Hiroshima during his visit to Japan in May.
An 80 year old tripping down the stairs is a lifethreatening incident, obviously.
But you know -- shit happens, man.
Former National Review "reporter" Tim Alberta says that the GOP was "manipulated" into distrusting CNN:
"I don't know if anybody at this point is capable of doing what Chris set out to do, which is sort of reimagining the mainstream media's relationship with a GOP base that has been sort of systematically manipulated into not trusting the mainstream media for decades" --@TimAlberta
Even Glenn Greenwald, who's on the left, laughs at National Review's "reporter."
Glenn Greenwald @ggreenwald

4h
Look at the dripping superiority complex and contempt for the public they have.

You hate and distrust the corporate media not because they've proven themselves to be partisan smear artists and liars. No:

It's because you're dumb and were "manipulated" to distrust them:

Brian Stelter @brianstelter

4h
"I don't know if anybody at this point is capable of doing what Chris set out to do, which is sort of reimagining the mainstream media's relationship with a GOP base that has been sort of systematically manipulated into not trusting the mainstream media for decades" --@TimAlberta

Glenn Greenwald
@ggreenwald

The corporate media never, ever looks in the mirror and asks what they did to cause the public to harbor contempt and distrust for them.

They think they bear no blame for it.

They believe you hate and distrust them because you're stupid and got conned into disbelieving them.
National Review's former "reporter" Tim Alberta, everybody.
Anne Applebaum is an accredited "disinformation expert" -- which means only that she is a liar in service of The Regime.

posted by Ace at
05:20 PM
|
Access Comments